There are so many different bras out there that we think are the same, but in reality, each one of the bras has its own unique feature that makes them suitable for different body shapes, dresses, and occasions.
Today we are going to discuss two specific bras that are often confused (and we totally understand why you might get confused between them!) with each other- the demi bra and the balconette bra.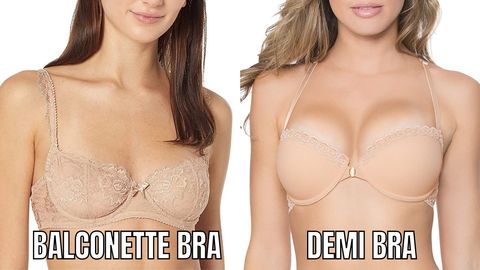 What is A Balconette Bra?
Basically, a balcony and a balconette bra – both are the same. So you should not be confused about the difference between balcony and balconette bra. This type of bra does not give as much coverage as a demi-cup bra. Since it only gives a little coverage, the balconette bra will emphasize your natural cleavage more than a demi bra. The shoulder straps of this bra are also placed in a way that sits at the edge of your shoulders so that they aid in your lifting.
This bra can be worn by women with both bigger or smaller busts. If you have a smaller breast, then the balconette bra will lift your natural breast and give you some cleavage for those cute outfits. If you have a bigger breast, then the bra will shape your natural and make it look nicer for your cute outfits.

What Is a Demi Bra?
A demi bra will give you 50- 75% coverage for your breasts, and you know you have a demi bra by the amount of coverage you get. This bra will also lift your natural curves and gives you rounder busts. There are high chances that you can get confused with a plunge bra. However, a plunge bra only has a dip in the centre of the bra, and a demi bra has cups that are small and lower cut cups in general.
The wires of a demi bra are perfectly secured in a wide U shape, right underneath your breast to fit you perfectly and make you look stunning under that low neckline dress!
No matter which bra you choose, they both will give you a lift and make your breast looker fuller and rounder. If you want to wear a bra that will show off your curves but you do not want to wear a push bra that can be quite uncomfortable then, you can choose a demi bra or balconette bra.
Now that you what a balcony bra and demi-bra are and their differences, let us look into the different ways you can style these bras. One disadvantage is that you will not find people using it as an outer garment. You can if you want to! However, most style these bras under some outfit, and today we will help you out!

How To Style A Balconette And Demi Bra?
We are going to give you two of the classic ways to style these bras. These products and dresses are kinds of a staple in almost every women's closet.
Look One: The Bodycon Dress
In our opinion, a low-cut dress is a must while wearing either of these bras, as what is the point if you are not going to show off your curvy figure and feel good?
For this look, you can wear a low-cut bodycon dress on top of your balconette or demi bra. This is just perfect for all occasions, from a date night, girl's night, or just a solo date to the restaurant to treat yourself! Either way, a bodycon dress can never go wrong. You can choose the color and style of the dress according to your tastes and preferences.
For jewelry, you can wear simple rings and some thin metal bracelets that will compliment your dress. You can wear high heels, but if you are uncomfortable wearing those, then you can wear anything that you are comfortable with.
Look Two: The classic T-shirt And Shorts Combo:
For this look, you only need some of the clothes that we wear regularly. Grab your favorite t-shirt and shorts to wear over your balcony or demi bra, and the look is complete. This is the perfect fit for hot summer days, and as you can see, we were not kidding when we said that these are some of the staples in a women's closet.
You can accessorize the outfit by wearing sunglasses or a sling bag. For your feet, you simply wear a pair of sneakers or some sandals.

Few FAQs related to the topics
Are Demi and balconette bras the same?
Both the demi and balconette bras are known for providing less coverage as compared to a regular bra. But there is a difference between them. While demi bras are designed with a slight inward tilt with half cups giving less coverage. While a balconette has a more horizontal neckline with a breast uplifting feature to enhance your breast shape.
What is a balconette bra good for?
A balconette bra is useful if you need a push-up effect without wearing a push-up bra. You can comfortably wear it under any dress with a low cut, wide neckline, wedding gown, etc. It gives comfort, incredibly flattering and appealing.
What is the purpose of a demi bra?
Demi bra as the name suggests only covers less than half of your breast. The whole purpose is to show your cleavage while drawing the main attention to the center. It has a flaunting neckline that gives a super sexy look. Its cups are moulded which pushes your breast together to make it look fuller.
We hope you found this article about balconette and demi-cup bra styles helpful. Do try out the styles, and remember to have fun!