Backless bras, strapless bras, self-adhesive bras, low-back bras; the options seem unending, and it can be a pain to go through all of them to find the one that fulfils your quest. Many of us have even given up this quest or think we need extreme-weather duct tape to secure our breasts in place! And this problem is amplified when you have bigger breasts.
If you are post-breastfeeding and cannot stand the sight of nursing bras anymore, we get you, ladies! You want to switch things up and wear those sexy backless dresses again, but you feel like the perfect bra for your big bust doesn't exist. That's not the case.
We'll prove you wrong, and to your joy, about the best backless bra for DD cup. It sounds complicated, but we have listed our top picks along with a simple buying guide so that your next strapless adventure is all set to be a blast!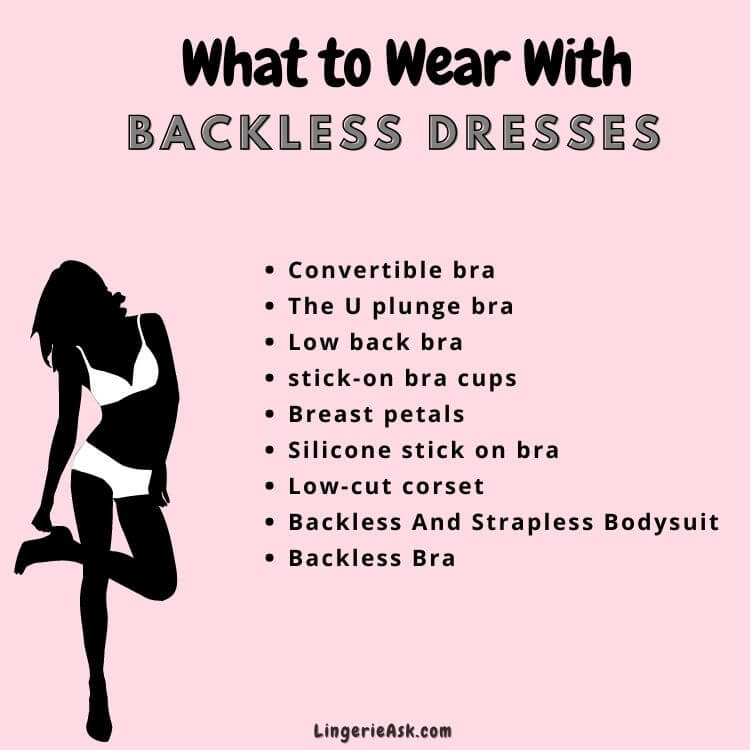 A Buying Guide For Backless Bras For DD Cup
To begin with, it isn't an easy undertaking to find the right strapless bra for a DD cup. The market is filled with countless different options hidden under that little black dress or the halter swimwear. But there are few things you can know that is specific to shopping backless bras for fuller breasts. And, the proper intel can lead you to the perfect bra. Let's see what they are!
Support Is Primary: It is an obvious thing for big-busted people to look for a bra that gives them the optimum support. No one wants sagging breasts, spillage, side or back rolls! And this factor gets trickier when there are no straps in the bra! It all comes down to the band or the adhesive. Although, for a DD cup size, we advise you to go for a convertible low back bra instead of a strapless adhesive one. It will have to be a perfect strapless adhesive bra to provide the support and lift a convertible low back bra gives for bigger breasts. The latter is also better at staying in its place than adhesive ones.
Find A Well-Fitting Cup: As crucial as it is to have good support in a strapless bra when your size is DD; a well-fitting cup is also crucial to getting the look right. After all, a good bra can make or break an outfit, especially a backless or strapless one! The way to getting your cup size as accurately as possible is to go in for a professional bra fitting. It is highly recommended and can be a true gamechanger. You need to know the shape of your breasts and the coverage you are looking for. The cup shouldn't be too tight or too loose. Otherwise, there will be side rolls or spillage.
Go For Convertibles: It is no hidden truth that strapless bras often wait quite some time in our wardrobes before their turn comes. So why not invest in bras that come with multiple strap options? We suggest you go for strapless bras that include removable and convertible straps. It is like having the functions of two bras rolled into one! Plus, you will probably wear it more often!
The More The Hooks, The Better: Now, this is something people often give a pass when choosing strapless bras, or any kind of bras for that matter! The straps are what give a part of the support to a bra along with the band. But as we cannot rely on them when it is strapless bras, we must turn our attention to the hook and eye closure. Bigger breasts need more support, especially when you take away the straps. So choose the strapless bra with a wide back closure with more hooks to give you a snug fit.
Best Backless Bra For DD Cup
1. Niidor Adhesive Strapless Push Up Bra
The Niidor Adhesive Strapless Bra is a winner for all those super sexy necklines and strapless dresses you own but didn't wear because you didn't have the right bra. It is one of the top bras if you want to go for an adhesive one. After all, the invisibility factor of an adhesive bra is the best. It has a deep V cup size which ensures complete coverage, and the silicone is of moderate thickness throughout, which creates a very natural bust shape.
Plus, the colour of the cups is as close to skin colour as possible, so it hides well. There are two colours available; nude and black. Do not worry about irritations as it is made of skin-friendly silicone. The bra doesn't necessarily give a lift, just a slight push to enhance your cleavage in low neckline dresses. Niidor has designed the cup sizes according to US and European cup sizes. This means you have to order accordingly as they are larger than Asian sizes.
There is an invisible closure at the front with a strong clip. The only thing you will have to be careful about is sweating, as that affects the adhesiveness. Avoid using this in hot weather or if you sweat more in general.
Take Note: Use warm water and a mild detergent to clean the adhesive surface to maintain it.
Our Take On The Bra: If you are looking for an adhesive bra for DD cup, this is it. It has a 3D stereoscopic cup made of skin-grade silicone, which offers full coverage and support. You also get nipple covers to switch to when the bra can't handle the sweatiness.
2. Just Behaviour Strapless Backless Self-Adhesive Bra
This bra is a step up from the normal sticky bras you may have seen. The Just Behaviour Strapless Backless Self-Adhesive bra has super sticky invisible side wings to give the added support other adhesive bras don't. The inside of the cap has strips of medical adhesive, ensuring the bra stays as it is.
Another thing that helps this bra adhere perfectly to your breasts is the band at the bottom. This gives the bust a lift of up to 2 inches! And as we said before, convertible straps are always a good option. This Just Behaviour bra comes with invisible straps with the help of which you can make this into a halter style bra. This also helps people with a DD cup size to experiment with their style without having to compromise on support.
Wearing this bra is not complicated at all. You just have to make sure your skin is clean and free of perfume, deodorant, or lotion before sticking it on. Then lay the cups flat on your breasts and adjust the wings at the back. Hold everything firmly for a few seconds once you feel like the fit is perfect, and voila!
Why We Love It
Sticky side wings
Convertible halter-style straps
Take Note
This bra is available in two colours; clear wing black and clear wing beige, so choose the colour before buying. Also, make sure you peel the packing carefully as you may damage the layer of adhesive.
Our Take On The Bra: This Just Behaviour Strapless Backless Self-Adhesive bra provides the lift, support, and smoothing that you wouldn't expect a sticky bra to give! The invisible side wings offer lift at the right places and a seamless shape (aka without side rolls!). If you are big busted, do give this a try.
3. Joateay Strapless Backless Self-Adhesive Push Up Bra
Joateay is an up-and-coming brand that has a good range of intimate wear that can be used to create infinite styling possibilities. The Strapless Backless Self-Adhesive Push Up bra is one of them. This bra looks like other strapless bras you may have seen, but it is different. It has underwire support! Yes, you read that right. It has an encased underwire which provides adequate support and a moderate cleavage.
The adhesive cups are medium padded and moulded to give you a natural bust shape that looks great under backless, strapless, halter, or one-shoulder outfits. This bra is made of soft fabric instead of nylon or silicone, so the comfort level is more as you are used to wearing fabric bras. The inside of the cups and side panels has medical-grade silicone that is soft against the skin.
The deep V shape is perfect for plunge-neckline dresses. No summer dress is out of bounds for a DD cup with this bra. And as the adhesive gel is applied on the whole cup instead of in a strip, it adheres exceptionally well. You can get this bra in three colours; black, nude, and nude lace! The last one is probably one of the most unique strapless bras and features a floral lace overlay.
Why We Love It
Encased underwire support
Push up paddings
Plunge neckline
Take Note
This bra is available in DD cup size, but customers have said that the breasts don't get the desired lift as the bra is quite heavy on its own.
Our Take On The Bra: Unlike other strapless sticky bras, the Joateay Self-Adhesive Plunge bra has underwire support. Big-chested folks know how much underwire support means to them! The adhesive side wings are a boon for avoiding side or back rolls.
4. Titu Strapless Push Up Plunge Bra
The Titu Strapless Push Up bra is a real game-changer if you wanted a genuinely invisible bra! We say so because conventional strapless bras have a butterfly-like shape, where the strip between the cups tends to show through deep V necklines. In this case, it has a deep U plunge neckline which is perfect for a deep V-neck dress.
This neckline also helps give your bust a good push and enhances your natural chest curve. And it does not miss out on the side wings! The side wings play an essential role for DD size breasts as they give the support and lift that comes from the straps otherwise. The adhesive silicone gel is skin-friendly and biologically safe.
As long as you take good care of it, you can reuse this bra many times over. Just wash it using some shampoo and running water after each use, and then let it air dry. The adhesive will stay as it is for the next use. The inside of the cups has larger sticky areas for more lift and support. This ensures better adherence and a more seamless shape as the bra's cups don't stick up. The sticky wings offer better side-bust control.
Why We Love It
Deep U plunge neckline
Larger sticky areas
Take Note
A drawback is that this bra doesn't come in a nude shade for DD cup size, and you only get the black variant.
Our Take On the Bra: This Titu Strapless Push Up bra is high on support as it has more self-adhesive inside the cups. Plus, the deep U plunge neckline is great for outfits with a deep V neckline.
5. Hansca Strapless Backless Push Up Bra
Hansca is a popular lingerie brand that has a wide selection of bras that fit the many needs a woman may have. They have minimizer bras, plunge bras, seamless bras, and much more. But strapless bras are their speciality. This model is an open back style which means you can whip out all those backless dresses that are hiding in your closet!
This bra is perfect if you want to accentuate your breasts further as it adds a cup size to your actual size. Additionally, the thick crescent-shaped padding in the cups and on the sides provides a contouring effect to your breasts. You get a seamless shape, and so you can also wear this bra under T-shirts. There is underwire support which is never a bad thing for a fuller bust! It keeps them from sagging and avoids any spillage.
The sticky side wings keep your breasts where they need to be. It is made of Nylon and Spandex, while the adhesive is made of skin-friendly silicone. The cups lend a natural shape to your breasts while also offering the modesty you need. The care instructions are pretty straightforward; hand wash with mild soap and water and let it air dry.
Why We Love It
Adds a cup size
Underwire support
Take Note
As this bra is thickly padded, you might want to look for something else if you wish to have a minimizing effect.
Our Take On The Bra: Hansca Strapless Backless Push Up bra offers optimum support at an affordable price. As it has underwire support and thick padding, it provides you cleavage enhancement and coverage while also taking care of modesty.
6. Dominique Strapless Backless Bra
This Dominique Strapless Backless bra is more of a low-back corset than it is a bra. That means it offers much more support and adherence than a traditional adhesive strapless bra. You may be wondering how it sits on your chest if not for adhesives? Well, this one has a hook and eye closure at the back!
The upside of buying a corset-style strapless bra instead of a traditional adhesive one is the support it offers. There is no comparison between the two as the corset has a band which is what a bra relies on most to provide support. It has moulded, three-section, fibre-filled cups that contour your breasts to give them a seamless shape and make them look flattering.
This tricot bustier is perfect for wedding gowns, prom dresses, summer halter-tops and the sort. The low back combines stretching Spandex net panels to give a slimming effect and also to allow for a snug fit. There is light boning also to provide better shaping to your bust.
Why We Love It
Bustier style
Seamless underwire
Light boning
Take Note
The cups are a little pointy and may not suit your tastes.
Our Take On The Bra: Your quest for an excellent backless strapless bra that doesn't come with good support can come to an end with the Dominique Strapless Backless bra. The bustier shape, band and light boning offer superior support and seamlessness. For backless comfort, this is it!
7. Fashion Forms Nubra Ultralite
Fashion Forms has made the Nubra Ultralite especially for those super sexy outfits where you need the lightest coverage. It has adhesive-lined foam cups that offer decent support. It isn't the best for bigger breasts, but if you want minimum coverage and maximum sexiness, this works perfectly.
There are no side extensions or wings for support. The closure is in the front, which is much easier to wear and take off the bra. Easy to put on and take off! But do know that this doesn't stay put as well when you are sweating. We do not recommend this for hotter climes.
The soft, moulded cups flatter your bust, but the cups are not as deep. So if you have fuller breasts, this might not be the best thing. The lift is better when you are standing up, but that is more gravity's fault than the bra's own.
Why We Love It
No-show
Foam cups
Breathable
Take Note
The effect of the adhesive falls the more you stay in the heat, so be careful about that.
Our Take On The Bra: Fashion Forms offers a perfect strapless and backless bra at an affordable price. The moulded foam cups provide decent coverage and also give a good shaping effect to your bust.
8. Fashion Forms Go Bare Backless Strapless Bra
This is another good entry from Fashion Forms. Their Go Bare Backless Strapless Bra is meant for exactly what the name says! It allows you to go bare and flaunt your backless dresses! This one is a step up from the Nubra Ultralite because of the adhesive side wings. This gives you better bust control and support than traditional sticky bras.
You can get rid of side rolls as the side wings can be adjusted and taped as far back you wish. The adhesive is long-lasting, as long as you don't sweat a lot, affecting adhesiveness. The bra is made of Nylon, Spandex, and silicone. It is available in two colours; nude and black.
The cups give a decently natural shape to your breasts unless they are sagging very much, as that will require you to use something more heavy-duty like the Dominique bustier for optimum support. The underwire support helps a lot in giving just the right amount of lift.
Why We Love It
Side wing support
Long-lasting adhesive
Take Note
This bra is true to size, so order accordingly.
Our Take On The Bra: The Fashion Forms Go Bare Backless Strapless bra looks fantastic, thanks to the added support of the side wings! The underwire offers a decent amount of lift and support. You can rely on this bra to give a seamless shape to your bust. This bra is like any other traditional self-adhesive strapless, backless bra and hence is excellent for such outfits.
9. Wonderbra Ultimate Backless Bra
The Wonderbra Ultimate Backless bra works wonders for a DD cup size! It has front-adjustable straps, which means you can't wear strapless outfits. But if it's a backless dress that we're talking about, it just means you get all the support that straps offer! Apart from the straps, you also get support and lift from the underwire.
The bra looks a bit like a corset does, and so it gives your bust a very flattering shape. The cups are lightly padded, which could be bad if you already have fuller breasts. But it does give you a more seamless silhouette as the padding is seam-free. It is available in two colours for matching with different outfits; black and beige. The straps are set apart, and so they aren't visible underneath dresses or tops. The plunge cups offer good cleavage enhancement.
Why We Love It
Straps for support
Underwire
Light padding
Take Note
There might be side rolls if you have spillage from the cups. And, check the size chart before ordering this bra.
Our Take On The Bra: Everything about the Wonderbra Ultimate Backless bra is perfect for backless outfits. The straps, underwire and side support give you optimum lift and a flattering silhouette under the dress.
Conclusion
After reading this article, your fears about shopping for backless bras for bigger breasts have been put to rest. Now you can embrace your backless clothes with the love they deserve! Go on, choose your best backless bra for DD cup!