Before we get into which is the best bandeau bra for a large bust, let's know what a bandeau bra is.
A bandeau bra can be defined as a strip of fabric with no straps that wrap around your breasts. They're different from a regular strapless bra in the sense that bandeaus offer more support and coverage.
With new and exciting necklines, back designs, and cuts, most dresses and tops these days will not go well with standard bras. Just like your dresses, you've gotta upgrade your bras too! A bandeau bra is strapless and offers the right coverage for your dresses!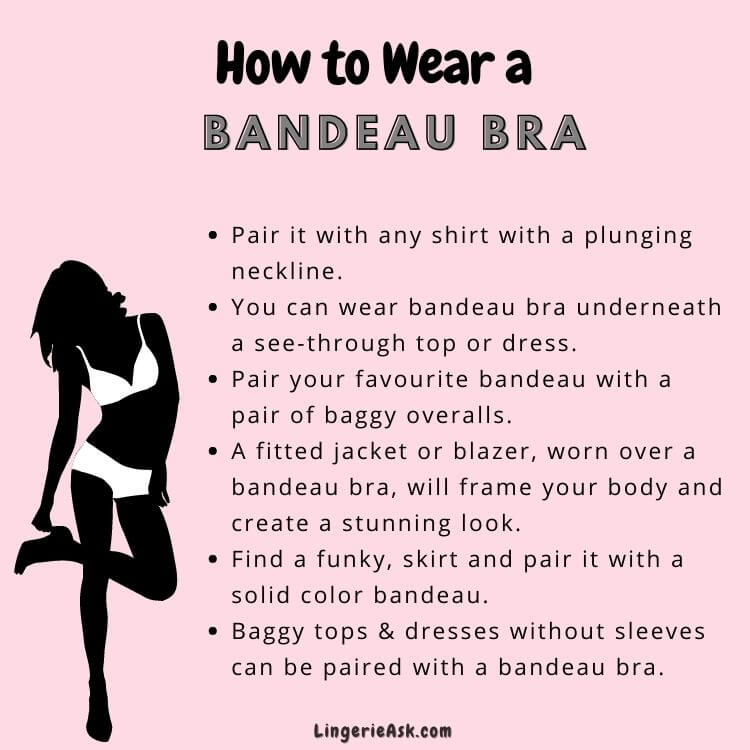 Here is a list of the best bandeau bra for large bust we compiled based on our resources and reviews.
Best Bandeau Bra for Large Bust
1. Boao 3 Pieces Women's Floral Lace Tube Top Bra Bandeau Strapless Bras.
Boao has a wide variety of products under its umbrella. From kitchen essentials to beauty and personal care, Boao has everything you need!
This bandeau comes in neutral colours and in all sizes, from small to XX-large. You can buy these strapless bandeaus in packs of three. Made of modal and spandex, it feels soft and gives you a comfortable wearing experience.
With attractive lace designs in the front and back, it looks pretty cute! The strapless design of the bandeau features a pull-on closure which makes it easy to wear and remove.
The bandeau has no pads or underwires; thus, it can be worn by women of all ages and sizes. It has an excellent elastic stretch that fits your breasts comfortably and can be used as a sleeping bra. It avoids any chance of accidental exposure.
At the top of the bra, you can find tiny rope loops that allow you to insert straps. However, Boao does not include straps with the bandeau.
The lacy design at the back allows you to wear this bandeau with open back or backless dresses too! This bandeau fits well on larger breasts and does cause uni-boob or bulges.
Our take on the product: This Boao three-piece bandeau has soft and silky fabric lining under the lacework, which feels soft and comfortable on your skin. In addition, it has tiny rope loops for you to insert straps if you'd like!
2. Boao 3 Pieces Women Bandeau Bra Padded Strapless Bralette
Another one of Boao's bandeaus makes its way to our list of the best bandeau bra for a large bust.
These bandeau bras are available in black, white, and nude colours and are sold in packs of three. You can get these in all sizes, from small to 3X-large. It uses high-quality fabric that is breathable and lightweight.
Thanks to its excellent elasticity, this tube bra is suitable for women of all ages and sizes. The removable pads of the bra provide support and protection. The pads lift and shape your breasts.
It stays in place and wraps perfectly around large breasts. It gives you a seamless fit underneath your clothes. This bandeau bra does not have underwires. Therefore, it does not poke or dig inside your ribs. They stay in place without pinching!
"Always skeptical as most bras like this are more for smaller breast women, but these are the best I've ever tried for larger breasts", said one of the reviews on Amazon, and we agree!
It has a pull-on closure; therefore, it is easier to wear and take off. Ideal for your summer dress on a hot sunny day!
Pros
Removable pads
Soft fabric
Cons
Choose your size properly
Our take on the product: This bra is very similar to the first one, the significant difference being the lacework in the former product. The pull-on closure and removable padding make this bandeau bra convenient and desirable.
3. MELENECA Women's Strapless Bra for Large Bust Minimizer Unlined Bandeau with Underwire
Meleneca's exotic line of bras will make every day a holiday! Their bras deliver holiday-like comfort and have all different styles and sizes of bras.
This bandeau is available in different colours and prints that make it look classy and attractive. You can buy it in all sizes from 30A to 44E.
It comprises nylon, spandex, and polyester, which gives the bandeau a soft and silky feel. It ensures comfort all day long with no irritation or discomfort.
With no padding in the cups, the bandeau features a breathable fabric lining that offers modesty and coverage. It has underwires to give you the proper support for your large bust. In addition, the silicone material has a non-slip characteristic that prevents the bra from slipping.
Meleneca includes a pair of adjustable and invisible shoulder straps, which we can remove or use as per our needs. In fact, you can convert the standard straps into a criss-cross design. Unlike other pull-on bandeaus, this has hook-and-eye closures at the back.
This bandeau is a minimizer bra; that is, it creates the appearance of a less bulky shape. It does not sit too tight on your body and allows unrestricted movement. Many women with large busts seem to love this bandeau!
Pros
Non-slip silicone
Comes with straps
Our take on the product: This Meleneca bandeau comes with adjustable shoulder straps that make it versatile. With underwires and wide sides, this bandeau is supportive and offers modesty. The non-slip silicone ensures that the bandeau bra does not slip away.
4. Duufin 5 Pcs Lace Bralettes for Women Bralette Padded Lace Bandeau Bra
Duufin has a massive range of stationery, nail art accessories, hair accessories, earrings, bralettes, etc. All of Duufin's products will make you go "aww"!
These Bandeau bras are available for purchase in packs of five and come in a number of attractive colours. You can buy them in all sizes, from small to X-large.
The bralette is made of lace and modal that is soft, breathable, and comfortable to wear. In addition, it is stretchy and hugs your body well.
It has curved sponge pads inserted in the bandeau that can be removed as per your needs. The delicate lacework of the bralette makes it look stylish and pretty. Moreover, the V-neck design of the bandeau adds a hint of elegance and style.
These bandeaus are highly affordable and made of high-quality material. Most women have a prejudice that lacework causes irritation and itching, but the lacework on this bandeau is so soft and comfortable!
Since it has no underwires, it feels light on your skin and even manages to hold your girls just where they should be!
Pros
Pretty lacework
Removable padding
Our take on the product: Well, you get five bandeaus at an affordable price! It has removable padding, lacework and an elegant neckline that makes everything about these bandeaus even better! However, most reviews suggest that the bandeau cups are small and may not fit a large bust appropriately.
5. Ahh By Rhonda Shear Women's Angel Seamless Underwire Bandeau Bra
Rhonda Shear's line of intimate wear will ensure that you find your 'ahh' moment! Their bras are comfortable without compromising on support!
This bandeau comes in seven attractive colours, and you can buy it in all sizes, from X-small to 2X-large. It comprises nylon and spandex, which makes it stretchable and soft!
The smooth, seamless fabric of the bandeau gives a smooth silhouette with no lines under your clothing.
It has a pull-on closure; thus, there are no hook and eye closures at the back. So you can style these under backless or open-back tops with no sight of ugly clips and hooks.
The underwires of the bra offer support to your breasts and defeat side bulges. It also ensures separation and does not cause a uni-boob. The band is stretchy and does not sit too tight around your ribs.
It does not slide down your body and stays put for a long duration of time. So, say goodbye to pulling up the bandeau every once in a while and after the slightest movement. In addition, this Rhonda Shear bra is tagless, so no more itching either!
Truly an 'Ahh-mazing' bandeau bra!
Cons
Offers too much separation
Our take on the product: Most women with large busts seem to love this bandeau as the fabric is super stretchy, and the underwire hugs your body right where it should. Additionally, it stays in place and requires minimal adjustment throughout the day!
6. Maidenform Women's The Dream Collection Bandeau Contour Bra
Maidenform is a dreamy shop for all things intimate! Their collection of bras offer sensual styling and a luxurious fit.
This bandeau bra comes in several colours and prints. You can purchase it in all sizes from 32 to 38. It comprises nylon and elastane and has an excellent soft feel to it.
Owing to the perfect blend of fabric, this bandeau feels like a second skin on your body. The buttery softness of the fabric caresses your body and enables it to fit like a glove!
It offers enough support to ensure that the girls aren't sagging all the way down. The bandeau's padding offers modesty and shaping. With pull-on closure, it is extremely easy to put on and take off.
The centre ruching design of the bandeau makes it cute and appealing. In addition, it has a wide band at the hem, which keeps the bra from sliding down. The thick, shiny material of the bra, too, contributes to making it look pretty!
Maidenform also includes a pair of adjustable and transparent straps. You can remove these when you need to.
Pros
Soft, thick fabric
Includes transparent straps
Cons
It does not stay in place
Our take on the product: Maidenform's bras are high quality and comfortable. This bandeau bra stands up to the mark too! It comes with adjustable and transparent straps that you can easily remove. With enough padding, the bandeau offers shaping, coverage, and modesty to your breasts.
7. KINYAOYAO 3 Packs Women's Seamless Bandeau
Cabales' bandeau bras are comfortable, fashionable, and healthier, with some desirable features and benefits.
This bandeau bra comes in different colours and is available for purchase in packs of three. You can get these in all sizes, from small to 3X-large.
It is mainly made of nylon and spandex, which is why the bandeau is so stretchy and feels comfortable on your skin. This fabric is breathable and skin-friendly! Moreover, this form-fitting bandeau feels like a part of your body!
The bandeau features removable pads that offer shaping and modesty. If you're looking for a more natural feeling, you can take the pads off.
For maximum support without any constriction on your chest, this bandeau is free from underwires. Thanks to this wire-free design, the bra is highly comfortable and prevents chafing or irritation. This makes it lightweight and ultra-soft. It offers proper support and coverage with its practical design.
This Cabales bandeau bra offers a flattering fig with adequate modesty. Its fit does not make it look like you have bulges or lumps all around your chest and back. In addition, this bandeau offers separation and offers light support for activities like yoga too!
Pros
Soft and breathable fabric
Removable pads
Our take on the product: This Cabales bandeau gives you a flattering fit with good shaping and modesty. With removable padding, the bandeau is comfortable and feels soft on your skin. The wire-free design ensures that you do not suffer through chafing or rashes.
8. Geyoga 4 Pieces Strapless Bandeau Bra
Geyoga's strapless bandeaus ensure comfort all day long and allow you to wear the bandeau as lounge-wear, during yoga, exercise, or at the beach.
You can purchase these bandeaus in sets of fours and different combinations of colours. But if you ask us, the 'fresh colours' set looks super cute!
These comfortable bandeaus are made of nylon and spandex, making the material skin-friendly! In addition, it is breathable and stretchy to give you the right fit.
The strapless bandeau has no cups and underwires yet delivers support and coverage. This bandeau does not put any pressure on your body and will not cause any discomfort. It makes use of quality craft with exquisite artistry that features well-knit lines. Safe to say that the bandeau is reliable and of superior quality.
It has a straight neckline, so you can wear it under plunging tops, and the bandeau will look just like it is a part of the top! The straight back also enables you to wear it under backless or open-back tops.
According to many customers, this bandeau bra is suitable for women with large busts as the fabric stretches quite well and does not slip off your body. The underbust fit is perfect, neither too tight nor too loose.
Pros
Breathable fabric
Comfortable
Our take on the product: Geyoga's strapless bandeau bra is comfortable, and its fabric feels very soft on your body, buttery smooth. It uses exquisite craftsmanship that is visible in its well-knit lines.
9. Venbond 3-4Packs Women's Seamless Bandeau Crop Tube Top Bra Strapless Padded Bralette
Venbond manufactures a wide range of underwear for women. These bras come in different prints, patterns, and styles.
This Venbond bandeau bra comes in various colours and can be purchased in packs of three or four. You can get these bandeaus in all sizes, from x-small to 3x-large.
It contains polyamide and elastane, and this unique blend of fabric makes the bandeau soft and stretchy. Just what you need for a desirable fit.
The front lining of the bandeau contains removable pads that offer modesty and shaping to your breasts. A wire-free design keeps you free from itchiness, chafing, or discomfort. You will be delightfully taken aback by the support it offers.
Venbond bandeau's seamless padding structure provides coverage and is not see-through. In addition, it smoothes out the bulges at the side and back to give you a flattering fit. The broad bands ensure that there is no fat flowing out of the fabric.
They're so comfortable that you'll barely realize you're wearing them, yet you can wear all of your bare shoulder, halter neck tops without showing any straps! "Comfortable, functional, and practical", said one of the reviews, and we couldn't agree more!
Pros
Soft fabric
Removable pads
Our take on the product: These bandeau bras are comfortable and highly affordable. With removable padding, it offers excellent convenience and ease to all consumers. The thick, breathable fabric of the bandeau makes it super soft and stretchy!
How to choose supportive seamless bandeau bra
Fabric
The fabric of the bandeau bra plays a crucial role in your buying decision. It is in constant contact with your skin and a highly sensitive body part, your nipples. You do not want to hurt them or cause any discomfort.
Spandex and elastane add elasticity and stretch to the fabric to ensure that the bandeau bra so that it fits comfortably around your bust. Women with a large bust especially need this stretch in the fabric.
Also, check if the inside of the bra uses any sort of adhesive to keep the bandeau glued to your body.
Underwires
An underwire may offer immense support to women with larger busts. In addition, it also lifts and holds you girls up! A bandeau bra with underwires will also function similarly by giving you excellent lift and support.
Also, ensure that another layer of fabric surrounds the underwire, lest it will cause discomfort and chafing.
However, if you are here looking for something that delivers utmost comfort and coverage, a wire-free bandeau bra may prove to be the best choice for you. The absence of wires ensures that nothing digs or pokes into your skin and makes the bandeau lightweight.
Closure
Different brands employ different methods of closures for bandeau bras. They could be pull-on closure, hook and eye closures, etc.
It must be easy for you to wear and remove the bandeau. If you find it challenging to pull the bandeau around your large busts, go for the one that uses hook and eye closures. If you've had surgery and find it difficult to use hooks, a pull-on closure might suit you best! Choose the bandeau that suits you the most.
Support and Separation
If you are planning to wear a bandeau underneath your favourite strapless top, you do not want it to seem like you're not wearing a bra at all. For this, you need support, which is when bandeaus with padding, underwires, or wideband help you!
Neither do you want the bandeau compressing your breasts and creating the appearance that you have a uni-boob. The padding in them facilitates separation and also offers to shape your breasts. In addition, it also offers modesty and coverage.
Wide Band
A wideband in the bandeau keeps it from sliding down your body. Nobody likes to adjust their bras every two minutes. A wideband with elastic will ensure that the bandeau stays up and does not move every time you move!
But, if you're looking for bandeau bras that support you during your yoga or other low-impact activity, buy those ones that do not restrict your movement. This will happen when the fabric is highly elastic, and the bandeau moves and adapts to your body.
Neckline and Lacework
If you are planning on wearing bandeaus under plunging neck tops without revealing your cleavage, we suggest you buy those bandeaus with a straight neckline.
This feature will make it look like it is part of the top, and you can easily avoid the unsightly bra straps! Similarly, a straight back will look cool beneath open-back clothes.
Again, lacework makes the bandeau look super cute. So even if you show your strapless bandeau underneath your clothing, your fashion game will still be strong!
Conclusion
Finding a bandeau bra for a large bust is really difficult, especially if you want both support and comfort. However, there are many bandeaus that actually check all these boxes.
Our list of the best bandeau bra for a large bust consists of strapless bandeaus of several types and styles. Lacework, hook-and-eye closure, removable straps, padded, wired, out list has them all!