As an Amazon Associate, we earn from qualifying purchases. We are committed to researching, testing, and recommending the best products. Learn more about our review process.
Not all women find the right bra for themselves while choosing a perfect size. Many women don't even know their actual breast size, how should a bra fit, and are choosing the size which is either small or large for their chest. As per the latest news release, 80% of women are still not wearing a bra that fits them properly, and wearing the wrong bra size can affect your posture!
This will not only make you uncomfortable wearing them but also affects your health. A tighter bra will block blood flow to your chest area while a large size bra will leave your breast a bit shaggy and hollow making you feel awkward.
You already went through the last time when you had a bad experience with your bra due to its size. It is normal among many women out there especially for larger or smaller size bra.
What you must be aware of?
Average size Dilemma: There is no average size among bras. What fits for one might not be the same for another. Your roommate and you might seem to have the same breast but the actual size may differ a lot eventually leading to confusion in size. Choosing the right bra size and learning how should a bra fit is hence important for each and every woman.
It's not only about bra cups: What you must know about a bra is that it is not always the cup size that might be different or that is not giving you the comfort you are looking for. It might be the straps or the underwire that might go tight around your shoulder and below your breast line. You must always check for every aspect of a bra to get the most out of your bra. As a whole, you must be satisfied and comfortable wearing it just like you do any other dress or shoe.
Brands and Sizes: There are thousands of brands around the world. Every brand has its own measurements. What you might find a perfect fit around a certain brand might not actually the perfect measurement for other bra manufacturers.
Don't worry. We will help you with that and the article is further all about helping you get the perfect measurement for your breasts.
How to measure perfect bra size
To know your cup and bra size, all you need is a measuring tape. mirror and a bra size calculator.
Band Size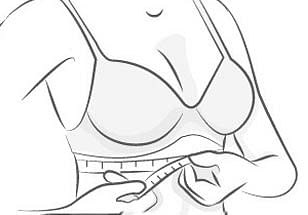 The first step is to measure your band size. This must be done under any non-padded bra or just braless. Take the measuring tape and at the band area, where your bra would end resting, wrap around the tape, mostly just below your underarm. It must be firm and not tight or not too loose.
Round down to the nearest even number and note your band size
Bust Size
Now, take the measuring tape and wrap around to the highest part, which is the nipple area around the back of your shoulder and round the measurement to the nearest whole number. Just keep it slightly loose thinking your breast would need some air underneath but not so loose.
YOUR CUPS SIZE

So now all you have to do is to subtract the band size from your bust size. In the figure above you can see a chart that shows what is the cup size for the difference you get.
So lets give this whole process a try.
You measure your band and the measuring tape shows your 31.5. Round off to the nearest even number. So your band size is 32.
Now, you measure your bust area and you came with anything like 34.6. Round up to the nearest whole number which is 35
Now, you subtract your band size with bust size. 35-32= 3
Now From the cup size chart above you can see that if the difference is 1 then the cup size is B. So your cup size is 32 C.
Here the 32 Is the band size and C is your cup size.
But we also have disscued earlier that not all the brand have the same size chart. And from countries to countries the size differs.
Below is the chart showing the size chart for some countries. Most of the bra brand will fall in the chart. Compare your size with the chart below. You can find one within these.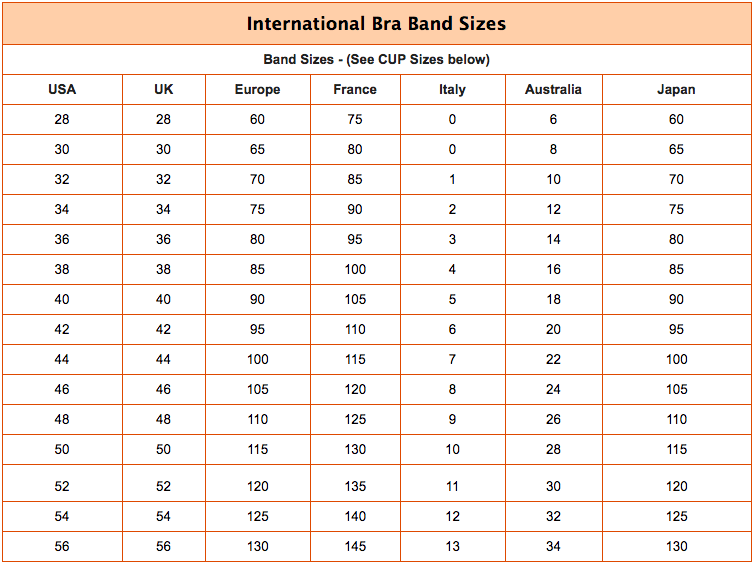 This chart will give you the cup sizes for different countries. If you are among these countries, you have a pretty easy way to figure your bra size.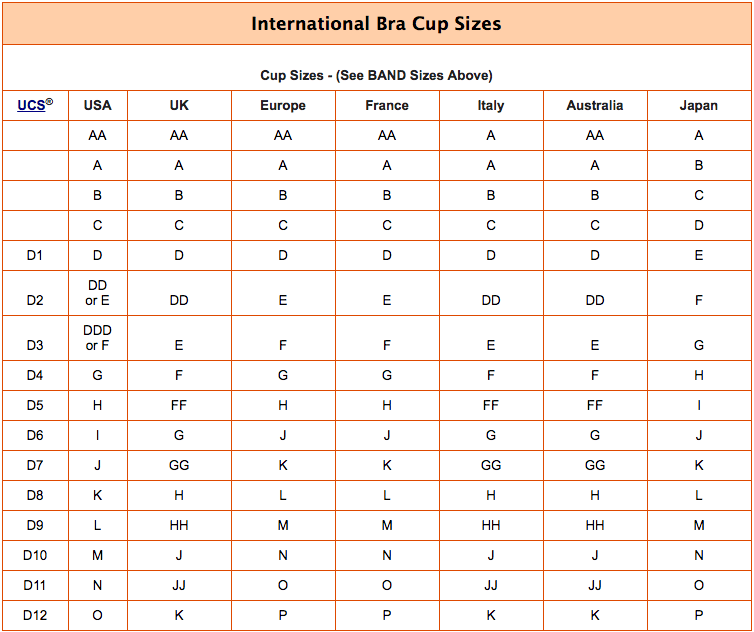 If you don't have to worry if you don't find your self in the chart above. You know how to calculate your bra size and the cup size as discussed earlier. These charts are just the notation for your sizes among different countries.
Bra Size Guide: Find Your Perfect Bra Fit
To find yourself a perfect bra, you must consider going through a list of things on a bra. Apart from your bra size which is the measurement you will be wearing, there is a various factor that must be considered while buying a bra.
1. Band: A band might be the most important factor that you need to check before buying a bra. It supports your bust and helps them keep at right shape and position. The band must perfectly fit your band line. It must not be too loose or too tight and firmly stand at their position. Basically, if you can fit a finger in between the band and your skin you are good to go.
2. Centre Gore: Center Gore is the main attraction in a bra. Either you want full coverage or want a plunge, the center gore is to be looked closely. You have different bra type with different center gore. Just look for the one that covers your bust and rests them at their position holding them stable while wearing any bra on.
3. Cups: You have measured your cup size and you know the cup size you want. If there is any sort of hollowness in the cups then the bra is not for you. Or if they are pushing your bust then they might be smaller for you. Measuring your cup size is important for getting a perfect match for your bust.
4. Straps: Straps help you keep your breast at a stable position. If your straps are tight then it might leave you with marks on and probably resist blood flow around your chest and back. A loose strap might not keep your breast at fix position. Therefore straps must be considered very carefully to complete your quest of a perfect size bra for yourself.
That's all in this article. Thanks for visiting.
Hi there, I'm Jyoti Priya, Founder and Editor of LingerieAsk.com. I and my team exhaustively research to provide you with expert lingerie advice, products reviews and buying guides. Our only goal is to help our readers make the best purchase decisions.