Explore the world of plunge bras and uncover their benefits for revealing your best cleavage. From when to wear them to styling tips, our guide covers everything you need to know. Read now to unleash your curves and feel confident in any outfit.


Hey there, lovely readers! Today, we're going to talk about one of the most popular types of bras out there: the plunge bra. If you're someone who loves wearing low-cut tops or dresses, then you've probably already come across this type of bra. But for those of you who may be unfamiliar with the term, let me explain.
A plunge bra is a style of bra that is designed to have a very low center gore (the part of the bra that connects the cups). This creates a deep V-shape that allows the bra to be worn with low-cut tops and dresses without showing any of the bra itself. It's a great option for those who want to create a more daring, sexy look, without sacrificing support.
Personally, I love wearing plunge bras, especially when I'm going out for a night on the town. It's the perfect way to show off a little bit of cleavage, without feeling like I'm revealing too much. Plus, with so many different styles and colors to choose from, there's a plunge bra out there for every outfit and occasion.
So, whether you're looking to add a little bit of spice to your wardrobe, or just want a bra that will give you a seamless look under low-cut tops, a plunge bra might just be the perfect option for you. Stay tuned for more tips and tricks on how to rock this style with confidence!
What Is A Plunge Bra?
Plunge bra has angeled cups and underwires that gently push your breast together to give you a full look. As the name itself suggests, a plunge bra has a "plunging" neckline that makes it the perfect fit for clothes that have a low neckline.
These are the perfect fit for women with smaller busts, as a plunge bra acts as a push-up bra and adds that little magic to all your clothes. Or if you love to show your cleavage, but a push-up bra is too uncomfortable, then you can choose a plunge bra as it gives the effect as one but does not have the extra padding that comes in a push-up bra.
Here's a table comparing plunge bras with other popular bra styles:
| Bra Style | Description | Key Features | Support Level | Best for |
| --- | --- | --- | --- | --- |
| Plunge Bra | A bra with a low-cut center gore, designed to create cleavage and fit under low-cut tops and dresses. | Low-cut center gore, angled cups, wide-set straps | Low to medium | Low-cut tops and dresses, creating cleavage |
| Balconette Bra | A bra with cups that are cut straight across the bust, providing lift and shaping. | Cups that cover the entire breast, wide-set straps, underwire | Medium to high | Wide necklines, low-cut tops, creating lift and shaping |
| Full-Coverage Bra | A bra that covers the entire breast, providing maximum coverage and support. | Cups that fully cover the breast, wider straps, higher center gore | High | Everyday wear, larger cup sizes, providing maximum coverage and support |
| Push-Up Bra | A bra designed to lift and enhance cleavage, featuring padding and push-up cups. | Cups that push breasts together and upward, padding, underwire | Medium to high | Low-cut tops, creating lift and cleavage |
What Are Some Of The Advantages Of Wearing A Plunge Bra?
Wide-range of uses:
Although we mentioned that a plunge bra is commonly used under low-cut dresses, you can actually wear it for any outfit that you want. You can wear it under your T-shirt to get that push-up look. T-shirt bras usually have thick padding that can get uncomfortable after a while; however, you will not feel that way while wearing a plunge bra.
Apart from that, the T-shirt bra will only add on fake bulkiness, while the plunge bra will accentuate your natural curves.
High-level of comfort:
Although it has the same effect as a push-up bra, it has shorter wires compared to a push-up bra. A regular bra with wire will be running through the whole circumference of a bra. However, in a plunge bra, the underwires are shorter.
Women who hate the underwire bra in their bras seem to really love the plunge bra because they feel like it is not as uncomfortable.
Plunge bras have unique cups:
These are specially angled to prevent any visibility. Yet, the way they're angled helps in more coverage and hence, support. The idea that they don't support women with larger cup sizes is entirely false, as the cup can actually help hold in and support your bust. It also has an uplifting effect without actually making it look weird.
The cups are also deeper :
The mesh overlay provides enough support at the top. An added safety mesh can ensure full support and coverage without compromising on showing some skin and on those stylish low neck tops or dresses you've got.
Both these features make it perfect because the cups won't gape while using a plunge bra. Not only do they not peek outside your neckline, but they also have smooth edges for minimal visibility under tight dresses or t-shirts. They seamlessly fade in to look like your skin, and don't shop up on the fabric either.
The cups and supportive straps work together to give you that effortless, flattering cut without the hassle of having bra lines visible with the thinner mesh and lower cut. Don't worry about the look of fullness because the bra has fabric in all the right places, especially where the bust is naturally full.
Plunge bras are supportive
As someone who understands the challenges of finding a supportive bra for bigger busts, I'm happy to report that plunge bras can provide excellent support, even for those of us with a larger chest. The key is to look for a plunge bra with underwire and molded cups that will lift and shape the breasts, while still providing the necessary support. Many brands also offer plunge bras with wider straps and a reinforced band, which can be more comfortable and provide additional support.
When should you wear plunge bras?
So, you're curious about plunge bras and wondering when is the best time to wear them? Well, you're in luck because I'm here to share my expert advice on this topic.
Plunge bras are perfect for low-cut tops and dresses, as they provide the necessary support and lift while remaining discreet. If you have a special occasion coming up, like a wedding or a night out with your girlfriends, a plunge bra is the perfect choice to show off your décolletage.
But, that's not the only time you can wear a plunge bra. In fact, if you're someone who loves wearing v-neck t-shirts or blouses, a plunge bra can be a great option to create a more polished, put-together look. It's also perfect for those who want to add a little bit of sexiness to their everyday wardrobe.
However, there are a few things to keep in mind when choosing to wear a plunge bra. Firstly, make sure you're comfortable with the amount of cleavage you'll be showing. While plunge bras can be incredibly flattering, they do tend to reveal more than your average bra. Secondly, be mindful of the occasion you're wearing it to. A plunge bra might not be appropriate for a conservative workplace or a family gathering.
How To Style A Plunge Bra:
There is no specific way to style it as it will be good under any outfit, and only some of the plunge bras can be styled in a way that they are shown.
The red carpet look:
This is the classic look for this bra. Every time we look at a celebrity walking down the red carpet with the perfect deep-neck dress, it is just mesmerizing. You, too, can achieve that look and all you need is a plunge bra and a lovely full-length dress.
This look is perfect for a date night or just a girl's night out at a fancy restaurant. Either way, you do not need to take that much effort with this outfit. You can accessorize it using simple jewellery like chains and rings, and you finish the look with high heels.
The casual look:
This is yet another effortless look, and for this, you will need your plunge bra, a T-shirt, and a pair of jeans. Just throw on your favourite T-shirt along with skinny-fit jeans, and your look is complete.
You make it better by tucking in half your T-shirt and pairing it with a pair of good sneakers. You can even accessorize the look by wearing a watch, ring, or bracelet. This outfit can be worn anywhere you like and be comfortable all day.
Due to the low cut, they also give you enough support from the centre while pushing your bust closer together to create a great look and more cleavage for you. Never forget that anything you wear is to make you happy, give you comfort, and give you the support you need and that they don't need to please anyone, fit any norm or fulfil any standard there is. Be your number priority, and make sure to love your body the way it is and take care of it well.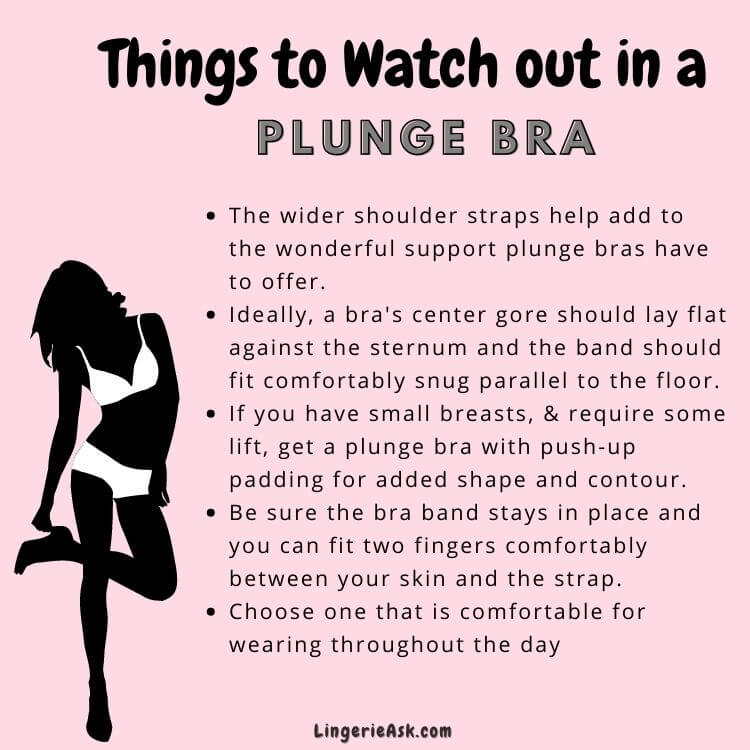 As a lingerie expert, I have seen firsthand the transformative power of a well-fitting plunge bra. I often recommend this style to clients who want a bra that will enhance their natural curves without sacrificing support.
Personally, I have found that a plunge bra is a must-have in my lingerie collection. Whether I'm dressing up for a special occasion or just want to feel confident in my everyday wear, a plunge bra is always my go-to.
So if you haven't already, I highly recommend trying out a plunge bra for yourself. With so many styles and options available, you're sure to find one that fits your unique needs and preferences. Trust me, you won't regret it!