As women, we all know the importance of underwear in our wardrobe. It's the foundation of whatever you're wearing on top, and if you don't get that right, your clothing can lay quite wrong, or it might be completely distracting if your underwear or your bra is showing, and you didn't intend that.
So, let's get this right! In this article, we'll share some underwear secrets that we believe every girl should know to transform your style overnight.
Invest in Adhesives
The first thing you have to invest in is adhesives. They are amazing, especially when you have something that is backless, or you want an off-the-shoulder top. Adhesives will make every outfit look perfect, no matter what you've got going on, and that also means that you're not going to have as many layers of fabric on, which is incredibly comfortable for this time of year.
Adhesives can also help if you've got a thin bra and want a little bit more coverage.
Stop Panty Lines and Camel Toe
To avoid panty lines or also to avoid any fabric from riding up in the front, our secret is a thigh shaper. Basically, any sort of shapewear is going to help so much when styling clothes, especially when you want to tuck in something that's bulky on top into a tight pair of pants.
Every woman should have some Spanx in her collection. Spanx can instantly smooth out any bumps and lumps that you may have going on under your garment, including a muffin top and any little bumps and lumps you may have going on. Anything that is going to help create a seamless look underneath is a great reason to invest in shapewear.
Size Up
The third quick secret that has to do with styling for underwear has to do with getting the sizing right. There are so many sizing misconceptions that happen with underwear. For panties, size up! It's something that you wouldn't realize goes a really long way, but if you have underwear that is fitting you properly, or like on the side of being too small, then it's going to dig in, and that's where you're going to get those visible panty lines.
On the other side of the spectrum, if you were to size up, then you can play with the fabric a little bit to sit properly underneath the clothes that you're wearing. I like to pull up the sides so that they never dig in on my widest point, and instead, they create a beautiful V shape, and then in the back, it's never going to dig in. It's going to be just roomy, and that's going to make me comfortable and confident.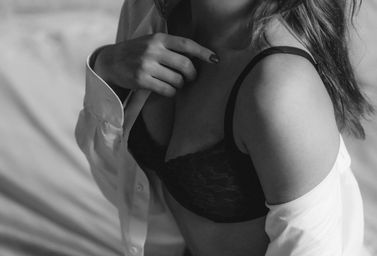 The same goes for bras. Always get the right fit of a bra, especially in the back. In the back is where a lot of the digging in happens that people notice when you are wearing a T-shirt. It just sort of lays funny, so it's better to get the right band size and also the right cup size so that you're not putting too much pressure, which can really affect things like your back. Go to a professional bra fitter if you can, but definitely try a few sizes that are called sister sizing, like a 32C is the same as a 34B, and a professional can really help you there.
Waist Trainers
Waist trainers are amazing for great posture. They will help you maintain an upright position and ensure that you don't get lazy or too comfortable. They are also perfect for wearing to work, especially if you spend most of your day sitting at your desk. Waist trainers will decrease the size of your waist, making you look slimmer and fitter.
It's important to note that waist trainers can feel uncomfortable in the beginning, but as you get used to them, you won't even notice that you are wearing them. It's also crucial to do your research before trying waist trainers or waist cinchers, which are more extreme. Some waist cinchers have metal in them, which can push on your skin, causing discomfort. Be sure to order waist trainers in your size and start with the first line of hooks. Gradually move on to the next hook as you get more comfortable.
Cotton Underwear
Cotton underwear is breathable and comfortable, making it perfect for everyday wear. They are also gentle on the skin, making them perfect for sensitive skin.
Butt Lift Shapewear Let's start with a personal favorite of mine – the butt lift shapewear. This piece of clothing is perfect for those times when you need a little lift in the rear. It works by giving you a smoothing effect at the top, a waist-cinching effect in the middle, and an instant lift at the bottom. However, keep in mind that under certain garments, the lines can show, so I suggest pairing it with a Spanx for a more seamless look. It may not be the most comfortable thing to wear, but trust me, it's worth it.
Keep Undergarments and Shapewear in a Variety of Color
I highly recommend investing in undergarments and shapewear in various colors. Having a range of shades to choose from means that you can mix and match depending on your outfit, and you won't have to worry about visible lines or colors that don't match. Black is always a safe option, but don't be afraid to experiment with other hues.
Push-up Bra
For those of us who have smaller or saggy breasts, a good push-up bra can be a lifesaver. They provide a great lift and create the illusion of a fuller bust. I personally love the Bombshell push-up bra from Victoria's Secret, but I'm always on the lookout for new brands that offer amazing push-up bras.

As I come to the end of this blog post, I can't help but feel a deep sense of gratitude for the opportunity to share these secrets with all of you. I hope that the information I've shared has not only improved your underwear knowledge but has also inspired you to feel more confident and empowered in your daily life.
Through my own journey of discovering the importance of quality underwear, I've realized that the way we dress ourselves from the inside out can have a profound impact on how we feel about ourselves. It's not just about looking good for others, but about feeling good for ourselves.
I believe that every girl deserves to feel comfortable, confident, and beautiful in their own skin. And it all starts with the right underwear. By taking the time to invest in yourself and your undergarments, you're making a statement that you value and prioritize your own well-being.
So go ahead and treat yourself to that luxurious silk set, or those comfortable and supportive panties. You deserve it! And remember, whether you're dressing up for a special occasion or just lounging around at home, your underwear should always make you feel like the beautiful, capable, and powerful woman that you are.
Thank you for reading, and I look forward to continuing this journey with all of you.