We all have a different occasion where we want to dress amazingly best and we go to our cupboard to find the right bra and we don't find one that suits our outfit.
We all have seen how celebrities express themselves with no bra one and we think how could we do the same.
For women with bigger breast sizes, the problem with sleeveless, open back, and empty shouldered dresses are that the bra straps are visible and that can ruin your look and the appearance of the outfit. There is a simple solution to get rid of this problem – taping your breasts.
In this article, we will discuss all these things in detail as well as how to lift your boobs with tape. We will know the different types of boob tapes. How to tape boobs for the plunge, and backless dress as well as how to remove the taping.
Problem with a strapless bra, deep plunge, or backless clothes
If you visit sites around the internet most probably they will recommend some kind of plunge bra, adhesive bra, or strapless bra.
But if you have different sorts of dresses for different occasions and say, your bra doesn't seem to match with the dress.
For those who don't do braless, What to do next?
For such a situation, this Boob tape thing is the most suitable and favorable one for you to choose.
For many of our outfits, some might recommend an adhesive bra, strapless bra, or multiway bra. Many women opt for a low-cut dress or low neckline exposing their cleavage to some extent.
The myth about an adhesive bra or such strapless bra is that they give you the support and also give your boobs the right amount of exposure.
But I must say they are just myths and none of them give you the right amount of stability and support. They might fall off, feel loose, and might not be comfortable with all of your dresses.
Women love to wear a dress that goes low on the neckline or gown with amazingly good exposure to the breast area on different occasions.
Every woman doesn't have a rounded or tight breast that fits perfectly with all bras and dresses. They like their breast to be perfect and should express themselves in a positive way.
With age and certain conditions like the pregnancy and nursing/breastfeeding phase, the breast becomes somehow shaggy and loose.
So, what is the ultimate way to make your breast look perfect for any woman with any breast size?
Here comes "Boob Tape"
Now here we have boob tape. This is the ultimate way to fix your boobs to get the perfect look you are waiting for. Boob tape is the reason behind the "Red Carpet Looks" of celebrities
Basically, Boob Tape is an adhesive strip of fabric specifically designed to tape your boobs for keeping breasts in a fixed position. They are a great alternative if you don't want to wear a bra but still want a great-looking cleavage for your awesome dress for that party you will be attending.
Boob tape basically stretches your boob to some extent to give you the perfect cleavage you are looking for.
Reason to use Boob Tape for strapless dress
You cannot wear a bra with all types of dresses like plunge necklines, halter necklines, wide necklines, open-side garments, and backless, low-backed garments. But that is not the case with boob tape. It is comfortable and allows your breast to behold in any position.
Another advantage is that you didn't have to worry about size and shape.
You can also use them if you are fed off from putting on and off the bra but it still doesn't give you the look that you are looking for.
Another reason can be to lift your breast up and resist the bouncing of your bust. Boob tape is also used in drama where girls are acting like a man and need a flattened chest.
Boob tape is also used by women with bigger boobs to flatten their chests to hide but also by women to show extra muscles while going out on a date or some romantic nights.
Boob tape help gives them a lift & gives you cleavage to help keep them in place during a night out under various outfits and it comes in really handy when you have an outfit that you can't wear a bra.
Can I tape my boobs to make them smaller?
Boob tape has become an increasingly popular alternative to bras and but still, there are many women who are not even aware of it. First of all, it looks incredibly weird but it might be possible that a well-endowed woman can go a long way with a little boob tape!
The first thing is to make sure that you have to choose a really good boob tape to tape your breast. There are two alternatives for boob tape, one is you can use double-sided and the other is you can use fashion tape. But none of the above options has that much stickiness so that it would be pressed up against your boobs and skin for a long period of time.
The second thing is to know when you need to tape your boob. Tapping your boob is not an everyday trick. Here are some important points to know when you tape your large-sized boobs:
Low cut dresses: When you want to look flowless and along with that you don't want the visible bra straps or cups. In such a case, boob tape works great as it gives a perfect shape to your breast and it can stay in its place for a long time.
High-intensity workouts: When you do a long workout and do not want your breast to move from its place. In this case, boob tape is a great alternative.
Specific bold tops: Some tops give a very classy and sexy look, but the worry that your bra will be visible in them does not let you buy them. You have the option to choose these kinds of tops with the use of boob tape to look sexy.
Different Types of Boob Tape
So there are certain types of tape for your boobs. There is a surgical tape, also known as medical tape that can be used but the adhesiveness is weak to hold your boobs for longer and sweaty nights.
There is also sports strapping tape that is used by sportspeople to stretch their muscle. This is also a good option to choose as they are designed to be used on the skin.
Then there are some women who also use duct tape. It is a strong tape and has a strong adhesive nature which in turn causes skin damage. Some women have sensitive skin and using a strong tape could obviously hamper their sensitive skin while removing it. Duct tape is designed for construction
Now we have Gaffer tape. Gaffer tape is used by many celebrities and women around the world to give their busts a good shape. It has a stronghold that won't get off for long hours and will give you the most of the support for your breast. It will hurt to some extent while removing but using oils can help keep it safe and simple to remove.
Prior to taping
It is always recommended that you don't apply any moisturizer or oils to your breast as doing so won't stick the tape around your breast.
If you have an allergic reaction to the glue, you should certainly make a patch test for it. Cut a small piece of tape and stick it to your skin to make a test before taping around.
Always keep in mind that some sort of redness is normal and in case of irritation occurs, which should not occur as boob tapes are designed keeping skin nature in mind, remove it.
It is also advised that tapes can get off if you are going out in hot weather and will have sweating. You also don't need to tape around while going to the gym.
You might also want to use a nipple to cover your nipple to minimize the pain while removing the tape. IF not nipple cover, you can use gauze or cotton wool, or any fabric to protect those nipples. The tape must go above them and not touch the sensitive area.
How to tape boobs for the Plunge and Backless dress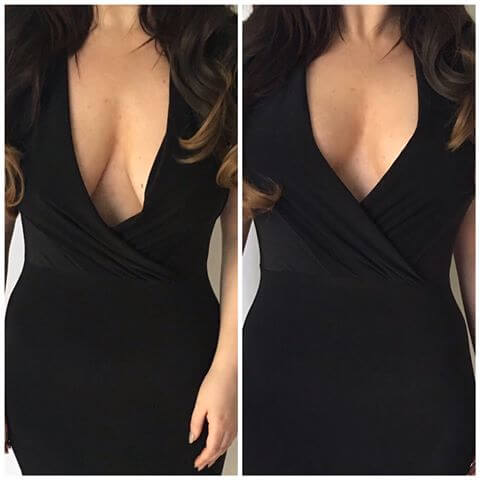 Basically, the idea is to lift the breast via tape from the sides and leave the middle area open so that it seems like you don't have a bra on but still have perfect cleavage. This method is very likely to be used with low-cut dresses and open chests.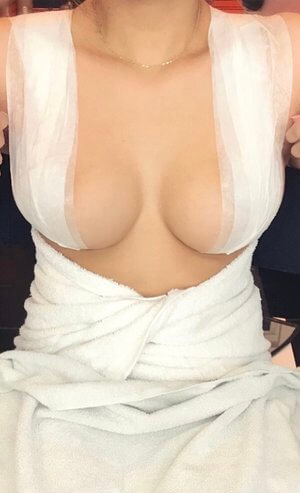 Step 1: Cut a strip of Gaffer tape, about 12 inches and from the base of your bust, bring the tape to your shoulders. While doing so just lift up your breast to the lift you want and tape it over your shoulder. While cutting a strip cut it long enough so that it reaches from the lower part of the breast to your shoulder.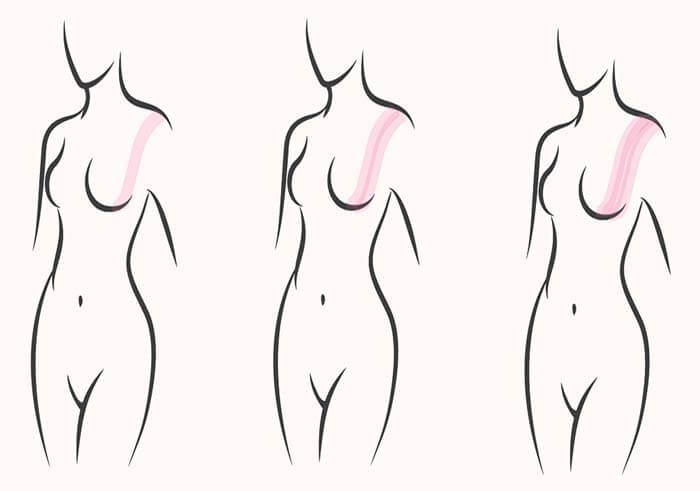 Step 2: Repeat the same with 2 more strips and this time while going over your nipple, place the nipple cover or cotton around your nipples.
Step 3: Repeat the same for your other breast. Besides this, if your dress allows you to stretch a tape strap horizontally under your boobs, you can use one strap to lift your boobs to some extent.
How to tape boobs for Strapless or backless dress
So, here is the second option of using Boob tape. This one is to use if you are wearing a dress that is backless or strapless. This is also known as the Tapping method in which you tape your boobs horizontally at the base of your breast to give the extra push up or in some cases to straighten the chest.
As mentioned above, the prior to taping point is always applicable before any kind of tapping to be done. You should clean your skin, you must not use any kind of moisturizer or deodorant before and after.
Step 1: Measure roughly the length from your left breast to the right breast. It must be a bit deep and along the line where your hand sits. Cut a piece of Gaffer tape. Pushing your breast to the height you want to raise up, tape along horizontally from left to right at the base of your breast
Step 2: Cut the second piece roughly from the middle part of your breast where your nipple aligns. Be sure to cover the nipples with a nipple cover or any cotton fabric to protect them. Give the push from the sides to create the perfect cleavage for your breast that you would like to have. Give a little hand over the tape to secure them.
Step 3: Wrap the third strap where the second one is to make them secure enough.
The taping also depends on the type and length of your cloth. If you are wearing a low-neckline cloth then you must cover your breast accordingly else the tape would show off.
In both the strapless case and plunge dress case, you should give a little push to your boobs so that they appear to look as you want them to.
You must also ensure that the tape is not too tight and must always give your breast a little air to breathe and the comfort they want. Also, ensure to apply enough tape to support your breast size. If there will be not enough tape to lift up your heavy breast, it may cause too much tension and may cause skin irritation.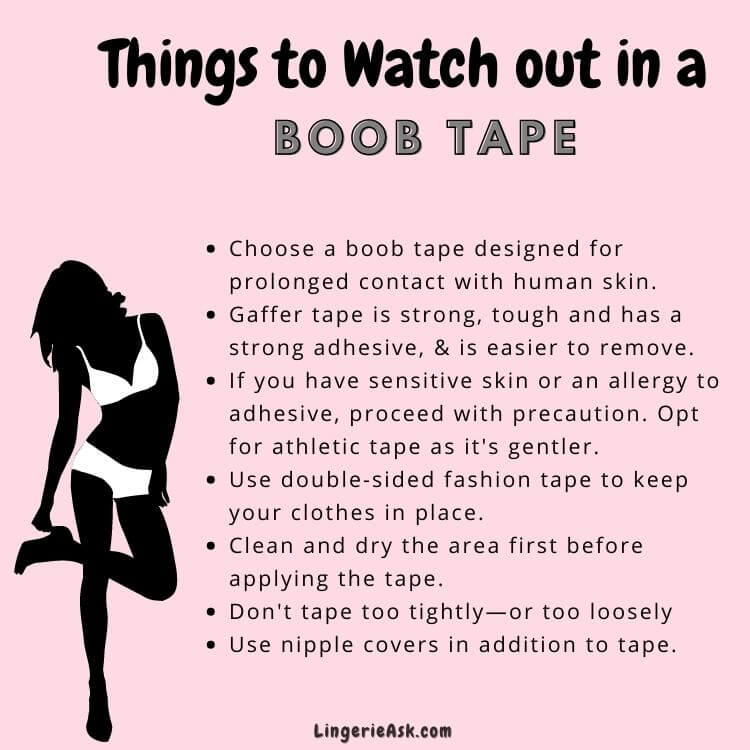 Fashion tape, a little magic
Here is a little hack in case you want to fix a little off-going around the nooks of your dresses. The boob tape might be visible from the sides and openness of your dress and in order to give them the perfect finish you might want this little hack.
FASHION TAPE. Yes, it is the little magic you would want in your dresses. You can use them not only while using boob tape but also with any other dresses.
Place it in the line of cloth where the boob tape is seen and you finished off your best get-up for the next great occasion. This is probably the hack all celebrities are using that you see in movies, film-fare awards, or Red-Carpet.
Removing the Boob Tape
Now you attended the function or party wearing the outfit you wished. You confidently expressed yourself and you are back home changing your clothes.
You have all your boob tape around and just pulling them off might not be a good idea. They are very adhesive and stick very hard in your skin. The skin is very sensitive around the breast area. Some women find the same area more sensitive than other parts of the body and it is important to remove the product safely.
So, what is the process of removing the boob tape?
Removing the tapes is not hard and painful unless you do it the right way. Yes, it might hurt slightly but not so much. You can take a quick shower and take the tape off just after the shower. Or you can apply some olive oil around the tape to loosen up and you can tear them off. Also, it is recommended that you do not wear these boob tapes for no longer than 8 hours.
Just know that it will hurt just like waxing but with olive oil, you will sense a lot less pain. Also, you must be aware that the Gaffer tape is a strong tape, and taking it would do some damage if not done correctly. So, keep a soft hand and remove it slowly.
---
There comes so many times that a boob tape can come in handy, for example, supposes if you are getting reading for a night out and realize & you realize you can't wear a bra under your favorite dress. So in that situation use this rather than just wearing other outfits.