Last Updated on January 12, 2021 by Editorial Team
Choosing the right bra is like choosing the right shoe for your self. You wear different shoes for different occasions. And so is true for Bras. Wearing the right bra at occasions, events, house, party not only shows your confidence but also keeps your breasts healthy and firm.
Saying that there are still lots of women who are unknown about how to measure their bra size and which types of bra they should wear for their breast. It is still important to know about the body type you possess and the bra that fits right for you.
Many women are unaware of the fact that there is a different bra that you can wear for different types of occasions. As you wear sleepers around your house, you wear a formal shoe for formal wear, a running shoe, casual shoe and many more and they fit as you want them to.
Here we will provide you the complete guide about various types of bra that are available in the market and how you can choose the right one for you.
For a higher overview, you can go through the image below that shows some of the types of bra.
While these are among the few available, we have tried to give you an extended list that will give you the whole view of the "Bra World".
Different bra styles for different occasions
1. Push Up Bra
Push Up bra as the name suggest is made to lift up your breast and give a bigger look for a perfect cleavage. These are suitable for women with subtle breasts.
These come in 3 levels of push you want for your cleavage starting from level 1 which is a gentle push to level 3 that gives a boost to your cleavage. The paddings inside them are what pushes your breast and give the perfect shape for your breast. The pads can be removed or added accordingly.
You can get this bra in cotton polyester and satin clothes. While it does come in every size from A to E, things to consider is the underwire that doesn't pinch at the bottom of your breast and fits firmly.
---
2. T-shirt Bra
Suited for uneven breasts, shallow breasts, thin breasts, T-shirt bra have smooth cups that will hide your inner assets giving you the perfect shape with their soft paddings and wire-line shape. A T-shirt bra is available in cotton, nylon, polyamide and can be worn with form-fitting clothes and these will seamlessly give you the smooth look.
---
3. Convertible Bra
A convertible bra is a multi-way 4-in1 bra that has detachable straps that you can rearrange to make as you like. You can see above in the pics what you can come up with this multi-way bra.
These are also all-purpose wear so you can wear it on any occasion and with any dress you prefer. It comes in cotton, polyester and satin fabrics.
---
4. Strapless Bra
A strapless bra is a go-to choice for women who want a bra with no straps. These are great to wear with open dresses like a backless, or strapless dress. While it has the advantage of no-straps, it might not support much like the traditional bras. Just look for band or wire under the cups that feel tight enough to support your assets.
---
5. Balconette Bra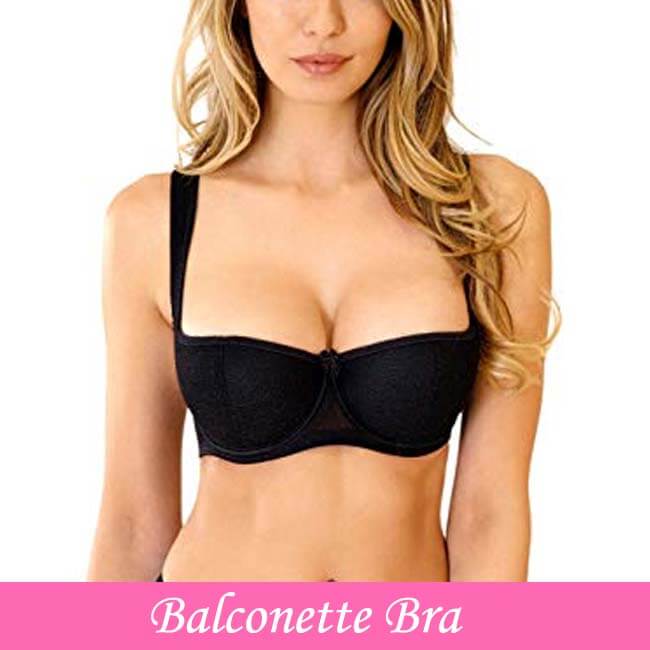 Balconette Bra is best suited for a small or heavy bust that can be worn with dresses that have low cuts. Tops and single-piece dress that shows almost half of your assets need balconette bra which is a great choice. These are available in cotton, polyester and satin fabrics. Just look for the straps that fit tight according to your breast size and you are all good to go.
---
6. Sports Bra
Sports bra are available in all sizes and are worn by women who are much into sports or athletics. You can wear this at the gym, yoga, running or any other sports activities. They are padded with soft pads and gives you a better shoulder movement and comfort reducing the bounce while heavy sports activities keeping them at right place.
You can wear it beneath t-shirts but they themselves look classy and colorful and can be worn as a single piece.
---
7. Halter Bra
The halter bra gives you an ultimate style to put on your bra. It has a single strap that can be worn around the neck or the back. It can be worn while working out at the gym as it gives your body to relax. You can wear it with low back dress or tops and are available in cotton polyester and satin fabrics.
---
8. Stick On Bra
Stick on Bras also known as Adhesive Bra are a self-supporting bra that does not have any straps on. They stick to your breast with silicons and paper pads on them that sticks perfectly around your breast. It is available in all sizes and fabrics used are silicon and Elastane. They are great to wear with Backless and strapless outfits.
---
9. Shelf Bra
Shelf Bra is not meant for daily use and comes under lingerie. They don't have pads on them and only the bra frame line, giving the visibility of most part of your breast. These bras are meant for you romantic time. Go check them out and invest in some self-pampering.
---
10. Longline Bra
Extending just above the belly button and with full coverage to the bust, Longline Bra is dual purpose bra that gives shape to your waistline while covering the breast area. They are great for every day as well as special occasion wear. They are available in blended fabrics and are suited for medium to heavy bust.
---
11. Sheer Bra
Sheer Bra is more of glamour and stylish bra that is usually used as a part of lingerie. They are usually transparent with a lot of laces and nets around them. Available in all sizes, these are made from satin, lace, and nets and are good for all women accordingly. It is worn beneath nightgowns and at the romantic occasion and comes in different styles.
---
12. Racerback Bra
Racerback Bra comes under sports and fitness underwears that have straps crossing at "Y" shape at the back. They don't have hooks at you back and is a single piece bra that fits firmly with your breast without much hassle of hooks and straps. They are suggested for women having a narrow shoulder or the one who want to hide straps underneath the tops or t-shirts. They come in various design and color with cotton and nylon material.
---
13. Underwire Bra
Underwire Bra is meant to provide extensive support for your breasts with the wires around the pads at the bottom of the cup. They are great to give you the roundness to the shape of your breast and hide any unwanted bulges. These are recommended for A-C cup breast but comes in all sizes too. They can be worn as daily use with any outfits and are available in cotton, polyester and satin fabrics.
---
14. Front Closure Bra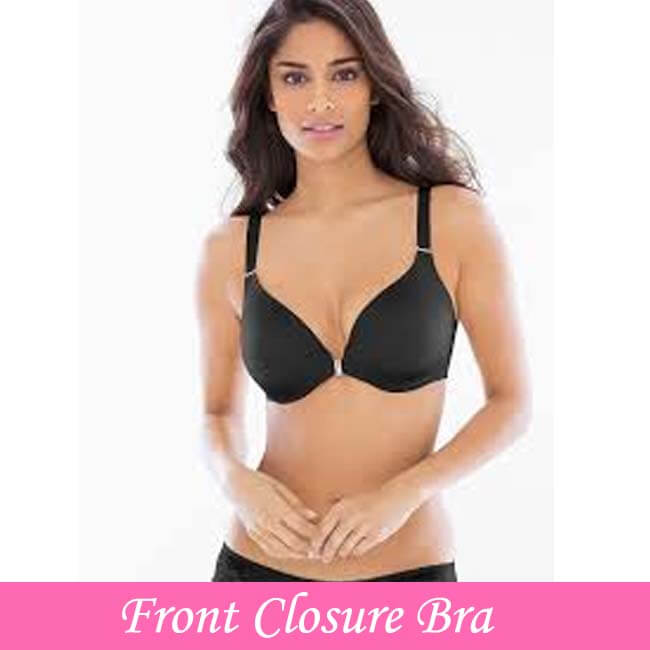 Front closure bra is a great option for women who want a seamless back. Rather than hooks at the back, they have hooks in-between the pads. The cups are perfectly padded with soft pads and wire under them to give a perfect shape to any women breast. They are great for breast with side set shape, round shape and teardrop shape and can be worn beneath any tight dresses. It is much more satisfying to close the hooks than the ones at the back. They are available in cotton, satin and polyester fabric and comes in all sizes.
---
15. Plunge Bra
Basically, a Plunge bra gives low neckline visibility with cups separated from each other and joining at the very low end. These are also called U-plunge bras or V-plunge, which comes from the fact that they meet at a very low end making a U shape or a V-shape. These are worn with dresses that need low necklines. It gives deep visibility of your breast. While they come in all sizes, they are a great choice for women with well-toned busts as it gives a perfectness of the chest.
---
16. Mastectomy Bra
A mastectomy bra is a special bra that is designed for women who have gone through mastectomy for their breast. They do come in all sizes with cotton, satin and polyester fabric.
---
17. Maternity Bra
A maternity bra is designed for women going through the phases of pregnancy. They are a full-size bra and have wider straps with extra support to reduce bouncing of boobs. As the breast size varies from one to another phase in pregnancy, these bras adjust themselves according and provide comfortable wear. They are not wired at the bottom and don't have pads around them giving the boobs the extra space it needs during pregnancy phases. They can be worn with any clothing for pregnant women and comes in all sizes.
---
18. Bralette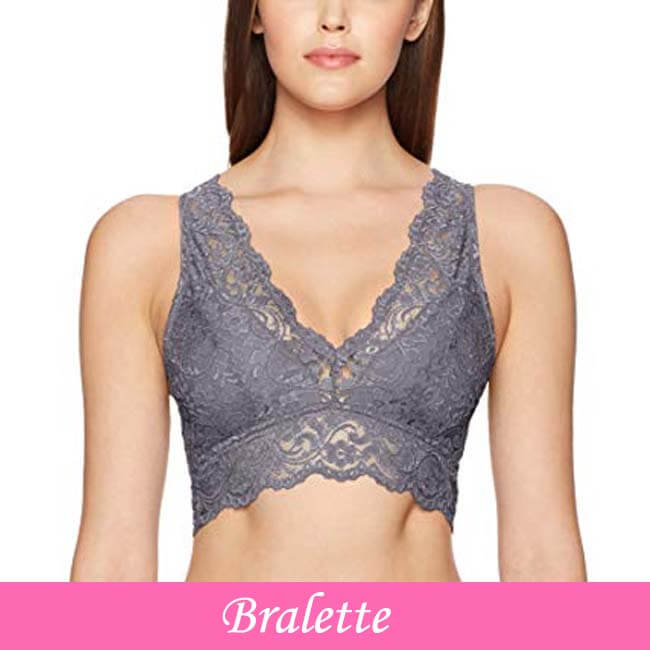 Bralette is a sexy looking bra with minimal padding with laces and flimsy thing around them. It is among the loved bra as it is a perfect combination of comfort and style. It comes with no paddings, not any hooks and no wires giving you a hassle-free way to wear a bra. While it doesn't shape your breast for bulge looks, it looks great under any loose clothing. It comes in all sizes and is good for leisure work and non-physical activity.
---
19. Cami Bra
Cami bra is a perfect combination of style and coverage. It features high neckline with a good full cups to hide your assets under deep neck outfits. They come in underwired and padded cups to give extra rounded shape to your breasts. These pads could be detachable too. It is good for everyday wear and can be worn beneath sheer shirts and open cardigan.
---
20. Beginner Bra
As the name suggests Beginner bra are for the teenagers who are just into their growing phase. They have basic clothing that covers up the entire cleavage with some having soft pads. The baseline can be wired or non-wired according to the emerging growth of your breast. It is comfortable to many extents and is a must for women on their early stage for healthy growth and shaping.
---
21. Full Figure
Full figure bra is basically a tank-top with pads on them. The pads have wire underneath them giving your breast a perfect look with full coverage of your cleavage. While the bra comes at full length, it is a perfect choice for casual use at home or at beaches for a perfect summer breeze.
---
22. Cage Bra
Cage bra is a perfect combination of overall coverage of breasts while giving a cage-like design with extra straps crossing over. The thick pads minimize the nipples bulge. Enjoy this bra to showcase the naughtier side this summer. You can pair it up with loose tank-tops, open back tops, low cuts and sheer back clothing to give you a sexier look.
---
That's all in this article. Hope it helps.