Hi, there lovely ladies,
If you're anything like me, you've probably experienced the frustration of trying to find the perfect bra to wear with your halter outfits. You know, those beautiful dresses or tops that show off your shoulders and back but leave you wondering what to do about your bra situation. Well, fear not my dear readers, because I am here to share with you some expert advice on the seven types of bras that will give you the support, comfort, and confidence you need to rock your halter outfits.
I've had my fair share of struggles when it comes to finding the right bra for certain outfits. But through my years of research and experience, I've learned some valuable tips and tricks that I can't wait to share with you. From strapless to adhesive bras, I've got you covered (literally) with options that cater to different shapes, sizes, and styles.
But before we dive into the details, let me tell you a personal story about a time I struggled with finding the perfect bra for a halter dress. It was my best friend's wedding, and I had spent weeks searching for the perfect dress. I finally found it, a beautiful halter gown that made me feel like a goddess. But when it came to finding a bra to wear with it, I was at a loss. I tried strapless bras, sticky bras, and even went braless, but nothing felt comfortable or supportive enough. I ended up feeling self-conscious and distracted the whole night, which took away from the joy of celebrating my friend's special day.
But that experience motivated me to learn more about the different types of bras that are suitable for halter outfits, and now I want to share that knowledge with you. So, let's get started on this journey together and find the perfect bra for your halter outfits!
The Bra Struggle with Halter Tops – Finding the Perfect Fit
Now, let's address the elephant in the room. We've all been there – standing in front of our closet, staring at a beautiful halter top or dress, and wondering what bra to wear with it. It's a struggle that many of us have faced, and it can be downright frustrating.
The thing is, halter tops and dresses are designed to showcase your shoulders and back, which means that traditional bras with straps are often not an option. And while going braless is an option, it's not always the most comfortable or practical choice.
The key to finding the perfect bra for your halter outfit is to consider both the style of the garment and your own body shape and size. There are several types of bras that are specifically designed to be worn with halter tops and dresses, and each has its own unique benefits and drawbacks.
In the next section of this post, we'll explore seven different types of bras that are suitable for halter outfits. From strapless bras to adhesive bras, we'll cover the pros and cons of each option and provide you with expert advice on how to choose the best one for your needs.
So, whether you're attending a wedding, a night out with friends, or simply want to feel confident and comfortable in your everyday outfits, we've got you covered. Let's dive into the world of halter bras and find the perfect fit for you!
7 Types of Bras to Wear With Halter Outfits
1. Convertible Bra
Yup, if you didn't know halter bras are a thing and they have been in and out of trends for quite a while. Usually halter bras are not sold as 'halter bras' but as convertibles. Convertibles are nothing but traditional bras with detachable straps.
Some bras offer different slots for different styles of wearing. These so called 'slots' are stitched inside the cups to provide comfort. All you have to do is insert one end of the strap into one slot of the cup and go around your neck to the other slot stitched on the other cup.
As simple as that! For extra security, you can pin up the strap to the top's halter neck so that it stays hidden.
2. Halter Bralette
Halter bralettes are garments that some people wear as halter tops themselves. Bralettes usually have a lacy design to them. They come in various colors and designs and hence, some people wouldn't mind wearing only halter bralettes.
They also come in padded versions and have underwires embedded in them as well. A comfortable halter bralette must be made of a smooth fabric that does not cause any itching or rashes on your skin.
Halter bralettes are so common these days that they are worn simply under denim jackets and sweatshirts. They are super comfortable and the wired ones offer an appreciable amount of support.
3. Adhesive Strap Bra
Adhesive straps might not be the most comfortable option for a woman with a big bust but it does the job for smaller ones. The adhesive push up bras come either with adhesive cups or adhesive wings.
If you are opting for a dress that has no sleeves, it is better to skip the adhesive wings type as it might show itself when you lift your hands. Adhesive bras do come with a disadvantage other than offering minimal support.
The strength of the adhesive wears out once you start sweating or keep adjusting the bra. Moisture is a big no when it comes to adhesive bras so make your call accordingly.
4. Adhesive Cup
Adhesive cups give very little coverage as compared to classic bras. They are made of silicone and stick to cover your nipples and a just a tiny bit of region around it.
Women having heavy busts, who wish to go for more support and coverage, must opt for halter bras. Some brands offer poor quality silicone cups. The adhesive layer is not strong enough to hold on to the skin.
When you wear it for a long time, due to lack of air circulation, there is an accumulation of moisture which weakens the adhesiveness of the cup. For people who have smaller breasts and require minimal to no support, this is the perfect choice.
5. Transparent or Clear Straps
Convertible bras often come with transparent or clear bra straps. No, they aren't adhesive in nature but just straps that are almost invisible.
The advantage of having transparent straps is that you have the freedom to wear them however you want to. You can go the traditional way, you can opt for the criss cross type or the one shoulder style.
Since we are talking about halter tops, it is best if you wear transparent straps imitating the style of the halter top. In this way, you will get the support of a traditional bra and a look of a halter bra. How cool is that?
6. Tube Top Bra
Tube top bras are basically like tube tops but some come with light to medium padding. It might not be the best choice for women with heavier bust but it sure is comfortable for people with smaller cup sizes.
Tube top bras are often made of soft fabric that wraps around the upper abdominal region and shows off your natural curves. The material used in its manufacturing is pretty elastic in nature as well.
Due to frequent use, the bra might lose its elasticity. So make sure you get a tube top with good quality padding and if you are comfortable, we recommend going for underwired bras too.
7. Strapless Bra
Strapless bras will only go with halter tops if they have a low back. Otherwise, you can use transparent straps to form a halter neck in order to get more support and definition.
Opt for a plunging neckline if you wish to wear strapless bras under your halter top. A front hook and eye closure will enhance the shape of your bust and make it look fuller as well.
You can also go for a strapless, padded push up bra. The push up bra creates a natural cleavage that will definitely enhance your body confidence.
When it comes to push up bras with the underwire, make sure you check the thickness of the fabric covering the underwire. The more the thickness, the better the comfort level.
Conclusion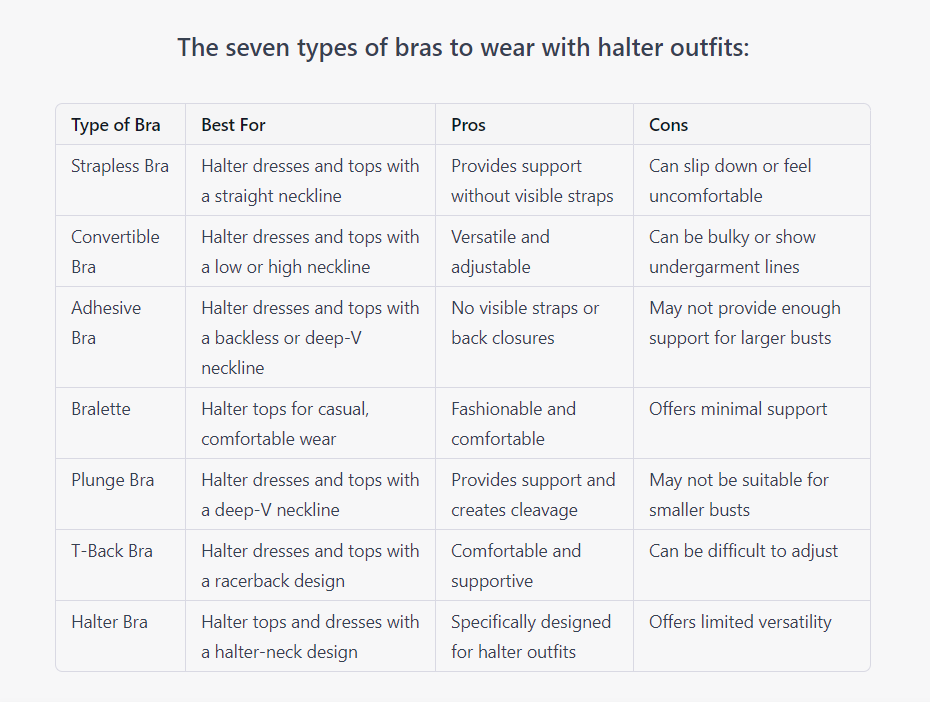 As we come to the end of this post, I hope you've found the information on the seven types of bras to wear with halter outfits helpful and informative. Remember, finding the right bra for your halter top or dress can make all the difference in how confident and comfortable you feel.
When shopping for a halter bra, consider the style of the garment, your own body shape and size, and the level of support and comfort you need. Don't be afraid to try different styles and brands until you find the perfect fit.
And, of course, always prioritize your own comfort and confidence over societal expectations. Whether you choose to wear a bra with your halter outfit or not, the most important thing is that you feel good in your own skin.
Thank you for taking the time to read this post, and I hope it has provided you with valuable insights and actionable tips. As always, feel free to leave a comment below with any questions or feedback you may have.
Stay confident, stay comfortable, and rock those halter outfits like the queen that you are!