Most of the ladies are confused between an underwire bra vs no underwire bra? They basically don't know the exact difference and hence don't know which style is best.
Here in this article, we will explain to you the key differences between them and help you wear the right kind of bra.
What You Should Know about Underwire Bras vs. Wireless Bras
We will understand with a basic example. Think about your feet wearing shoes and socks. Your feet conform to the shape inside the shoes like an underwire bra whereas socks primarily conform to the shape of your feet like a wire-free bra.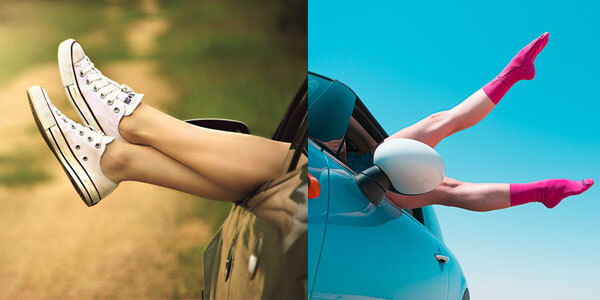 The primary advantage of wearing an underwire bra is that it provides great breast support with a more defined breast shape and separated breast cleavage. It optimizes your bustline for its best possible appearance under clothing.
However, it requires a more exacting fit if they are to be comfortable. This is where a lot of women get discouraged and settle for the comfort of the wire-free bra also known as soft cup bras.
The greatest advantage of wearing wire-free bras for large breasts is their comfort and their fit is less exacting. You can easily find one that is fit and more comfortable for your large bust. These are entirely made of fabric and breast lift and shape are more relaxed.
So if you only wear underwire bras consider purchasing a wire-free bra for more comfort and relaxing and possibly while sleeping. And if you only wear wire-free bras take some time to find your exact size & fit and purchase an underwire bra. It will pay off in a fit that flatters your bustline and will probably make you look thinner.
What makes wire less bras a great option?
Lots of women find underwire bras very uncomfortable, particularly when worn for a lot of hours in the day. Also, as a bra wears out, those unpleasant wires can poke out and hurt the skin.
Bali Women's One Smooth U Ultra-Lite Spacer Wireless Bra
While wireless bras do not have any underwire and therefore are unquestionably the favored selection for those that have a full-figure body. Such bras are made for comfort.
Women having substantial bosoms have the additional problem associated with keeping their large bust in position while exercising and the sports bra is a common wireless bra. Sports and wireless bras tend to be a more comfortable choice during extended travel.
Virtually all support bras without underwires are built to provide you with the lift as well as support and are some of the most flattering bras you can wear. In the event that you're looking for a shape, select one that is lined and has smooth material. There are furthermore the padded and unpadded varieties, whatever you select is a question of personal choice.
Some females do not wear bras to bed generally due to the discomfort. These kinds of bras look wonderful under tops, wrap dresses, sweatshirts, and pajamas for those of you that wear bras to bed.
Wireless maternity and nursing bras are also available. From sports to sexy to your everyday bra, we have all the collections of wireless bras in many brands and different styles.
Wireless bras will offer a variety of benefits to women. If you are one of the many women out there who have only tried underwire bras, you should try extremely comfortable wireless bras.
What are some of the benefits of wearing an underwire bra?
Wireless bras are not made with any wire which makes them more comfortable to wear for a long period of time.
Wireless bra is designed to be flexible and move with your body without any restriction preventing you from feeling pain and discomfort.
The Wireless bra offers a free feeling with good support too, unlike other wireless bras that only provides soft support. You will definitely be amazed by the good support it gives during the trial session.
It is also a big myth that the wireless bra does not offer an ideal level of support. Whether you are playing sports, working out at the gym, or cleaning around the house wire-free bras offer the full coverage support an active woman needs.
Since there is a lack of stiff wires on a wireless bra, it gives the ribcage adequate room for proper breathing and movement, while at the same time to lift and support that gives more ease for proper breathing.
Your underwire bra will press on the lymph nodes around the breasts that may lead to breast cancer and other related illness. Without this unwanted pressure, you can prevent breast cancer and breast lump.
With the tourmaline fiber in wireless bra and the unique stitching method, it helps to reconstruct and reshape bust. There are two different types of design; one is to firm up (modeling bra) and another one is to enlarge (reshaping bra).
Freuqently Asked Questions
Can I wear an underwire bra every day?
It is a myth that dark color bras and underwire bras can be the cause of breast cancer. Whether you wear an underwire bra or any dark color bra, none of them can trigger breast cancer.
As per the studies, wearing the right size bra is important rather than thinking about the bra's underwire because we all know that underwire gives much more support and a better to your boobs. So, feel free to wear underwire bras every day too.
What is the purpose of underwire bras?
The main purpose of underwire bras is to shift the whole weight of your boobs toward the center and also give an uplift to them. So that you can achieve a better shape and support to your breast. It helps to compass your bra tissues and enhance your cleavage look.
Is it better to wear a wireless bra?
Wireless bra has its own great benefits. Wireless bras are designed in such a manner so that they can give a comfortable and relaxed feel. Usually, they are made with stretchy fabric so that you are able to wear them for the entire day. They also have a comfortable broad band and are supple.
Do wireless bras give support?
When you want better bra support, it may possible that you do not think of wireless bras. Also, there is no doubt that underwire bras have more powerful features, but even a wireless bra doesn't offer any less support. These bras give support as well as comfort all day. They give some kind of incredible lift and shape to your boobs.
That's all in the article. Hope you find the information useful.