We all have a variety of clothes in our wardrobe. Some tops are thin; some dresses have a plunging neck; some t-shirts have an exposed back. And we often make the mistake of wearing the same bra under each of these clothes.
However, a fashion lover will know that this is a rookie mistake! But hey, not all of us are fashion experts. Some of us prefer comfort over style. But there are comfortable bras that appear stylish.
Every time you buy bras, you come across the words lined and unlined bras. What exactly do they mean? In this article, you will learn what are unlined bras as well as lightly lined bra, their definitions, differences, how and when to wear both.
What are Unlined Bras?
By definition, unlined bras have one layer of fabric across the cups, with no padding or foams. A single panel of clothing does not reinforce the cups; this makes the bra lightweight.
The light fabric makes this bra super comfortable and soft. With an unlined bra, your breasts do not appear to be bigger than they are, as they adapt according to the natural shape of your body.
Unlined bras can take the shape of full-coverage bras, demi bras, and bralettes. They go with a number of outfits and ensure that your breasts look natural.
The most common misconception is that unlined bras are only meant for women with small breasts. However, many women with plus size breasts wear unlined bras with underwires to get comfort plus support!
Another image that flashes in people's minds when we say unlined bra is that of sheer mesh fabric. But not all unlined bras are like that.
What are Lightly Lined Bras?
There isn't a lot of difference between lightly lined bras and unlined bras. The latter has only one layer of fabric, and the former may have two layers. Sometimes, they have a thin layer of foam padding to fit smoothly around your contours.
Thus, these are often known as contour bras. It provides subtle shaping and conceals the nipples without thick padding. This is one of the most significant differences between an unlined bra and a lightly lined bra.
The lightly lined bra offers more coverage with no heavy padding. These bras come in different styles for all shapes and sizes.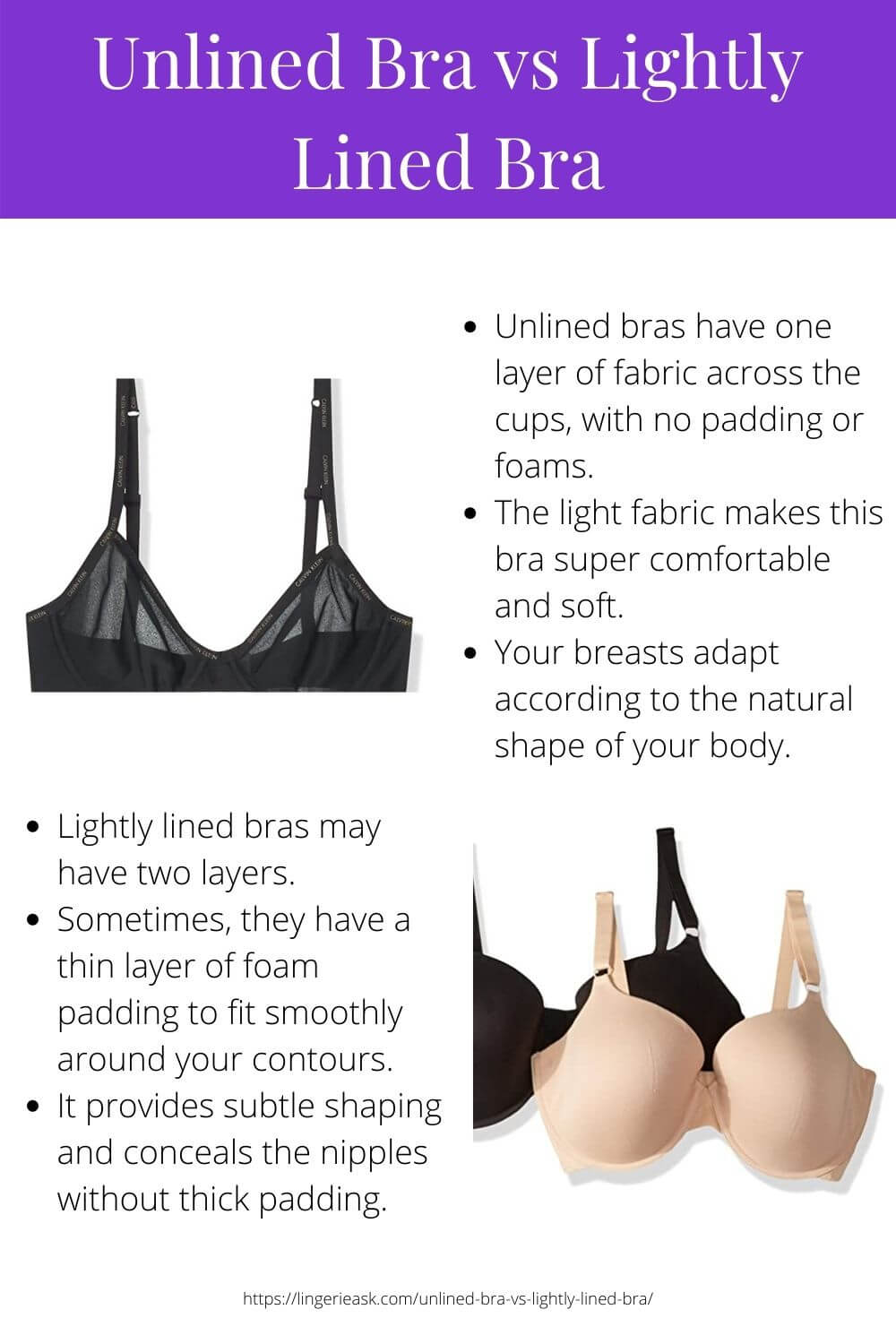 When to Wear Unlined Bras
Recently, many women have shifted to wearing unlined bras all the time. This shift is in support of the body positivity movement in an attempt to embrace the natural appearance of the body.
Sleep
There are many other reasons for you to wear an unlined bra. However, the most common reason why people purchase this bra is to wear it while they sleep.
Because the bra is lightweight and soft, it is highly comfortable to wear when one is asleep. So if you want to feel free but still want some support, an unlined bra will work like magic for you. You won't even realize it is on your body!
Related article: Should you wear a bra to bed?
Around the House
When you are chilling at home, watching television, and announced neighbors show up, you do not want to be braless! An unlined bra might save you!
Not all unlined bras show through your clothes. If you are wearing a thick t-shirt or hoodie over it, it will provide pretty good coverage.
Under Tops with Exposed Backs
Most of the unlined bras have a pretty lace design at the back or have intertwined straps. So, you can only imagine how cute they will look under tops that have an open back.
Instead of exposing your regular bra, an unlined bra with lace or meshwork may enhance the look of your top!
Under Racerback Tops/Dresses
Bralettes are the most common type of unlined bras and go really well under racerback dresses. Their back is cut out in a similar T-shape and conceals well under those clothes.
Sometimes, even unlined bras with regular straps go well with racerback tops because of their fabric. They're lightweight and don't dig into your skin.
When You Want to Feel Sexy
Because of the mesh or lacework, unlined bras look super attractive and increase your hotness level by a hundred times!
Tips while wearing an unlined bra
Avoid wearing an unlined bra under tight tops that hug your skin. The lacework of the bra does not conceal completely under the tops and may appear lumpy.
Women with large breasts can also wear unlined bras often as they do not make your chest appear more prominent. There are several unlined bras that have underwires to provide you with the support you are looking for.
Women with small breasts can also wear an unlined bra to feel empowered with the natural shape of their bodies.
When to Wear Lightly Lined Bras
Unlike an unlined bra, this does not entirely show your nipples. They have more coverage and are thus preferred by the majority of the women. It is similar to an unlined bra in the sense that it is lightweight and comfortable.
Gym
You probably think, why not wear a padded sports bra to the gym? And it is what most women think. But, a lightly lined sports bra is more breathable; therefore, it will keep you cool with its lightweight fabric.
Another reason is that these bras enable you to move more freely. This unrestricted movement will ensure that you focus on your workout!
Summer
As we said, the lightweight fabric of the lightly lined bras makes them super comfy and cozy. During the hot summer season, sweat gets trapped between our breasts.
The breathable fabric of the lined bras will enable your skin to breathe more and evaporate the moisture away from your skin.
Under T-shirts
You can use lightly lined bras under t-shirts as they are highly comfortable. They don't poke into your skin and provide decent coverage.
A t-shirt day calls for maximum comfort, and these bras offer precisely that. Usually, they do not have lacework like the unlined bras, so they won't appear lumpy under your clothes.
You Want To Feel Confident
If you are in search of lingerie that looks attractive but also has decent coverage with more cleavage, a lightly lined bra will take you there.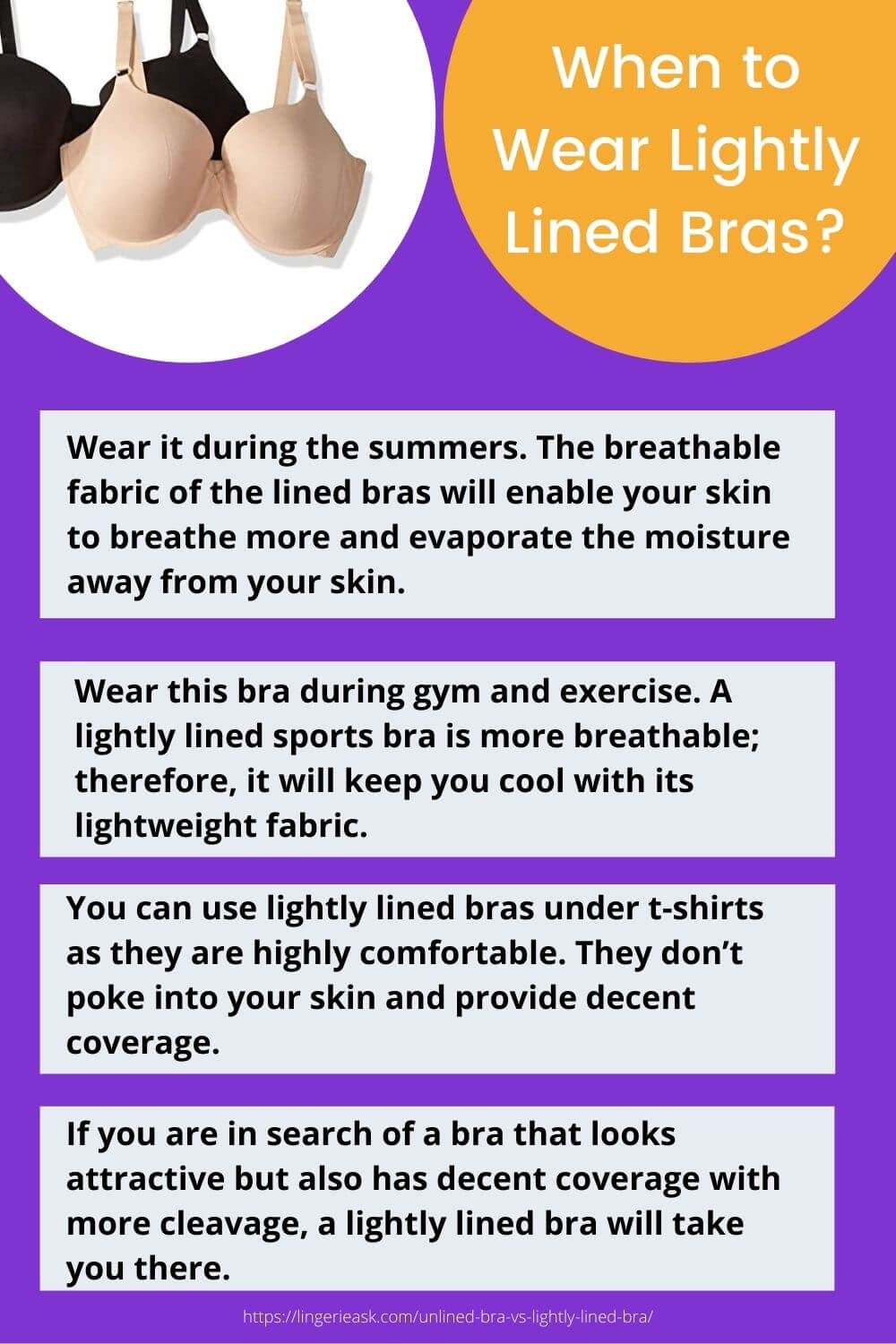 Tips
A lightly lined bra will be more helpful for a woman who is looking for better coverage.
If you want to enhance your shape and make your breasts appear more prominent, a lightly lined bra will do the work for you!
Here is a nice and informative video by Victoria Skye Jones that will help you understand bra types and styles.
FAQs
What is the difference between a padded bra and a lined bra?
Padded bras are bras that have padding lined in between the cups. Lined bras, on the other hand, have a layer of fabric lining the inside of the bra cups. This layer helps to provide extra support and coverage. Padded bras are generally more popular because they provide a subtle boost in size and create a rounder shape. Lined bras are better for women with smaller breasts because they give the illusion of increased size and cleavage.
Do lightly lined bras conceal nipples?
Lightly lined bras offer more coverage as compared to unlined bras. Therefore, it provides more modesty.
The chances of the bra showing your nipples are limited with a lined bra. But this does not mean that it completely conceals your nipples because it only has one or two extra layers of fabric. It ultimately depends on the fabric of the bra.
Does an unlined bra mean no padding?
Most of the unlined bras are made with one layer of fabric without any lining or padding to reinforce the cups. They do not make your breast look bigger giving a modest cleavage.
What is the lining in a bra?
Lining refers to the number of fabric layers in the bra or the padding in the cup. A lined bra is responsible for producing a round, enlarged shape to your breasts. They also offer modesty because of the multiple layers of fabrics.
Do unlined bras have support??
Simply because the bras are unlined does not mean that they do not provide support to your breasts. An unlined bra offers adequate support as it has underwires and supportive mesh.
Some unlined bras have wider straps that offer immense support to your back and shoulders. In addition, bras with wide bands also ensure that your breasts feel supported and do not sag.
What does it mean when a bra is lightly lined?
Lightly lined bras are highly suitable for girls that just hit puberty. These bras are made of soft fabric that makes them lightweight. So girls that are just beginning to see the consequences of puberty will find lightly lined bras comfortable. They are supportive, comfortable, and offer more modesty compared to an unlined bra.
Conclusion:
We hope this article on Unlined Bra Vs. Lightly Lined Bra-When to Wear Each helped you gain more knowledge about both the bras.
These two kinds of bras are not very distinct from each other, but they're also not exactly the same. When to wear each of the bras entirely depends on the bra's fabric, the clothes you're wearing over it, and the situation.
What do we mean by that? You can't wear an unlined nylon bra over a thin tank top in a gym! You get it now!
If you know when to wear each of these bras, they will work wonders and level up your fashion game. Different clothes demand different innerwear, 'one bra for all clothes' will not always work in the best way for you.
Most of your clothing problems will be solved if you find the right type of bra in the correct size. Neither lined nor lightly lined bras will look flattering if you have them in the wrong size.
So, fashion enthusiasts worldwide, ensure that you enjoy the best of both worlds and master your fashion sense! We hope our article on unlined bra vs. lightly lined bra helped you and now you know the difference between them.