Before we jump on the 'how' question, let us familiarise ourselves with 'what' a bralette is! Although we are sure you've seen it blow up all over your Instagram feed and celebrity profiles.
Bralettes are fabric designed to be worn over your breasts. They very much work as a bra, but it looks a lot like a crop top- a perfect blend of both worlds if you will. Devoid from underwires or cups, bralettes offer comfort as they are often without padding too!
An unstructured bra, as most people define it, a bralette does offer support to your breasts. In fact, many women with small breasts prefer a bralette over a bra because they fit better without all the poking underwires and gaping cups.
Now, the big question- how to wear a high neck bralette? Of course, we're no stylists, but we know what works and what simply does not! In this article, we will show you what to wear with a high neck halter bralette with 8 outfit ideas.
How to Wear a High Neck Bralette
There are several ways to style a bralette; however, there are also wrong ways to style it but don't worry. You found your way to us, and we will get you through this fashion dilemma!
1. As a Crop Top
No, we get it. We're not twelve years old anymore and can't get away with wearing anything and everything.
But some lacy bralettes look pretty on their own and provide excellent coverage. So if you ever unearth yourself in the mood to go 'bold,' wear the bralette as a crop top! Pair it with your favorite jeans, and presto! We bet you'll love it and feel just like an 'Instagram Influencer' in your outfit.
However, remember not to wear any accessories or jewelry on your neck. A bralette often has a pretty neckline with a lacy design or meshwork. We all like 'extra,' but not here!
If you've got the classic black high-neck bralette, go for dark red lipstick and fall in love with yourself all over again! Boyfriend jeans and boots will complete the look!
But remember, it is not a top; you're wearing it as a top. For this style to be considered as a fashion statement, you will need whole lotta confidence!
2. Under an Off-shoulder Top
Not all women are fans of strapless bras. For a lot of reasons, women tend to dislike strapless bras. They may not be comfortable enough and poke into your skin or do not provide enough support.
Even the transparent straps are not so skin-friendly and end up causing red lines all along your shoulder. What is the point of wearing transparent straps, then?
This is where a high-neck bralette comes into play. You can wear it instead of a strapless bra and slay an off-shoulder top! If you wear wide-leg or apple-bottom jeans below them, you'll look no less than a model! This outfit looks a lot better on plus-size women blessed with generous breasts!
Match it with a bralette of contrasting colors to add more colors to your ensemble. You can also match it with the same color so that the bralette looks like it is a part of the top.
Off-shoulder dresses, too, can be a friendly host to high-neck bralettes. Wear flats or sandals and make it a beachy look!
3. Under a V-neck Top
Say goodbye to pairing V neck tops with necklaces and chokers because it's time for high-neck bralettes to shine!
The straps of your halter neck bralette are way too pretty to be hidden! So, display them under V-neck tops as accessories. Trust us; nobody will notice that you've worn that top before!
Even if your top is simple and sober, the piece of beauty that a bralette is will enhance its appearance by ten times! If you wear heels with this outfit, you're just a few clicks away from posting your pictures on all social media sites!
4. Under a Sheer Top
Well, lace on lace is never a bad call! If you don't know what bra to wear under your new see-through top, a bralette will save your day!
Most see-through tops have lacework on them, and so do most bralettes. Come on; you already know this is a good idea, go for it. Not only is this attractive, but it is also better than wearing a slip or cami and does not look half as sloppy!
And if you want your clothes to resonate with your vibrant personality, wear a neon-colored bralette under the sheer top! Why just go halfway when you can go all the way with your playful fashion sense
A pair of heels will solve all your clothing problems!
5. Under a Shirt
We found a way to make the boring, old shirts a lot better! Button-down shirts look classy and everything, but how do you own it and make it yours?
That's right, wear it over a bralette and leave the top few buttons open and let the high-neck queen make an appearance.
Alright, imagine this- a white shirt over a black high-neck bralette! You'll be on your A-game with this look! You can also mix the shirt up with contrasting colors to create a bright and lively outfit.
Another fashion trend that you can try is wearing the bralette over the shirt! You've seen people doing it on social media, and you've always wanted to try it. Well, here is your chance to be a real-life influencer; we say you grab it! Wear these over denim, and get ready for all your casual business meetings!
6. Leather Bralette
Doesn't that sound fascinating? It looks as sophisticated as it sounds because leather bralettes are the epitome of fancy! Although these can be expensive, the final look is worth every dollar you spend on the bralette!
If you are going to a club, a party, or even a fancy dinner with your loved ones, a leather bralette will set you a class apart!
You could simply pair this leather bralette with a skirt and go clubbing! These also go well with high-waist pants and boots. Well, there are infinite combinations that you can try on with a leather bralette!
However, our favorite look is wearing a leather bralette under a stylish jacket! Not only does it offer coverage, but it will make everyone around you go 'damn'!
7. Under a Cardigan or Jacket
An oversized cardigan is highly comfortable, and we know you do not like taking it off! We also know that a basic tee/top looks really basic under the cardigan.
So how do you elevate that look? Flaunt that high-neck bralette that you can't wait to style. Let everyone see the magic of lace and mesh! Never underestimate a long cardigan and the wonders it can do. The lacework will show through, and you won't feel awkward.
You can also pair the bralette with a denim jacket over matching denim jeans. The bralette will break the monotony of the look and make it much more appealing. Wear matching footwear and see how everyone comes to you for fashion advice!
8. With an Exposed Back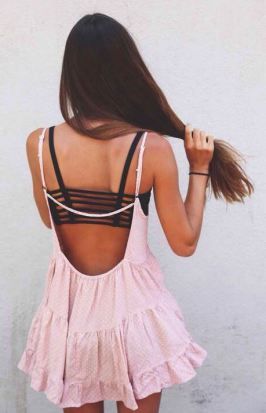 Tops that have an exposed back allow you to flaunt your body in all the right places. However, the bra has a significant role to play in this.
A tight bra will cause bulges and spillage for plus-size women, allowing back fat to sweep right in. But a bralette with a closed back will prevent this. The lacework on the back of the bra will be visible through your top and will instantly upgrade your outfit.
In addition, it is better than showing off the traditional over-the-shoulder straps of your bra. This takes the look of your top and makes it appear messier. However, a high-neck bralette with a criss-cross back enhances your top.
FAQs
Do bralettes work for bigger breasts?
Yes, a bralette is comfortable and available for bigger breasts too. They offer a decent amount of support and lift; all you have to do is find the appropriate size. Do not wear a bralette that is too tight or too loose as that will not look flattering. Nobody said lace was just for small-chested women!
Are bralettes supportive?
Bralettes are designed to provide light support. However, if you are looking for something that gives substantial support, go for bralettes with wider straps. This will increase the surface area for support and reduce the pressure that falls on your body.
Even those bralettes that have a wider band can offer great support to your breasts and provide lift. If you are not willing to give up on comfort, bralettes are the ideal innerwear!
Conclusion
You do not regret buying that bralette now, do you? We told you, styling a bralette is easy and fun! A few tips from our side- always have the classic black bralette, go for bold printed bralettes, never say never to neon colors!
Although we've mentioned several ways of styling a high-neck bralette, please do not underestimate the joy of wearing it under a plain tee that does not reveal it at all. It could be a delightful secret! 
Below is a steps by steps guide to wearing a high neck bralette.
| Step | Instructions |
| --- | --- |
| 1 | Choose the right size: Before putting on your bralette, make sure you have the correct size. |
| 2 | Pick the right top: High neck bralettes work well with tops that have a similar neckline, like a scoop or V-neck. |
| 3 | Layer with confidence: If you're not comfortable showing too much skin, wear a jacket or cardigan over your bralette. |
| 4 | Experiment with textures: High neck bralettes come in different textures, so don't be afraid to try something new. |
| 5 | Accessorize: Add some earrings or a necklace to complete the look. |
| 6 | Wear with high-waisted bottoms: High neck bralettes look great with high-waisted pants, shorts, or skirts. |
| 7 | Consider the occasion: High neck bralettes are versatile and can be dressed up or down, depending on the occasion. |
| 8 | Have fun with it: Don't be afraid to experiment and have fun with your high neck bralette! |
That being said, you will fall in love with all the looks that we've suggested and won't get over these outfits anytime soon!
Happy styling!