Wearing a bra that is too big or too small or that doesn't fit correctly isn't just uncomfortable, it's bad for your health also. This can lead to breast skin damage with neck, back, and shoulder pain along with bad posture.
If you don't know how to find the right kind of bra (or even the right bra size!), you're not going to have the sleek, elegant look that you desire.
But before that, you should have to look at these 4 points that are given below to find a right-sized bra.
Make sure your bra should be fit on its loosest hook when it's new
As we know, the bra gets loose with time. This is the reason, you have to make sure that the bra should be properly fit at its loosest hook when it is new as the bra band and straps loosen over time.
The bra cups should be as per your boobs
You should check the cup size of the bra before buying it. The bra cup must fit at your breast, there should not any gap or spillage. The bra cups should be covering your entire boobs properly. It should also provide support to your breast.
The band should be parallel to the ground
The bra band should be even from front to back. There is an easy way to check this, put one finger in between the cups and put the other finger in the clasp, now they should feel even. The bra band is very helpful to give support to your breast, so it is very important to fit it properly.
The bra should be in its place even though the straps should move slightly
A properly fitting bra will not slip in its place. Your bra should stay in its place even though the bra straps move a bit.
Are you not comfortable finding your size at the store? Don't worry, you can measure your bra size at home. Use our bra size and measurement tool to find your real size.
A bra should be your best friend.
How to know if the bra is too big or too small?
A well-fitted quality bra can give the power to transform your breasts for the better, lifting and enhancing them while changing the way clothes gloss over your curves. But, even so, there are many women who are not letting their brassiere do the work of a good boob job.
Sometimes you think you've finally found the perfect one, only to discover that it's digging into your ribcage, the cups are puckering, and/or your band keeps riding up.
You can't quite figure out what's wrong, and you start to accept that maybe that's just how your bra is supposed to fit. And in this process, you slowly begin to give up on your personal comfort and compromise on support and the shape of your boobs starts getting loose.
The back and front of your bra band ought to be level and parallel to the ground after you check up on yourself from the facet during a mirror. If the band is too tight, digs into your flesh, is uncomfortable or the back is slightly lower (an exception would be a strapless bra), it's too small.
Signs that your band size is just too massive embrace breasts break from rock bottom of your undergarment and your undergarment back riding up. A properly sized band can work firmly around you and not ride up within the back.
A new undergarment ought to be able to pass this take a look at with the clasp on the loosest fitting. This allows you to tighten the bra as it stretches with wear and washing. Try to avoid shopping for an undergarment wherever the most effective work is that the bra's tightest setting.
My suggestion is to forever attempt to obtain a new replacement, an undergarment/bra that matches its loosest fastening position.
7 Steps to make sure the bra fits correctly and is not too small or too large
Here is a nice info-graphic, where we have summarized all the points: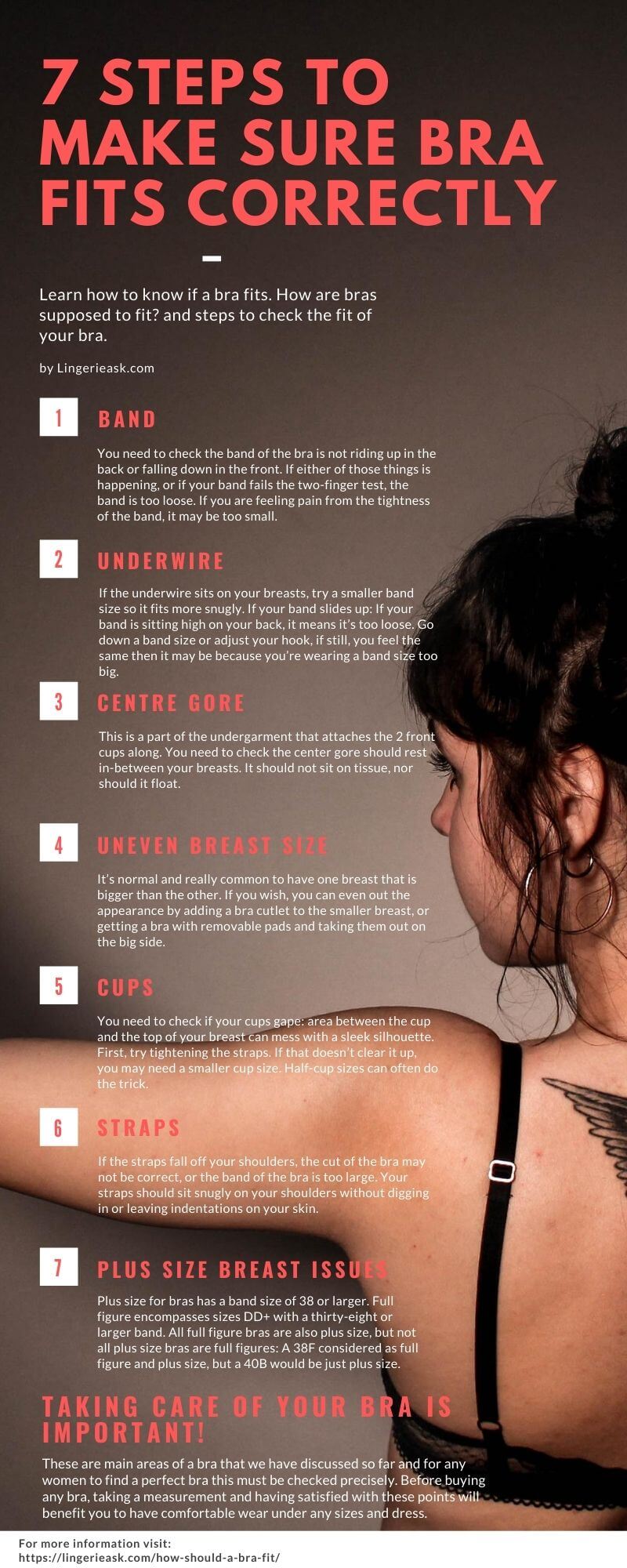 1. Band
Basically, the band is responsible for about 90 percent of the actual support. So while the straps may seem like they're there to hold up your bust, they in helping to keep your cup flush with your body and to shape your breast.
You need to check the band of the bra is not riding up in the back or falling down in the front. If either of those things is happening, or if your band fails the two-finger test, the band is too loose. If you are feeling pain from the tightness of the band, it may be too small. In either of these cases, a different size may be necessary.
2. Underwire
If the underwire sits on your breasts: Also known as slipping out the bottom, this fit issue is one of the more annoying ones. Try a smaller band size so it fits more snugly.
If your band slides up: If your band is sitting high on your back, it means it's too loose. Go down a band size or adjust your hook, if still, you feel the same then it may be because you're wearing a band size too big.
Your underwire ought to work directly around every breast tissue. Make sure that it's not sitting below or on your breast. Basically, Breasts have a tendency to go side to side. If the side of your underwire is on your breast, scoop the breast tissue forward as you pull the wire back. This will place the breast inside the wire, and the wire on your body, behind the breast tissue. The underwire should fit flush with your body, including the center gore, with the entire breast inside.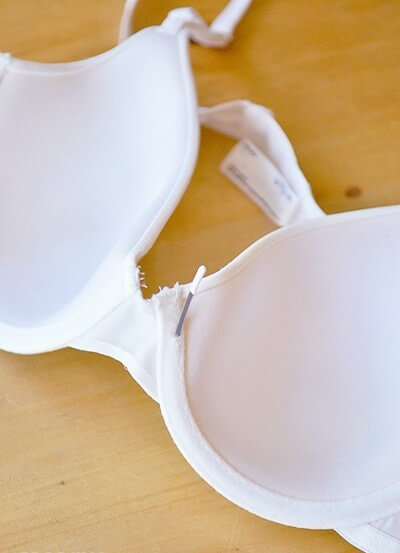 You need to check that the bra should not blister, chafe, or scratch you. A too-wide band, cheap materials, and ill-fitting underwire could cause this.
If your breasts do not fit into the underwire so it is too small, or too narrow for your cup size. If wearing a wire-free bra, it's still important to make sure your breast is forward and within the cup space of the undergarment.
If you are sporting Associate in Nursing underwire undergarment, it's important to make sure it fits well and is placed correctly. Many women World Health Organization realize underwires uncomfortable ar merely within the wrong size undergarment. you can wear the support of Associate in Nursing underwire undergarment and feel terribly snug. In fact, if you prefer, you can also wear a wire-free bra.
3. Centre Gore
This is a part of the undergarment that attaches the 2 front cups along. Usually, if it's Associate in Nursing underwire undergarment, this can be wherever the wires, band, and cups all connect. Getting the right fit here is key to a great fit to make yourself comfortable.
The center gore of bras with an underwire will tack in place much more than a bra without an underwire. Even though they won't tack as well as an underwire bra, it's still important that your wire-free bras fit snug and firm so they can stay in place. If the center gore does not tack, the most common issues are the cup is too small or that the band is too loose, so that time you have to adjust as required.
You need to check the center gore should rest in-between your breasts. It should not sit on tissue, nor should it float.
The center gore ought to, with the assistance of the comfortable band, lay flat, in between your breasts, against your body. This is called "tacking". If it fits well against your body, that means it "tacks" against your body.
You should not be able to simply pull it far from your body or suit your hand in between the middle gore (or band of the bra) and your body.
Center gore is wide, tall, narrow, etc. And it is the product of several materials, including stretch or firm, elastic or woven. Depending on the shape and the material, some bras are designed for a firmer or looser tack.
4. Uneven Breast Size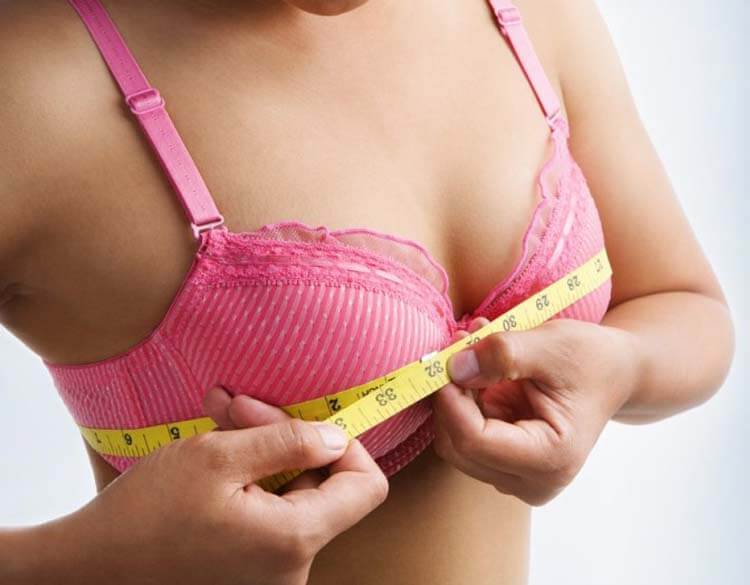 It's normal and really common to have one breast that is bigger than the other. If the distinction is critical enough that it makes bandeau look even additional sophisticated. If you wish, you can even out the appearance by adding a bra cutlet to the smaller breast, or getting a bra with removable pads and taking them out on the big side.
Your straps could also be digging into your shoulders if your band is too loose, making it so your straps are doing all the work. Take a glance behind you within the mirror: If your straps area unit force is therefore tight that they are yanking your strap up, it's probably too big or is too stretched out to do its job.
5. CUPS
You need to check if your cups gape: the area between the cup and the top of your breast can mess with a sleek silhouette. First, try tightening the straps. If that doesn't clear it up, you may need a smaller cup size. Half-cup sizes can often do the trick.
If you have cup overflow: If your cups runneth over, that way, you'll stay supported without being squeezed. Our good Coverage vogue can even facilitate, as its cups rise higher on your breast, reducing "spillage."
If you have got facet overflow: kind of like cup overflow, the culprit here is often too-small cups. Go up a full or half-cup size — that ought to do the trick. If not, try a smaller band.
6. STRAPS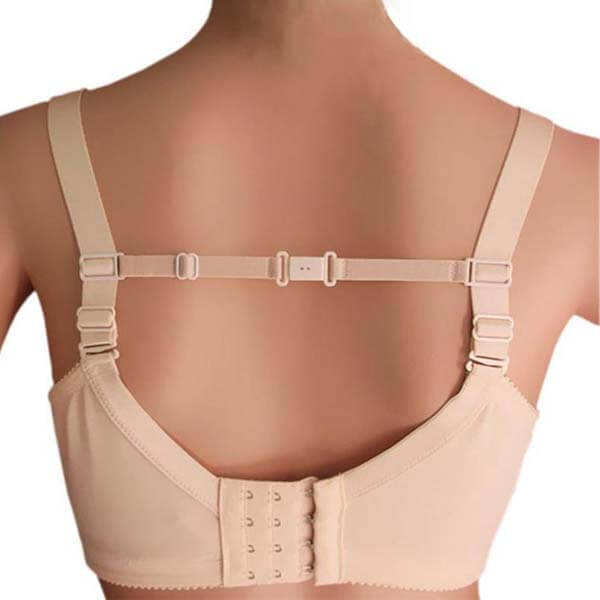 Adjust the straps to a point where they should sit firmly on your shoulders. If the straps fall off your shoulders, the cut of the bra may not be correct, or the band of the bra is too large. The straps would then be wide-set at your back, making them too wide for your shoulders. Your straps should sit snugly on your shoulders without digging in or leaving indentations on your skin.
You need to check if your straps slip: If you discover yourself perpetually hoisting your straps keep a copy onto your shoulders, it's probably time to tighten them. The elastic will stretch out as you wear your bandeau and it's straightforward to forget to regulate them as you go. If slipping persists, it could be time for a new style. Try one with narrower-set straps, like Perfect Coverage, Demi, or Multi-Way to help to keep them on your shoulders.
If your straps dig in: If your shoulders are bearing the weight of your breasts, your bra isn't fitting correctly. Try a smaller band size since your band (not your straps!) is what ought to be supporting you.
If you feel pain after some time of wearing the bra that means, the bra is actually inflicting discomfort when you wear it, then it could be a sizing issue. Odd pressure in the area where the cups meet, along the curve of the underwire, or under the armpit can all indicate that your bra is too small — or that it's merely the incorrect vogue for you and your body form.
7. Plus Size breast Issues
Plus size for bras has a band size of 38 or larger.
Full figure encompasses sizes DD+ with a thirty-eight or larger band. All full-figure bras are also plus size, but not all plus size bras are full figures: A 38F is considered a full figure and plus size, but a 40B would be just plus size.
The vital area comes with bigger boobs that must be checked in great detail. There can be tightness or loose-fitting if you are not careful about the bra you are choosing. The cups and gore are more important with straps giving you the flexibility to adjust your undergarments according to your fit.
Taking care of your bra is IMPORTANT!
Washing them gently by hand (typically after three to four years) and rotating your bras (that is, not wearing the same one multiple days in a row) will also help keep the bands from stretching out too quickly. By taking good care, they will last longer. But no matter what you do, you need to say goodbye at some point, like the band creeping up your back, telling you it's time to go bra shopping.
So, coming to the end we have covered a detailed description of checking if your bra fits or not and what is the consideration to take in mind. These are the main areas of a bra that we have discussed so far and for any woman to find a perfect bra this must be checked precisely.
Before buying any bra, taking a measurement and having satisfied with these points will benefit you to have comfortable wear under any size and dress.