Most of us are so busy ensuring that we get the proper support from our bra, we often forget about side support. When you wear bodycon dresses, sheer tops, and other open-sided outfits, side spillage, fat and underarm bulge becomes an unattractive sight.
If your breasts flow out of your bra, particularly under your arms, that is side spillage. Fortunately, several bras help you overcome this situation.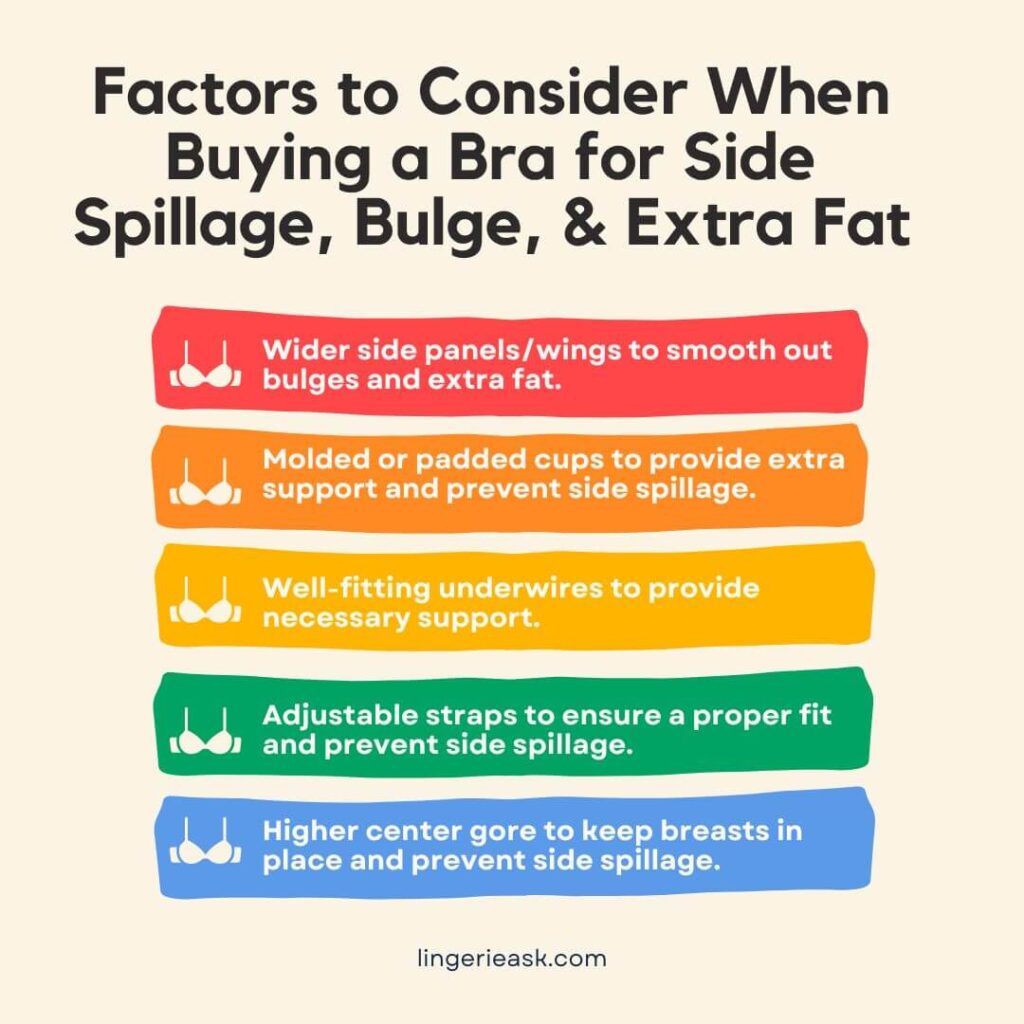 Side support is essential and plays a crucial role in enhancing the shape of your breasts. How so? They help ensure that your breasts point forward instead of outward and apart. Here is our list of the best bra for side spillage to guide you through!
Best Bra for Side Spillage
1. Fantasie Womens Fusion Underwire Full Cup Side Support Bra
Fantasie helps you discover the perfect fit with their exclusive range of lingerie that offers support and comfort so that you are at ease at all times.
Among the best bras for side support is this Fantasie bra that comes in six colors and in all sizes up to 40H. It primarily contains nylon, elastane, and polyester that makes it soft and comfortable.
The striped fabric of this full-coverage bra surrounds the cups and cradle with deep elasticated upper cup panels. It has concealed seams that provide a refined, smooth look every day. You get the perfect silhouette under clothing with no lines and cups visible.
For providing excellent lift, the three-panel cups of the bra give your breasts a naturally rounded shape. Additionally, it also allows separation to ensure that it does not look like you have a uni-boob.
Although the cups have no padding, the fully lined bottom cup offers support and modesty.
The side support panel of the Fantasie bra gives you a smooth side profile with no spillage and bulges. It also offers a substantial front projection, and the full cup shape of the bra provides full coverage.
It has adjustable straps that angle toward the center of the back to ensure that they do not keep slipping off your shoulders.
Our take on the product: This Fantasie bra has an excellent side support panel that avoids spillage and truly offers separation. The adjustable straps stay in place and do not slide off.
2. Hanes Women's SmoothTec ComfortFlex Fit Wirefree Bra
Hanes is a famous, reliable brand that has a vast collection of clothing. From socks and underwear to sweatshirts and t-shirts, Hanes has it all!
This SmoothTec bra comes in several colors and prints. You can buy it in all sizes, from small to 3X-large. Made of polyester and spandex, the bra is lightweight and has a soft feel. Although the bra has no lining, it gives you modesty with its thick fabric.
Additionally, the fabric features a wicking technology that allows it to evaporate moisture away from your skin. This way, you will always be cool and dry. The stretchy material of the bra provides a good profile.
It has a seamless lining to give you a smooth silhouette under your outfits and prevent any lines from showing through.
As for the fit, the bra houses a ComfortFlex fit that shapes it to adapt to your body. It provides a smooth, form-fitting, and flattering appearance. It has high sides to avoid side spillage. Even without an underwire, it provides adequate support.
"If you are sick of conventional uncomfortable bras but are too well endowed to go braless, this is the next best thing," says one of the Amazon reviews, and we could not agree more!
Pros
Support even without underwires
Comfortable fabric
Our take on the product: Hanes understands that women need side support in bras to avoid side spillage. With high sides, this bra offers just that. The comfortable fabric of the bra is stretchy and has a ComfortFlex fit to give you the best flattering fit.
3. Women's 3-Pack Women Seamless Cross Front Side Buckle Lace Sport Push Up Bra with Removable Pads
Mixzones has an exotic line of bras for every occasion and everyday wear.
This bra is available in all sizes, from medium to 3X-large. It comes in packs of three with black, white, and beige-colored bras. Made of nylon, spandex, and cotton, it is made of healthy and breathable material.
It is a built-in push-up bra with soft contour cups that adapt to your body to give your breasts the ideal lift and support. 
With front cross-brace protection cups, it provides double the push-up effect to support your breasts more firmly. The side buckles ensure that there is no spillage and back fat. You simply have to wrap the lacewings around the elastic band and secure it with hooks.
It has wide elastic straps to optimize support and relieve your shoulders and back from any burden. The flat shoulder straps of the bra give a comfortable fit. Additionally, the bra has a wide band to provide a secure fit.
Additionally, the bra looks pretty with its lacework and is highly comfortable. The quality of the bra is excellent, and verified buyers on various sites can not stop talking about how comfortable it feels!
Pros
Comfortable
Criss-cross buckles
Our take on the product: This pack of three bras from Mixzones is comfortable, supportive, and helps avoid bulges. This bra definitely seems to be well-made with its unique cross-brace double protection design that gives excellent lift.
4. Paramour by Felina | Marvelous Side Smoothing T-Shirt Bra
Felina's diverse range of intimate apparel will blow your mind! They have a perfectly fitting extensive collection of bras made just for you.
This t-shirt bra comes in four different colors and is available in all sizes from 34C to 42DDD. However, we like the 'sparrow' color the most! The mere sight of the bra will make you want to buy it!
It contains nylon and spandex, rendering a soft feel to the bra and a luxurious look! The super-soft fabric of the bra will not trap any sweat against your skin.
The Paramour t-shirt bra is specifically made for women with larger breasts. The cups lie flat against your chest to give you the right fit. This ensures that you face no side-spillage and underarm bulges. 
With a seamless design, the lightweight cups of the bra provide full coverage and shape the breasts with the best support. The underwires of this Felina bra do not poke into your skin and provide excellent lift.
The bra actually smooths your sides and back without making you feel like your breasts are being compressed. It has adjustable straps to ensure you get the right fit. It is not heavily padded, just enough to give you modesty.
Pros
Comfortable underwires
Luxurious fabric
Our take on the product: Felina always offers the best bras for all sizes, and this Paramour t-shirt bra will second that! It has a crisscross design at the sides to ensure your breasts fill the cups and avoid side spillage.
5. Warner's Women's No Side Effects Wire-Free Contour Bra
None of the 'best bra' lists are complete without one of Warner's bras in them. Their range of intimates is genuinely among the best in the market.
This No Side Effects bra comes in eighteen colors and various prints. You can buy it in all sizes from 34A to 40DD. They're made of nylon and spandex, thus feel incredibly soft on your body.
With extra fabric in the sides, your ladies fit in the cups perfectly without bulging out. It provides excellent side boob coverage to avoid side spillage. The cups have enough padding to provide modesty. Thanks to the lightly lined cups, they offer a flattering fit according to your natural shape. 
The elastic-free sides of the bra ensure that they do not show through your clothes. Unlike most other bras, the side panels of this Warner's bra do not curl up and stay put. It smooths everything without making you feel uncomfortable.
Although they're wire-free, the bra offers excellent support and lift. The wide side panels are, in fact, contributing to this support.
The bra is very convenient as it has front adjustable straps. Most other bras are either only supportive or only comfortable. But this Warner's bra has mastered both!
Pros
Adjustable straps
Supportive
Our take on the bra: For all women trying to smooth out their side boob, this No Side Effects bra from Warner is the game changer! It has front adjustable shoulder straps, light padding, and lightweight fabric to provide you with comfort and support.
6. Playtex Women's 18 Hour Original Comfort Strap Full Coverage Bra
Playtex has an impressive line of lingerie for women of all shapes and sizes for every occasion.
This Playtex bra comes in 14 attractive colors, and you can purchase them in packs of two. It is available in all sizes from 34D to 54DDD. The bra is made entirely of polyester. It also features beautiful lace trims and floral prints to make the bra even more attractive.
The fabric of this Playtex bra is flexible and offers a 4-way stretch to give you all-day support.
It has wide cushion straps that do not dig into your skin and relieve your shoulders and neck from any strain. You can adjust these straps at the back to get the right fit. In addition, the band of the bra is broad to ensure comfort and lift.
Additionally, it has fuller cups with an M-frame for maximum coverage and support, despite being wireless. The fuller cups avoid spillage and bulges. It employs TruSupport bra design, which gives you immense 4-way support.
The cups offer separation and help improve your posture. What do the 18 hours in the description signify? You can wear this comfortable bra for a long duration without facing any inconvenience.
Unlike other bras, this is entirely tag-free to ensure you are free from itches and scratches.
Pros
Tag-free
Full coverage cups
Our take on the product: This 18 Hour bra by Playtex is affordable and has a solid 4.3-star rating on Amazon. With its M-frame full cups, it offers separation, support, and lift! The 4-way stretch fabric ensures that there are no bulges and spillage.
7. Glamorise Women's Full Figure Plus Size Front Close Lace T-Back Wonderwire Bra
Glamorise designs bras for full-figured women that deliver support and confidence! They have 154 sizes of bras for everybody and every occasion.
This t-back bra comes in five attractive colors and all sizes up to 48H. It is made of polyamide, polyester, and elastane, making the bra soft and lightweight.
With a t-back design, this bra has a front clasp closure that is easy to put and remove. This secure closure does not snap off every time you move. The straps of the bra provide a custom fit as they can be adjusted as per your needs.
It has side smoothening shape enhancers that ensure that your breasts do not fall out of the cup and offer a smooth silhouette. Thus, avoiding bulges, underarm fat, and back lumps. Additionally, it has beautiful lacework at the top of the cups and at the back.
You no longer have to suffer through poking underwires for support all day long because this bra has a wonderwire design. A cushioned inner band adds another layer of protection between your skin and the underwire.
In addition, a padded channel covers the underwire so that you do not feel the underwires but feel the support it has to offer.
Pros
Shape enhancers
Wonderwire design
Our take on the product: This front closure t-back bra from Glamorise is supportive and has a pretty lace design at the top of the cups. It has a wonderwire design wherein cushioned fabric prevents the underwires from poking into your skin. 
8. Warner's Women's Blissful Benefits Side Smoothing Underwire Bra
Another Warner's bra makes its way swiftly on our list for all of their lingerie is comfortable and reliable.
This Warner bra comes in three colors- black, white, and toasted almond. It is available in all sizes from 34B to 40C. It comprises nylon and spandex, therefore, feels soft and luxurious on your body.
Most women experience underarm bulges or spillage, but this Blissful Benefits bra by Warner knows precisely what we need. It has extra side coverage panels to prevent lumps. This high panel does not show under tops as it stays perfectly hidden.
It also has flexible contour cups that provide support and a smooth fit under all clothing. The cups have light padding that offers sufficient modesty. These full-coverage cups prevent spillage and ensure there is not poking.
Additionally, the underwires of the bra are cushioned and encased in satin for maximum comfort. It has adjustable, detachable straps that can be made criss-cross, halter, standard, or strapless.
Moreover, this Warner's Blissful Benefits bra is affordable and made of high-quality materials.
Pros
Adjustable straps
High side panels
Our take on the product: Warner helps you overcome the problem of side-spillage with this Blissful Benefits bra. The high side panels ensure that your breasts do not spill out from the sides and provide maximum support. With front adjustable straps, this bra is highly comfortable and affordable!
9. Fantasie Women's Illusion Underwire Side Support Full Coverage Bra
An exceptional entry by another one of Fantasie's bras on our list! Their bras offer unparalleled support that genuinely makes you feel at ease.
Available in five beautiful colors, this bra comes in all sizes from 30D to 42G! It comprises nylon and elastane that give the bra a soft, luxurious feel all day.
This Illusion bra uses a baroque-inspired leaf design with sheer paneling. The front has four section fully lined cups that give you the best shape. The top panel features a sensuous lace design, while the bottom is opaque.
These cups provide superior life and a defined separation. It gives a natural rounded silhouette beneath your clothing.
It has adjustable shoulder straps that are soft and comfortable. The placing of the bra is such that it does not dig into your shoulders.
Additionally, it has a Powernet wing at its back which provides anchorage and ensures that the bra does not ride up during the tiniest movement. This provides greater control at the back.
The underwires of the bra are comfortable and supportive. It has side panels that offer extra support and a substantial forward projection. It provides a flattering fit around your breasts and successfully eliminates side spillage.
Pros
Adjustable straps
Lacework
Our take on the bra: This wired bra from Fantasie provides excellent side support and forward projection. It has adjustable straps and a Powernet wing at the back to give more control to your shoulders, neck, and back! A good investment in comfortable lingerie!
10. Warner's Women's Blissful Benefits Side Smoothing Wirefree Bra
Another bra by Warner deserves to be on our list, a solid alternative to the Warner's Women's Blissful Benefits Side Smoothing Underwire Bra.
This bra comes in two colors- white and toasted almond and is available in all sizes from 34B to 40C. It majorly consists of nylon and spandex, making for a pretty soft bra that feels smooth against our skin.
The unsightly underarm bulge is a problematic issue for most women. This Warner's Bliss Benefits bra comes with additional side panels that provide enhanced support to smooth out 'sleevage,' a word Warner created to refer to underarm bulge.
In addition, it prevents back fats and offers to create a smooth, sleek look under your clothing. It has an elastic-free back and side that help cover the additional side panels from showing through your clothes.
As we said, the significant difference between this and the Warner's Women's Blissful Benefits Side Smoothing Underwire Bra is that the former is wireless. This bra supports even without underwires, and its cups offer full coverage.
Front adjustable straps of the bra provide convenience and do not keep sliding off your shoulders. Additionally, the straps are wider than most other similar bras.
Pros
High side support
Adjustable wide straps
Our take on the product: If you're looking for a wireless alternative that also provides support and prevents bulges, this Warner bra is the real deal. It has high side panels that do not show through sleeveless tops due to its innovative design.
Bra for Side Spillage Buying Guide
Wider Side Panel
Side panels simply refer to the additional piece of fabric at both sides of the bra. This material is responsible for giving your breasts a forward projection such that it fills the cups without spilling out.
The ideal length of the side panels is from your cups to just below your underarms to cushion the breast tissues.
Stretchy Material
A bra must be stretchy to fit you appropriately; however, it must also be firm to ensure that your breasts do not go all over the place.
This material should also be breathable and soft. It should not irritate and cause rashes on your body, especially on sensitive body parts like your breasts.
Full Coverage Cups
These cups offer more significant support as compared to other bras. They keep your breasts in the cups without causing overflow from the top or sides. Fuller women prefer full coverage cups as they do not squish down your breasts.
Wide Bands
The bands of the bra hold the bra up on your body. When the bands are vast, there is more support to your breasts, and the burden of lifting does not fall barely on your shoulders. The band must actually cover your underarms to ensure that there is no spillage.
Conclusion
Although a majority of the women face the problem of side spillage, most of them tend not to focus on it. However, side spillage can be a visible sign of inaccurate bra sizing.
More often than not, bulges are caused because the cups of your bra aren't large enough to accommodate your breasts. Therefore, one must try to wear bras that eliminate bulges and provide a comfortable, firm, and supportive lift.
We hope our list of the best bra for side spillage and back smoothing bra helps you! There's no problem a perfect fitting bra can't solve!