Want to skip reading this long article, here are our top three picks for the most comfortable minimizer bra in 2022.
| Best Buy | Runner Up | A Top Pick |
| --- | --- | --- |
| | | |
| Soft, 4-way stretch fabric | 80% Nylon, 20% Spandex | 83% Nylon, 17% Elastane |
| Hook and Eye closure | Hook and Eye closure | Hook and Eye closure |
| Reduces the bust line up to 1 1/2 inches | Full figure, full coverage underwire bra | Smooth and seamless underwire minimizing bra |
| back adjustable straps | Hidden side slings for added support | Reduces bust size up to 1 1/2 inches |
| Full coverage cups for no-spill | Seamless, two-ply fabric cups | Rigid front straps, back adjustable stretch straps |
| | | |
Wearing a minimizer bra can actually change your silhouette. The best minimizer bra is designed to reduce your bust by one full cup size.
But wait a minimizer bra does not actually reduce your breast size. What it does is that it can very effectively reduce your breast projection and thus your chest circumference by flattening your breasts and giving them a wider base to spread out your breast tissue in the up, down, left, and right directions.
So the best minimizer bra for full-figured will not make your breasts smaller. It will just make them appear smaller by lifting and redistributing the tissue or just by squishing it.
They will create a streamlined effect, making your clothes fit better no more buttons will be there. They will also make you appear slimmer, reducing some of the bulk attached to your chest.
Here is an image showing the before and after scene after wearing a perfectly fit minimizer bra vs wearing a regular bra.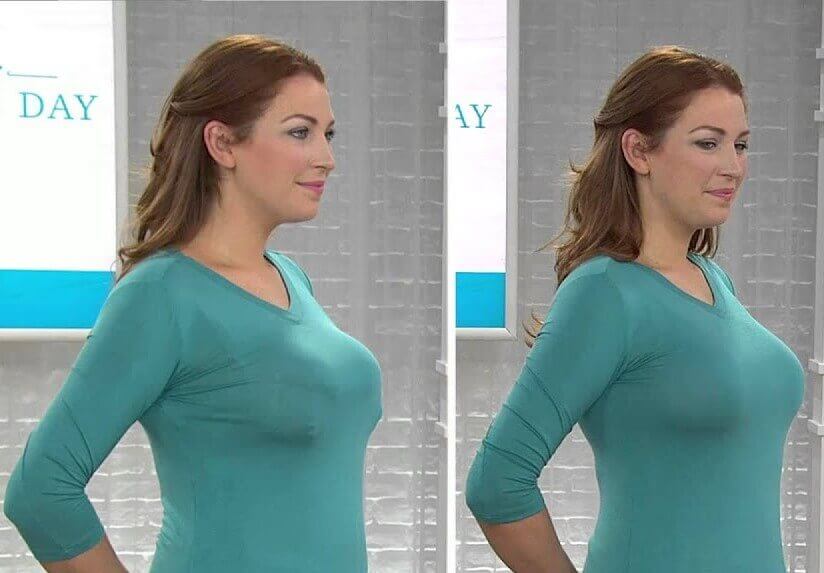 They are designed to be comfortable, they're available with and without underwire, and usually feature a strong back clasp with good posture support and easy-on-the-shoulders straps. They have seams in the cups or can be seamless. However, a minimizing bra does not have padding because women who want a minimizer do not want to add any size to their bustline.
12 Most comfortable minimizer bras in the market in June 2022
1. Bali Women's Satin Tracings Minimizer Underwire Bra
Bali satin tracings minimizer underwire bra is one of the best bras to reduce the breast without flattening its shape. The bra will help you to get a beautiful and slimmer silhouette.
This bra style gives full coverage to the cleavage. It minimizes the bustline up to 1 and 3/4 inches. This bra provides a great fit and superior support.
The comfort-U design of the bra helps to keep the straps at their place and also reduces shoulder stress while wearing. It has Cushion-tipped underwires that give extra support to the bust. The bra cups also help to lift up the boobs and make the bust shape smoother.
The bra is made with soft fabric as 73% Nylon & 27% Spandex. The bra is available in different colors and sizes.
If you are looking for a budget-friendly bra, this Bali bra is a great option for you. It is one of the best minimizer bras. The straps and cups of the bra are well fitted. The underwire fixes into the ribs and arms. Overall it is a good bra but only if when you choose the right size for yourself.
2. Bali Passion For Comfort Minimizer Bra
Available sizes:
Bali is a reputable brand. And manufacturing every sort of bra at its best is what Bali aims for. Such is this Minimizer bra by Bali.
These bras are available in a broad range of colors and patterns. It offers you full coverage and features double-layer underwire cups. It is among the best bras you can ever buy. It is beautiful and attracts a lot of women due to quality, pricing, and comfortable as well.
It has been made with the best quality material that is safe for your skin. The bra is able to stretch to the back and offer a fitting closure. With underwire, your breast gets a push giving you the minimized and pushed-up cleavage to showcase under any dress you want.
This bra is easy to wash and has adjustable straps and eye and hook closure. The shiny material reflects the sexy nature of this bra while reducing your larger size to make them look even sexier.
2. Vanity Fair Smoother Minimizing Bra
Available sizes:
This minimizer bra from Vanity Fair is constructed for large sagging breasts specifically, featuring a wide bridge that helps support breasts and hold them together gently and thick straps cushioned.
There is honeycomb padding that prevents them from digging into the delicate skin on your shoulders. That means no more tanned lines around your chest and shoulder for soft and comfortable wear.
Combining comfort and support with efficient minimization, this bra provides a smooth, shapely look that reduces the size of your bust by one inch or more.
It features molded cups designed to lift and shape your bustline and give you the natural look. The cups are lined for full coverage. The Beauty Back is also available there due to which you can wear it under any type of clothing, even t-shirts.
Another reason this bra earns its 'smoother' name is the wide back band, which is smooth and eliminates the dreaded 'backrolls'.
It is a completely wireless bra, which is great if you dislike underwire. The straps are wide and are completely adjustable, not stopped halfway some undergarments which is a really nice feature for flexibility.
4. Olga Minimizer Bra
Olga Minimizer plus size bras is another best minimizer bra in the list that is comfortable, supportive, shaping minimizer bras. Minimizer bras are often thought of as "granny bras", but that stereotype is a far-fetched misconception, as evidenced by this sexy minimizer bra from Olga.
Minimizing, shaping support is concealed within the lingerie-like finish of a traditional bra in this minimizer bra, which features a full microfiber lining that offers full support. This bra is designed with sexy leaf-pattern lace detailing and is available in many different bright colors.
Available sizes:
5. DELIMIRA Women's Beauty Lace Non-Padded Minimizer
Available sizes:
An underwire bra has soft lace details so you can finally have a functional bra that doesn't look totally ugly. This is designed keeping the larger breast in mind. So if you want a sexy-looking bra with all the comfort in the world this one is most probably for you.
The underwire design helps to support your breast in shape while giving them a push to make a perfect-looking cleavage.
The straps themselves are adjustable to match your length from the breast to the shoulder while the soft fabrics along the way help you keep your skin rashes free keeping them soft and breathable.
6. Curve Muse Plus Size Unlined Minimizer Wireless Bras :
This bra is made of 88% nylon and 12% spandex. The spandex gives it elasticity, and the nylon provides coverage. This, too, has a hook and eye closure; hence, it might be a little difficult to hook it. The bra needs to be hand washed if you want it to last for longer.
This bra will also give you a gentle lift and without any extra padding. Design to visually reduce your bust volume while also giving you some support. The cups are lined with mesh for them to be soft on your skin. The bra not only focuses on support but is also designed to be comfortable and breathable.
It helps create a slimmer and a smooth look as it is designed in a way that you are not physically suppressed. It is available in different sizes, and you can find the size chart on Amazon. It comes in a pack of three with different colors like pink, black, grey, etc.
The ratings of this bra are good, it has a 3.8 out of 5 stars rating, and about 49% of the people have given it five stars. It does not have any significant negative comments as most of the buyers liked it.
7. Lilyette by Bali Women's Plunge Into Comfort Keyhole Minimizer Bra
Available sizes: 34C to 42 DDD
What is important to look for when you choose a minimizer bra is whether it covers your whole breast or not. This bra might seem like an ugly one but the comfort it avail is much more surprising.
The cups are firmly padded with soft pads with a keyhole in between the two which means breathability is guaranteed. The underwire support the bust remains in the shape and position that they are meant to. The design of the cups is also eye-catching as it possesses a V-shape design that can be matched with many plunge dresses you want to wear.
Available in a wide range of color and design patter, you can choose one for yourself to get a perfectly minimized breast that you are wondering for and go out with confidence with your bust.
8. Just My Size Women's Cushion Strap Minimizer Wire-Free Bra
Available sizes:
JMS's Cushion strap Wire-free minimizing bra has a soft texture at cups. This bra minimizes the bustline of the breast up to 1.5″. It gives comfort to women for all-day support because of its cushion straps. The side seams add gives support and shaping and can make you feel more comfortable.
This is most probably a one-of-a-kind wire-free minimizer bra offering superior comfort and a fit that minimizes the bustline up to one inch. Our full-coverage Visual Effects Minimizer combines features like decorative lace and a leotard back for beauty and comfort with a modern design, making it the perfect everyday bra.
Cups of flat supportive lace with sheer mesh lining. Hidden inner cups lining for added support gives you more comfort. Band lined with soft sheer stretch mesh is also there for added comfort. it has a leotard back It has Fully adjustable stretch straps with you can adjust them as necessary.
It contains Fabric-like Body: 62% Nylon/38% Spandex
9. WACOAL AWARENESS FULL FIGURE UNDERWIRE BRA
Available sizes:
Listed on the "Amazon Choice" section, Wacoal Women's Awareness Bra is among the most liked minimizer bra. What makes it even more exciting is the underwire in between the inner and outer cups that will give the ultimate support to your bust while covering them all and reducing the size for a perfect shape.
The straps themselves are adjustable and the cups are designed to be used by women with round, shallow, top or bottom pendulous, or even for uneven breast.
The two-ply fabric cups give you the natural lining and shape while perfect support that your bust is looking for.
Overall, we can blindly recommend this bra for any medium to large bust size to give a catchy look matching with any kind of dress you wear.
10. Wingslove Full Coverage Non Padded Minimizer Wire-Free Bra Plus Size
This full-coverage cute and classic bra is a great fit for you if you looking for something that you can wear all day. It covers your breast and also shows your curve.
This includes wide adjustable straps that relieve pressure on your shoulders making it a comfortable option. It is a wire-free nonpadded full figure bra that is built with soft material hence you get no itchy and scratching.
This Wingslove bra is available in color and sizes (36 to 48).
11. Glamorise MagicLift Support
Available sizes:
Comfort is key when it comes to a good bra. As women, we are virtually forced to wear bras every day to stay supported and look smooth under clothing.
As we don't want the discomfort so we suppose to invest more in our bras selection. So, if a bra that lifts is a top priority to you, consider the Glamorise MagicLift Minimizing Support Bra.
It is designed to do three things: lift, separate, minimize. An excellent comfortable minimizer bra is this one from Glamorise, it is crafted from a cotton blend that is both breathable and comfortable to prevent moisture buildup and skin irritation.
Underwire is not necessary for this bra due to its gently cushioned inner-bust band that is an effective alternative to stiff, uncomfortable underwire that digs into your skin.
This bra sits higher up on the chest and keeps your boobs lifted and out front, yet under control. but, this bra doesn't work well with low necklines – so plan your outfits accordingly. But it will make your chest look great and reduce your bust by at least one cup size. They are designed with a unique 'criss-cross'.
The best thing about this minimizer bra with lift is the wire-free construction. The inner-bust band provides all the support you need without sacrificing comfort.
12. Wacoal Women's "Slimline Seamless Minimizer" Bra
Available sizes:
The Slimline Seamless Underwire Minimizer Bra is one of the most decorative and sexiest minimizer bras nowadays. It features embroidery on top of the cups. its adjustable straps are decorative as well.
It offers just the right amount of solution for large breasts. It reduces your bustline up to an inch, which helps you to look more good.
Comfort is also not a question as it provides full coverage. It has seamless, single-ply, supportive unlined cups that will surely give you optimal support whatever you wear, wherever you go.
The molded fabric used in the cups is more rigid than what's used in other minimizer bras, so it has superior minimizing capabilities. It also doesn't get all stretched out and frayed over time.
Available sizes: 32 to 40 bust line with cup sizes from D through DDD
Conclusion:
Every woman with a large bust gets jealous looking at other women with perfect breasts. But we bring you the list of the best minimizer bras that you can choose to look just as awesome as the one you admire. These bras are also best suited for older women with large breasts.
Make your dream come true and wear any sort of dress confidently on any occasion and show your personality, show your breast confidently, make others jealous.
Happy Bra Shopping!