If you want to skip the read, here are our top three picks for best support bras for large sagging breasts.
| Best Buy | Runner Up | A Top Pick |
| --- | --- | --- |
| | | |
| Glamorise Women's Plus Size Wonderwire Front-Close Bra | Wacoal Women's Full Figure Basic Beauty Underwire Bra | PrimaDonna Women's Madison Full Cup Bra |
| 67% Polyamide/26% Polyester/7% Elastane | 85% Nylon, 15% Spandex | 83% Polyamide, 17% Elastane |
| Padded underwire to prevent wire poke | Full coverage unlined underwire bra | full coverage 3-part unlined underwire cups |
| Hook and Bar front closure | Hook and Eye closure | 3 column, 2 row hook & eye closure |
| Lace-topped cups feature side-bust control to shape and support | Cups with hidden inner sling for added support | high quality brassieres offer good support |
| | | |
Saggy breasts also called ptosis in medical term is a part of a woman's life. Either it is because you have a large body shape or after pregnancy, you got one or age brings one along the way. Sometimes weight loss also affects your breast size and can be the reason behind it.
Whatever the reason is, you need not worry. We are here with the top 11 best lifting bras for plus-size sagging breasts after menopause, pregnancy, or any other reason.
Best bra for plus size saggy breasts in October 2023
1. Glamorise Women's Plus Size Wonderwire Front-Close Bra Underwire
Glamorise is a New York-based brand since 1921. They come in the top 50 best sellers for everyday bras. The wonderwire front-close bra is designed especially for plus-size women for controlling the sagging problem.
I recently purchased this bra and have been extremely happy with it so far. The hook and bar closure makes it easy to put on and take off, and the hand wash-only care instructions are not too inconvenient. I have always been hesitant to wear underwire bras because of the discomfort, but the padded underwire in this bra prevents any wire poking and makes it much more comfortable to wear.
The lace-topped cups with side-bust control are very supportive and give a great shape to my bust. The front closure is also a great feature, as it allows for easy on and off without having to fumble with the back closure. The wide, cushioned straps are a nice touch and adjust easily to get a custom fit.
It has contained padded cups with an underwire that helps to prevent your breast from wire poke. The cups are designed with beautiful laced work that enhances your cleavage look and makes it sexier. The bra provides better shape and support to your breast and also controls the side sagging. It has featured a front closure that makes it easy to wear. The bra has wider straps with adjustable pins, so you can adjust as per your comfort.
Overall, I am very satisfied with this bra and would highly recommend it to others. It has all the features I was looking for in a bra – comfort, support, and a flattering fit – and I will definitely be purchasing more in the future.
It is definitely a good choice for women who are looking for the best support bras for large sagging breasts.
Available Size: 34B to 50H
2. Vanity Fair Women's Full Figure Beauty Back Smoothing Bra
This imported bra comes in hook and eye closure and offer variety of sizes from 40-44B to 38-44DD/DDD. The machine wash feature is definitely a plus as it makes maintenance a breeze.
I was particularly drawn to the full figure design with 4-way stretch fabric that shapes and smooths out any bumps and bulges along the back and sides. The banded frame adds even more support, making it the perfect choice for everyday wear.
The wire-free design is helpful for those who find wired bras to be uncomfortable and restrictive. The adjustable straps on the back allowed me to get a perfect fit, making it a comfortable choice all day long.
Overall, I am extremely satisfied with this bra and would highly recommend it to others. As for item care, the hand wash cold instructions are easy to follow and ensure that the bra retains its shape and color. Overall, a great purchase!
3. Prima Donna Madison
Looking just at the bra you will fall in love with this Prima Donna Women' Madison. With stylish floral lace design engraved in the cups, it looks gorgeous. You also get full coverage to your larger heavy breast along with underwire support and a variety of colors to choose from.
The pads are nicely padded giving you ultimate comfort and support. The fabric used is Polyamide and Elastance with a gingham pattern all around the bra. The laces are stretchable and you can customize them according to your size and fit.
Available sizes: 32 to 42 band size through D to H cup size
4. Chantelle Women's Rive Gauche Bra
Style and design meet here at Chantelle Women's Full Coverage Unline Bra. This bra is a unique bra on its own and gives a maximum of features for heavy and sagging breasts. It is a full-coverage design bra along with unlined underwire cups. The lacy cup design is the ultimate highlight with a beautiful mixture of art and craft at the same time.
The full coverage gives support to your breast on the front and the side support restricts any kind of side bulge. The U-shaped design is made to match this bra with any dress you want to which is sure to give you a perfect cleavage. It supports the whole of your breast in a fixed position and is a great choice of bra for all women with saggy breasts.
If you are looking for best bra for lift and side support, this can be your best choice.
Available sizes: 32 to 44 band size through D to DDDD cup size.
5. Elomi Women's Caitlyn Bra
With full-cup coverage and underwire along with the cups, these ELomi Women's Caitlyn bra is one stop for all women with heavy and saggy boobs.
Made from Polyester, Nylon, and Elastane, it is a quality bra that also supports adjustable straps. The cups themselves are sheer embroidered. Featuring double hook-and-eye closure at back, it is an ultimate bra choice that women with saggy breasts should go for. Also if it can be a great choice for elderly women.
Available sizes: 34 to 44 band size through E to G cup size
6. Wacoal Women's Full Figure Underwire Bra
A plain simple full figure bra that will hold your whole breast in position with a breathable nature is the premium feature of Wacoal Women's Bra. To ensure that you get a perfect cleavage while the bust remains stable, the underwire beneath the cup plays an important role.
The extra benefit is that the bulge around the sides is also covered giving you a clean finish at your back and sides. The pad themselves are nicely padded to ensure maximum comfort. These are made to be hand washed as the Nylon and Spandex fabric remains with you for a longer period of time in doing so. Choose from a variety of colors and turn your shaggy breast in perfect cleavage with this Wacoal Women's Bra.
Available sizes: 32 to 44 band size through C to H cup sizes
7. Maidenform Women's Push-Up Bra
What makes this bra a perfect choice for all women with saggy breasts is the push-up design Maidenform has to offer. With smooth texture in a variety of color finishes, this bra not only hides your shaggy breast but gives you the perfect cleavage you are dreaming of. The major benefit with this bra is the lace panels at the sides and back that are adjustable to all extents giving you the smooth sides to match under any dress you wear. The Nylon and Spandex material will last long with you if washed softly with your hands.
Available sizes: 32 to 38 band size through A to D cup size
8. Deyllo Women Sexy Lace Bra Underwire 
Designed especially for women with smaller bust sizes, Deyllo WOmen's Lace bra is a sexy bra on the list. The transparent nature gives a romantic vibe while the underwires put your shaggy breast in a stable position. With thin, mesh sheer lace cups, you look even sexier in this bra. The cups are non-padded and see-through but the center gore itself is designed to give ultimate support for your hanging breasts. Why not look sexy with that saggy breast.
Available sizes: 28 to 36 band size through A to D cup size
9. Panache Tango Balconette Bra
You might be amazed to see how beautiful this Panache Balconette is. It is a perfect choice when it comes to saggy bras. The underwire gives full support to your shaggy breast while the softly padded cups ensure to stay put in place and give the comfort your breast is looking for.
Not only these bras are great for shagginess but these are also plunged to some extent that will give you the advantage of matching it with a variety of dresses. The fabrics used are Polyamide and Elastance with hook and eye closure that must be hand washed only to give your bra a better life span.
Available sizes: 28 -44 band size through D to FF cup size
10. Elomi Caitlyn Side-Support
If your breast is larger than it is supposed to be and you need full coverage of your breast then Elomi Caitlyn is one bra that you must opt for. Available in a variety of color options this is the ultimate bra that gives you the perfect cleavage while holding your breast in position. The pads themselves are well padded and have underwire support to not let those bust fall off. You also get the benefit of side straps that will save a lot of work on your sides while matching with any sort of dress you want.
Available sizes: 34 to 46 band size with cup size E through H
11. Freya: Deco Plunge T-Shirt Bra
Unlike all other bras, Freya Deco is a J-hook bra that is well padded with nice foams to guarantee you the ultimate support and comfort while giving full coverage to your shaggy breast. The straps are neck-edge binding which makes them even more suitable to wear with versatile clothes. While they do hold your shaggy breast at a stable point, they also give you the plunges along the neckline. What else do you want from a typical bra? Go grab one for yourself and turn your shaggy breast into a perfect breast.
Available sizes: 34 to 44 band size with D to G cup sizes
12. Chantelle: C Chic Sexy Plunge Bra
The shaggy beast doesn't always need a typical traditional bra. They can hide under a beautiful craft like the Chantelle Women's C Chic. Pushing your breast to a center gore with stability and comfort in one of its features while the sexy look comes in handy to boost your confidence along. The deep neckline lets you match this bra with a wide variety of clothes and the adjustable straps handle the rest of your comfort. The pads are underwire which is the basis of this bra with the top half crafted with a beautiful lacy design. Go and grab one to look even sexier with Chantelle Women's C Chick Bra.
Available sizes: 30 to 40 band size with C through E cup sizes
---
Let us learn about some common reasons why your boobs are losing elasticity. But first, we will discuss some myths about it.
The first common myth is that women think that breastfeeding causes breast ptosis. But the actual culprit is pregnancy. When you get pregnant, your body weight along with your breast increases. But after the delivery process is complete, you lose weight, and deflation of the breasts makes them sag.
Everyday Habits That Are Causing Your Boobs to Sag
Sagging breast is one of the natural things that almost all women experience after a certain age. There are lots of factors that contribute to breast sagging. Here are some major causes other than aging.
Not wearing a bra or wearing the wrong bra: Wearing a bra that fits properly and provides enough support can help prevent sagging. On the other hand, not wearing a bra or wearing a bra that is too loose or too tight can cause the breasts to stretch and sag.
Not exercising: Regular exercise, particularly exercises that target the chest and back muscles, can help strengthen and tone the muscles that support the breasts.
Carrying heavy bags: Carrying heavy bags on one shoulder can cause the muscles in that side of the body to become imbalanced, leading to sagging breasts.
Wearing tight clothes: Tight clothes, especially those with underwire or other constricting elements, can cause the breasts to become stretched and sag over time.
Poor diet and hydration: A poor diet and not getting enough hydration can cause the skin to become dry and less elastic, leading to sagging breasts.
Smoking – It not only causes stroke and coronary heart disease but also weakens and ages your skin by decreasing the blood supply to the skin surface. This has also some contribution to your lower-hanging breasts.
Skipping Sunscreen – Exposure to UV rays can cause premature aging of the skin and signs of sun damage such as wrinkles, leathery skin, liver spots, actinic keratosis, and solar elastosis.
Changes in weight and/or hormones – Pregnancy in women cause weight loss and gain fluctuation which has ultimately bad impact and thus your breast are more likely to shrink and lose their lift.
Running without proper support: Whenever you do any physical exercise such as running, your breasts move in three directions – vertically, horizontally, and in an overall figure-8 like motion. Not wearing a good size sports bra can also lead to breast sagging.
A Shaggy breast can also be the consequence of your large breast as larger breast falls down and don't stay put in a stable position. But small breasts can also get sagginess due to various reasons like menopause, weight loss, or any genetic reason.
What to look for while choosing a bra for the saggy breast?
If you have saggy breasts and are looking for a bra that can help lift and support them, there are a few key features to consider: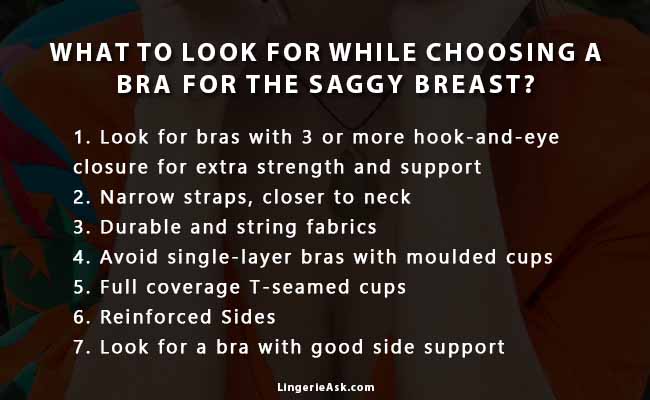 Look for bras with 3 or more hook-and-eye closure for extra strength and support
An underwire bra can help lift and shape the breasts, providing a more youthful appearance.
Narrow straps, closer to neck
Durable and string fabrics
Avoid single-layer bras with moulded cups
Full coverage T-seamed cups can help lift and support the breasts, creating a more youthful silhouette.
Reinforced Sides
A bra with a wide band can help provide additional support for the breasts and prevent them from sagging.
Look for a bra with good side support
Adjustable straps allow you to customize the fit of the bra and ensure that it provides the right amount of support for your breasts.
You can also go for a soft seamless cup bra
The saggy breast becomes a struggle to handle for all women as not all bra-type suits it. Today we are going to look over some of the bra types that are made for heavy breasts and give you the list of best bras to lift sagging breasts.
Which bra is suitable for big saggy breasts?
All women are familiar with the fact that not all bra types match with their saggy breasts.
But, it doesn't mean that you can not get a perfect cleavage. There are varieties of bra types that you can opt from to give your shaggy breast a proper look, comfort in improving your posture.
Below are the types of bra that you can choose from which suits such breasts. I hope you find one for yourself.
1. T-shirt Bra
A T-shirt bra is a great choice for many women out there to hold back their shaggy breasts in shape, with a delightful cleavage. They are designed to give a proper lift to your breast and is a must-have bra for women with large breast or shaggy breast. You can hide your assets under any dress with this bra and can match any dress type you opt to match with.
2. Full-cup bra
The full-cup bra is always a better choice not only for a larger bust but also with hanging muscles around your chest. This bra type is designed to cover all of your breasts and stay put in one stable position while giving you comfortable wear.
This bra type comes with an underwire and non-wired style which you can choose accordingly. Many mature women tend to choose this bra type as it gives your breast proper coverage and stability.
There are padded and non-padded ones which is always a great benefit to match this bra type under any flawless dress you want.
3. Underwire Bra
Underwire bra basically resists your breast to hang downward with wire support at your band area. Underwire bra pushes your breast and collapses your breast within the pads giving you a perfect round shape and a perfect cleavage. Many women find this bra disturbing with wire around their chest but it is a great bra to hold your bra in place and hide the shagginess.
4. Push-up Plunge Bra
Push-up Plunge Bra is another bra type that you can choose from to give your breast an amazing shape while revealing the deep neckline. A plunge bra is made to show the neckline which is always a great benefit if you choose to match it with any of your plunge dresses. Apart from just the neckline, the plunge is a great design that holds your shaggy breast in place with comfort.
5. Balconette Bra
Balconette Bra has a special design that can be quite an advantage for women with saggy breasts. This type of bra cuts at the lower half but also holds the breast in position with comfort.
You can always take advantage of this to hold your shagging breast in place. You can also match it with any of your dress choices and it is sure to amaze you and the people around you as to how good your cleavage becomes.
Having a saggy breast is one of the major issues to getting a perfect cleavage. But that doesn't mean that you can never get one. The bra enlisted above is specially designed to support saggy breasts and give you maximum support.
They are also meant to provide extra benefits that other bras might lack to feature. Now matching your dress with your cleavage will show more of your confidence than the sagginess of the breast. Go click on the one that you like most from the list above and enjoy a fabulous cleavage with perfect shape.