Buying a bra that fits you perfectly is challenging but creating a place to store and maintain their quality is a task in itself. You can either show it off like they do in lingerie stores or keep them away from dust and moisture inside your drawers.
The choice is yours and we are here to help you make one. In this article, we have mentioned various unique ways you can store your bras and never ever complain about less space. Happy reading!
11 Bra Storage & Underwear Organization Ideas
Use Shower Curtain Rings
If you have some shower curtain rings just lying around in your storage room, it's time to use them for storing your bras. Attach them to your already existing closet rods and viola, you have a place to hang your fancy bras now!
You can use this method if you don't have enough space inside your closet to keep them laying on the surface. Here are some cool shower curtain rings that you can buy, if you don't have extras lying around.
Go the Classic Way: Use Hangers
Hangers can give you that lingerie shop kind of vibe. Have all your bras displayed and be proud of your collection. Make sure the hangers that you use have folds or dents to avoid your bras from slipping.
Tip: You can use small paper pins or clips to secure the strips on the hangers, if your hangers don't have the dents.
Too Lazy?: Use Your Drawers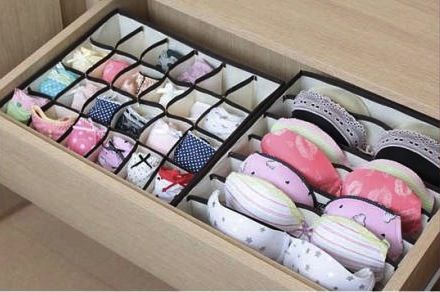 Drawers with wider width dimensions are the best to perfectly lay out your beauties in line. You can either lay them standing or leaning on one another. Try color coordinating them for fun.
Tip: Start from the backside with bigger or bulkier material and work your way towards the front, wherein you can lay down your daily wear bras. Make sure you lay a sheet of paper before the process begins.
Use Cloth Drawers
Cloth drawers are an amazing way to increase storage space. You can buy them in sets or individually. When you are done filling them, either cover them with another cloth drawer or shove them under your bed or desk.
Tip: Stack your padded bras leaning against each other while the non-padded bras can be rolled and stacked like cold drink cans.
Use Hanging Shoe Organizers (specially for padded bras)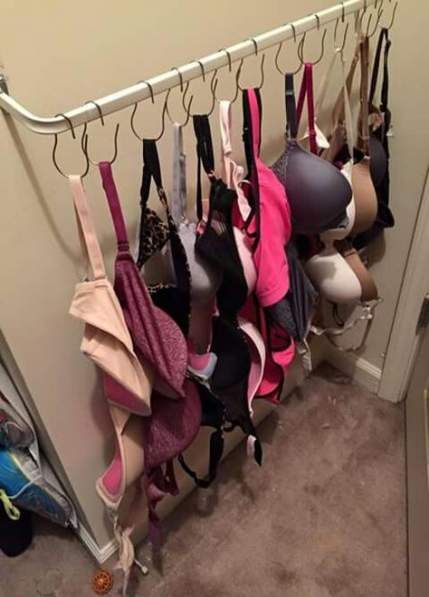 Don't have enough space to lay your beauties all out? Use hanging shoe organizers to fill in the empty space below the rods. These organizers come with hooks that you simply need to hang over your closet rods. Each compartment is pretty spacious to at least fit in five padded bras of standard size.
Tip: Place your everyday use bras on top of every compartment so that you don't have to remove everything just to get one bra.
Something Different?: Use PVC Pipes
Well this is only if you have unused PVC pipes at home. Buying PVC pipes just for storing bras doesn't seem like a good idea. This method is for all the unpadded bras you own. You can also use this technique of storage for all your plain everyday wear t-shirts.
Tip: It indeed is all in the wrist. Do not shove clothing inside the tube. Roll them properly and before doing so, make sure you have cut the PVC pipes to have a suitable height to fit inside the drawers.
Hang them all: Use Shower Rods or Ropes
You can use spare shower rods, curtain rods or closet rods to simply hand your bras. This is the simplest way to store your beauties. There is not much contact between two lingerie pieces and you don't have to worry about buying extra pins or storage bins either.
Tip: Before you hang them in a closed space make sure they are completely dry. Any kind of moisture that stays too long over fabrics has the potential to cause stains and discoloration.
Use Tie Organizers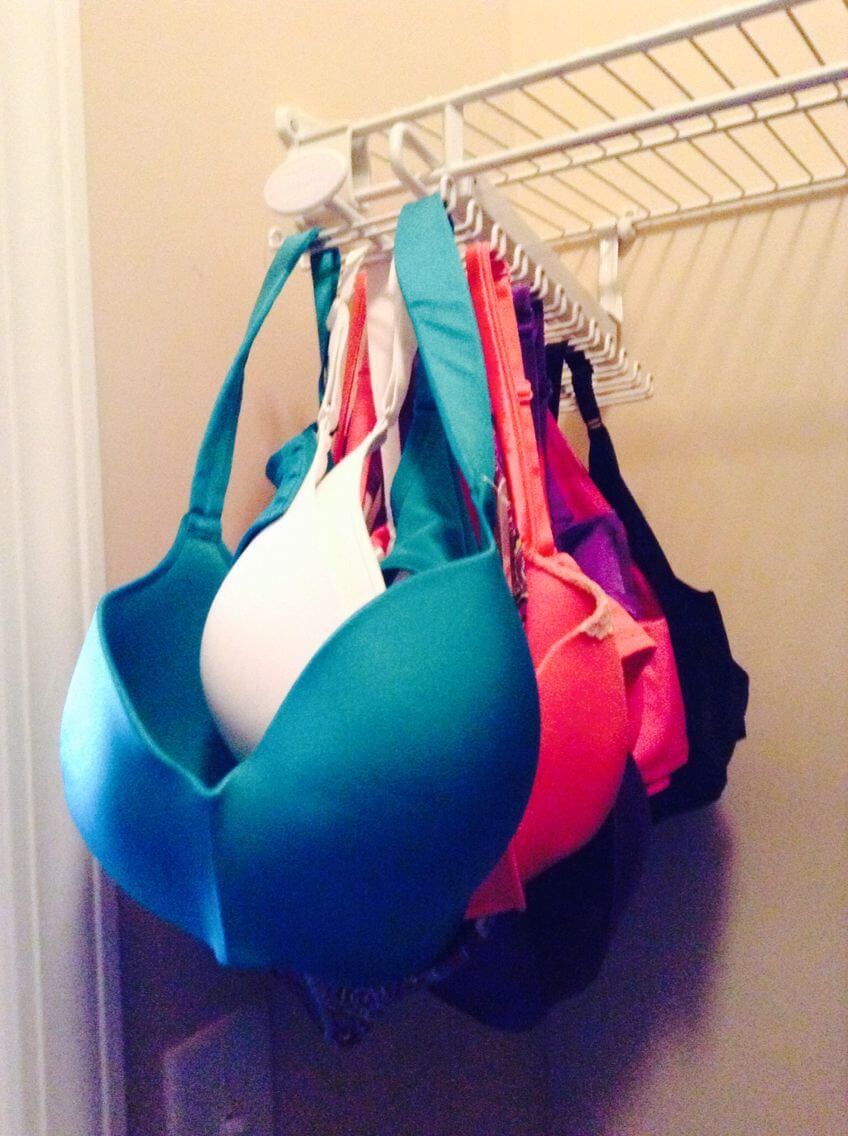 There are different types of tie hangers you will find in stores. Don't worry, we have linked them down. The ones that look like cloth drawers, those can be used to store unpadded bras which you don't mind rolling. The ones where there are hooks provided, you can use them to hang up basically any type of bra.
Tip: Some hooks of the tie organizers are bendable. Use this to your advantage and try to space out each hook so that you don't end up with tangled bra straps.
People's Favourite: Honeycomb Dividers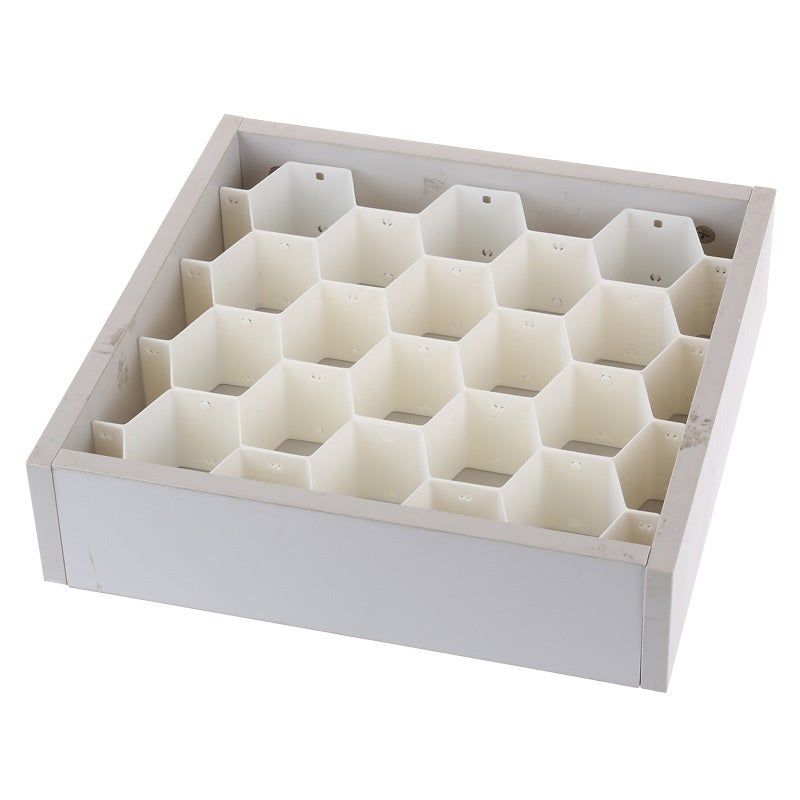 Doesn't it get irritating when you roll up your t-shirt just to see it unfold when you take something that is right next to it? Honeycomb dividers are here to solve this problem. Although this technique can only be used for unpadded bras, they keep them in place and don't let straps come in contact with each other.
Tip: Before buying honeycomb dividers, measure out the dimensions of the drawer and place your order accordingly.
DIY Some Drawer Dividers
What's better than buying stuff online? It is definitely using what we already own. So, take loose paper sheets and a pair of scissors and start folding the papers into long and thick rectangular strips.
The height of the strips must be less than the depth of the drawer while the length must be a little less than that of the drawer. Start cutting slits on both sides of the strips such that two strips perfectly interlock with each other.
If you find this difficult to do, check out the links given below.
Go Chic: Use Zipped Bags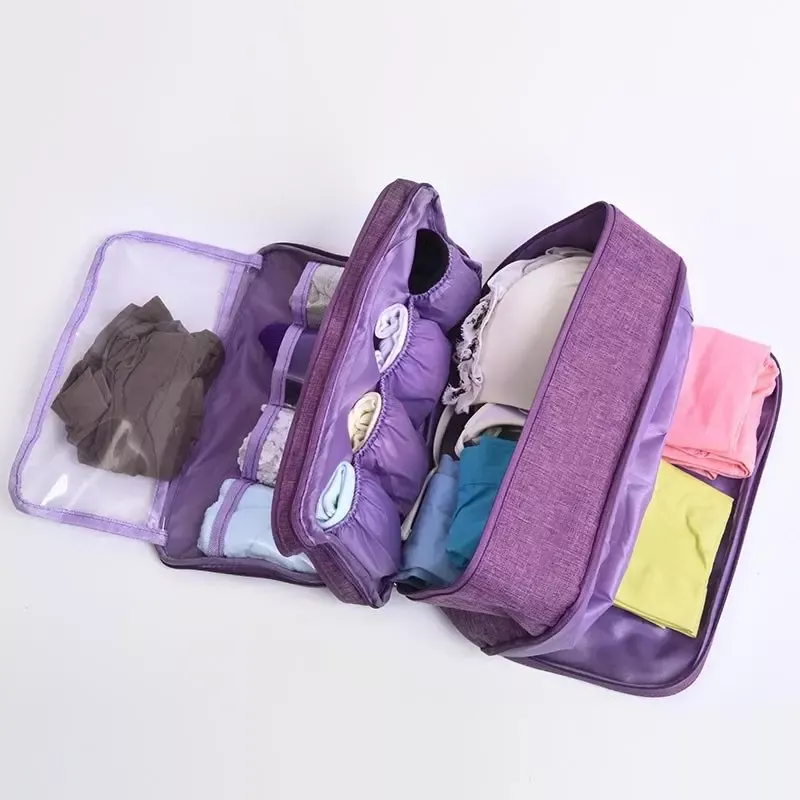 If you have a close connection with your lingerie and wish to keep them away from dust and moisture, this is the best technique to follow. There are hundreds of cube shaped zip bags that you can use to store your precious babies.
These bags are the best to store padded bras as well. You can either stack them on top of each other or l=make them lean against each other.
Tip: If you are planning on stacking them on top of each other, you might want to buy transparent zip bags so that you know exactly where your bra is stacked.
Conclusion
We hope you have found this article helpful and learnt how to store bras! Make sure to follow these bra hacks and tips to store your bra. You have full freedom to go crazy with decorations so please do so. Happy organizing!