All women need lingerie, be it for support or style. The necessity, driven by creativity, has made a place for many innovations today, like the Spacer Bra. With many benefits and uses, the Spacer bra can possibly be a game-changer for you. Let us break down what is a spacer bra and its benefits.
What is a spacer bra?
The Spacer bra is a type of padded bra that is not bulky and is relatively lightweight. The name comes from the fabric used- Spacer fabric, obviously, and is created in a different manner to keep the apparel light, breathable, and gentle on the skin. The fabric is a knitted fabric that is three-dimensional and is made of 2 layers as shown in the image below.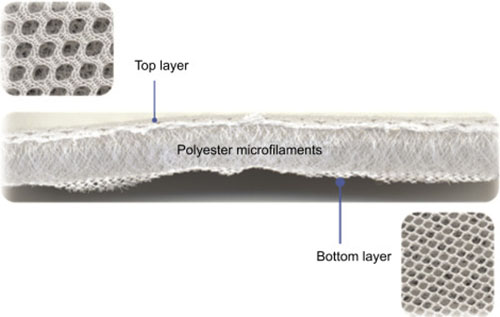 It is foam-based and has two layers that optimize space instead of densely packing everything in a single layer, which adds more volume and lesser space for air to pass around. Yarn is used to put this together, thereby creating a padded layer that allows air to pass through.
The airy building of the bra is enhanced with the premium fabric that ensures freshness all day, unmatched smoothness, and impeccable support. The product is light, but it isn't very thick and doesn't compromise on molding and shaping your body to give you your desired shape.
Benefits of Spacer Bras
Comfort and excellent feel:
Spacer bras are perfect for women who love the shape of a molded bra and like to keep the structure as it is without having to add any excess padding. They give all the benefits of a bra but feel like there's nothing on your skin. It's super comfortable and an essential piece for daily wear if you're looking for a luxurious feel.
Lightweight, breathable and unnoticeable: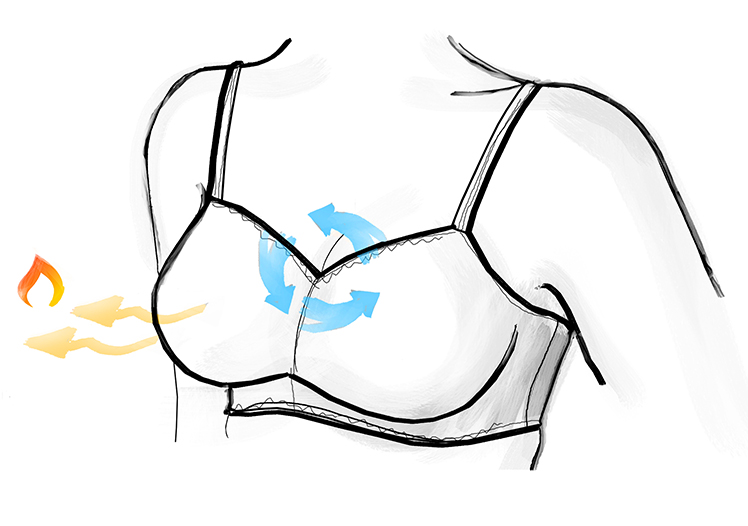 It is most similar to a T-shirt bra that is also airy and great for summer days. The air pockets in the knitted fabric that allow circulation through and within the cup are perfect for you if you get sweaty. The crafted design is great for long days because you won't want to constantly get rid of the bra since it's pretty comfortable to wear around.
Help with sweat and heat:
The Spacer bras also help control and decrease under-bust sweat and make sure to give you no discomfort- talk about ultimate breathability!
Enough shaping and considerable advantages:
The problem with many lightweight bras is the loss in shaping or not having enough support. But you've got nothing to worry about with these. The cups are molded well and help you get a round shape without the hassle of features like uncomfortable underwires, excess padding, or too much pushup to your bust.
Natural effect and extra comfort:
They focus on a natural effect that also helps shape well and gives you extreme comfort. There is nothing more and nothing less; spacer bras are simply the best combination of elements.
Fantastic support and lesser padding:
The light fabric doesn't necessarily mean there's not much support. The unique design offers enough support without being overbearing and overall creates an amazing feel for you. Built with special technology, Spacer bras feel like nothing but are padded to be opaque enough. They don't add any volume and therefore are a recommended option for women with a larger cup size.
Perfect for hot weather conditions:
It is especially great for days you need to travel, work more, move around, stay in the sun, or simply be in a hot area. You don't have to worry about any sweat marks on your shirts and tops now. Spacer bras with multilayer fabric are there to take care of it for you.
Perfect amount of contouring:
Many bras can uncomfortably shape your chest and add excess pressure that can potentially compress your bust for a long time and therefore create a lot of irritation. But these pieces of lingerie help contour and shape softly and also considerably rounding your bust.
In simple terms, a spacer bra is great to get the benefits of padding in cups without having to actually increase the volume or add a pushup effect. It simply helps perfect the shape without extreme change.
Versatility and designs available:
Spacer bras satisfy every fashionista's taste. There is a huge availability of details, accents, and fabrics one can use that can create amazing combinations and desirable looks for sheer tops, causal use, and visible straps. They can use several lace bands, meshes, and other pieces since they're quite thin themselves.
They can be super cute to wear and even look sexy if you get the nuances right. It can be in traditional, classic styles or a completely different and unique look that can suit your taste. There is much room for customization here and owing to the light yet unique fabric, they're also available in tons of colors, be it bold, bright, or neutral.
How are they different from T-shirt bras?
T-shirt bras are some of the most popular and widespread options for women, thanks to their impeccable support and awesome shape. But they tend to trap a lot of moisture and heat, making it a nightmare for summers and even workouts. They tend to get all sticky and sweaty since there's not much room for breathing there.
But as mentioned above, Spacer bras are the dream when it comes to breathability. They don't simply let heat escape, but by doing so, they are also enabling a cool environment where you'll never have to sweat in. They are also seamless and dual-layered, so they are perfect for use when you're working and have to move about.
Spacer bras, similar to their T-shirt counterparts, are quite easy to work with. They're convenient to use under any tops, fitting dresses, or flowy gowns since they're quite smooth and don't have strong seams and lines that tend to show up on the outer fabric.
Spacer bras are basically padless padded bras, cousins of t-shirt bras, and foamy, comfortable, and breathable masterpieces that are great for daily use. They're great for hot weather, being gentle on the skin, gently supporting and caressing the shape while also letting you feel like you're wearing a thin cami or similar comfort wear.
We hope you found this article about what is a spacer bra and its benefits helpful!