Attention all soon-to-be brides! Your wedding day is one of the most special and memorable days of your life, and the last thing you want is a fashion faux pas. We've all been there – finding the perfect dress but struggling to find the right bra to wear underneath. With the rise of backless wedding dresses, the struggle has become even more real. But fear not, because we've got you covered with our top 10 picks of bridal bras, corsets, and bustiers that are perfect for backless wedding dresses.
We know that every bride wants to feel confident and comfortable on their big day, and that's why we're here to help you navigate through the overwhelming options out there. We've done the research and compiled a list of the best bras that will not only support you but also enhance your natural curves, leaving you feeling confident and beautiful as you walk down the aisle.
Whether you're looking for something lacy and elegant or simple and understated, our list has got you covered. So get ready to say "I do" without any wardrobe malfunctions, thanks to our expertly curated list of the 10 best bras for backless wedding dresses.
Best Bra for Backless Wedding Dress
Here is the top 10 best backless bra for low back wedding dress in September 2023.
1. MITALOO Push up Strapless Self Adhesive Plunge Bra Invisible Backless Sticky Bras
Mitaloo has various kinds of bras like sports bras, strapless bras, and more. Mitaloo's adhesive bras are extremely popular.
This adhesive plunge bra comes in black and beige colors and is available for cup sizes up to E. The beige bra will not show even through sheer clothes. It gives you busty, fuller breasts and goes well under all wedding gowns.
The backless bra is made of soft, healthy material with biological glue in its cups to keep the bra attached to your breasts. The sticky cups ensure that you do not face a nip-slip during the wedding! It has a front closure, making it completely backless and invisible under your wedding dress.
It employs a push-up design, meaning that it enhances cleavage without any straps. This invisible bra has thin edges and thicker centers to offer more coverage to hide nipples. The bra will also easily fit into that bag full of wedding essentials as it is lightweight and disposable.
You can also reuse the bra several times; however, too much sweat will negatively affect the glue's adhesiveness. But for that, you need to wash the bra with your hands and let it air-dry.
Pros
Offers adequate lift and support
Flattering shape
Our take on the product: The Mitaloo adhesive bra is supportive and offers to lift. In addition, it also enhances your cleavage and is completely backless. The glue is very sticky and will not keep coming loose often.
Dominique has all kinds of intimate apparel for different occasions and moods. The Ariel bra is specially designed for bridal wear.
This Ariel bra comes in nude, black, and white colors and is available in sizes up to 44DD. It mainly contains polyester, nylon, and spandex. The fabric feels smooth and gentle on your skin.
With underwires, this Ariel bra offers excellent support and lift. For bustier women, this bra provides additional security and does not slip down.
Additionally, it is a longline bra; thus, it tends to slim down your waist to give you a smooth, perfect silhouette under a gown. It also helps you attain a better posture and feels great on your back.
It comes with additional shoulder straps if you ever decide to wear it with them. The back of the bra is 6 inches tall and comes relatively lower than the back of a regular bra. The stretch microfiber gives a comfortable hug-like fit on your body which does not restrict movement.
Once you find the right fit, this Ariel bra will feel custom-made as it embraces your body to give a perfect figure and excellent support. You do not have to keep pulling it up the entire day.
Pros
Longline
Comfortable fabric
Our take on the product: This Dominique Ariel bra is highly suitable for wedding gowns as it is strapless and has a long line and a low back. Dominique also includes detachable straps with this bra, so if you ever want to use this bra casually, you can do that too!
3. Dominique Tayler Lace Backless and Strapless Corselet Bridal Bra with Breathable Memory Foam Cups
Dominique has a vast collection of bras suitable for bridal wear. You will say 'I do' to all of their wedding lingerie.
This bridal bra comes in black, white, nude, and ivory color and is available in sizes up to 52F. No wonder plus-size women love this bra! Made of polyester; it feels comfortable and soft on your skin. The non-slip material stays put, so you no longer have to pull it up all day.
The Taylor strapless bra is made to flatter your figure with a firm fit on your waist. It sculpts a smooth form under your wedding gown and gives you the best silhouette.
It makes use of contour cups that are molded to give you superior support. In addition, the stretchable net panels at the back offer great support at the back and waist. To provide maximum security, it has two sets of thirteen hooks at the back. So dance your way through the wedding with no fears!
The bra offers enough support to keep the girls up, and it is also not so tight that you begin to feel suffocated.
Pros
Comfortable fabric
Contour cups
Our take on the product: This bridal bra by Dominique will ensure that your wedding gown looks better than you imagined it. It gives enhanced support and lift to your breasts and does not keep slipping down with contour cups.
4. Women's Lace Longline Corset – Full Length Bridal Bra with Garters
Dominique definitely deserves multiple mentions on our list of the best bra for backless wedding dress.
This bridal bra comes in black, white, ivory, bone, and off-white colors and is available in sizes from 32A to 48G! The corset has a beautiful floral lace design at the front and a non-slip polyester body.
The lacy lingerie flatters your figure and provides sculpting by cinching your waist lightly. Its back is made of stretchable spandex net panels, which slim your figure and feel great on your back.
It has contour cups that are seamless under your wedding dress and won't have lumps all along. The bridal corset offers excellent support and does not slip down. Women with large breasts, too, seem to think that the bra is just as supportive as a bra with straps, if not more.
Once you get the right fit, the strapless bridal bra works like magic! It will be supportive, flatter your figure, and invisible through your backless dress. Additionally, it also has detachable garters, which can be handy if you decide to wear stockings below your gown.
Pros
Lacework
Adjustable garters
Our take on the product: This has everything you are looking for in a bridal bra. The low back of the bra ensures that it is not visible in your wedding gown, and the flexible back offers comfortable support all throughout.
5. Defitshape Women's Plunge Thong Backless Bodysuits
Defitshape Women's Plunge Thong Backless Bodysuits is a great product for those looking for a versatile undergarment to wear with various outfits. Made of 84% Nylon and 16% Spandex, this bodysuit is stretchy and easy to put on. The seamless design is invisible underneath any type of clothing, and the open crotch design allows for convenient bathroom use. The silicone band holds the garment in place, and there is a pair of extra-longer straps for better adjust and fit.
As per the customer reviews, one reviewer mentioned that the bra/bodysuit can be used for many outfits and can be adjusted with the help of needle and thread. However, they did feel like the bra pops up if they move and recommends using body tape to keep things in place. Another reviewer had concerns about the sizing, but it fit them well, and they were able to use it with their backless dress. They mentioned that the suit doesn't always stay perfectly centered like a bra does, but a quick wiggle was enough to get it back in place. They also appreciated the several places to hook the straps on the back, making it work with different designs.
One reviewer did have some concerns about the quality control and found the hook and eye closure strip between the legs to be stiffer than a perv at a peepshow. They also felt that the bodice was too long, making it uncomfortable to wear. However, they were still able to make alterations to make it fit better.
Overall, the Defitshape Women's Plunge Thong Backless Bodysuits is a great product for those looking for a versatile and comfortable undergarment to wear with various outfits along with backless wedding dress. The stretchy fabric and seamless design provide excellent comfort, and the silicone band holds the garment in place. The several places to hook the straps on the back make it work with different designs, and the extra-longer straps allow for better adjust and fit. Although there are some concerns about the quality control and sizing, the product is still a great option to consider.
6. Warner's Cloud 9 Wirefree Triangle
Warner has an impressive collection of intimate wear for women that offer comfort for all body types.
This Warner bra comes in several colors and sizes up to 40C. We love the baroque rose and lilac-colored bras! They look absolutely stunning!
It has pretty lace accents at the band that make it look attractive and do not feel itchy or uncomfortable. You need not worry about the lacy lumps visible under your gown, as its smooth finish does not show through. In addition, it has wide bands that fit very well under your breasts, giving you the perfect stay-in-place support.
The light contour cups of Warner's bra offer natural shape and support to your breasts. So why does the description say Cloud 9? Well, the fabric of the bra feels like a cloud on your skin!
Thanks to its plunging neckline, you can easily wear it with your deep-neck wedding gown with no fear of visibility. The triangle shape offers a more flattering figure and avoids any bulging.
Although the bra does not have a low back, the lace design at the back ensures that it does not look clumsy under your dress. It adds a hint of class and sophistication.
Our take on the product: Warner's bra never disappoints, and this Cloud 9 bra will prove us right! With pretty lacework around the band, the bra looks attractive and comes in various colors. Its contours cups offer support and lift in all the right places and prevent bulging.
7. ZUKULIFE Women's Essentials Deep U Multi-Way Push Up Convertible Low Cut Plunge Bra
Zukulife has bras for women and toys for kids! With its exciting and diverse range, this pushup bra is one of its most popular products.
This Zukulife bra comes in several colors and can be purchased in packs of two. It is available from sizes 32A to 42D.
It is a multiway bra, meaning that you can wear it as a low plunge bra, backless bra, halter bra, racerback bra, or a low-back bra according to your clothes and occasion. Talk about versatility!
The deep plunging neck creates an appearance of enhanced cleavage and provides excellent lift. Its pushup cups also contribute towards giving you the perfect lift.
However, the seller advises you to size up while purchasing the bra as it tends to run small, as most plunge bras do.
The nylon and spandex fabric feels super soft on your skin. Additionally, it comes with an extender to ensure that the band's fit is not too snug. It keeps your ladies secured and provides the proper support to give you an appealing figure for your wedding dress!
Pros
Includes extender
Soft fabric
Our take on the product: The Zukulife plunge bra is versatile and fits most of the clothes in your wardrobe. However, it delivers top-notch performance under a backless wedding dress with its multiway feature. It comes with extenders to ensure it fits accurately.
8. DELIMIRA Women's Slightly Lined Lift Great Support Lace Strapless Bra
Delimira believes that everybody deserves a perfect fit. Delimira is one of the most reliable brands that designs and manufactures bras for all shapes and sizes.
You will find this strapless bra in all neutral colors you can imagine! It is available from sizes 32A to 42F! A fit for everyone!
The floral lace design of the bra will instantly make you fall in love with this Delimira bra. The luxurious lacework does not appear bumpy underneath your gown. Not only does that make it look attractive, but it is also fully supportive. Thanks to its hidden underwires, the bra is ultra-supportive.
It has a non-slip silicone band and a unique cup structure that keeps the bra in place. The L-raised molded frame of the cup keeps your breasts at the center of the bra. These cups are slightly padded to offer enhanced lift and shaping to your breasts.
The underbust band is wide enough to keep the bra secure without suffocating you. This allows you to move freely and breathe comfortably. However, most of the reviews suggest that you should buy a sister size in this bra to obtain the ideal fit.
Our take on the product: The Delimira bra works well under backless wedding gowns with a deep neck because it has a low center cut. Unlike other bras, the lacework does not appear bumpy under different clothes and also offers excellent support. This strapless bra is affordable, attractive, and supportive.
9. Niidor Adhesive Bra Strapless Sticky Invisible Push up Silicone Bra for Backless Dress with Nipple Covers Nude
Niidor bras are comfortable and stylish and create beautiful proportional lines with their unique tailoring techniques.
This strapless bra comes in four classic colors and is available in cup sizes up to F. It comprises nylon and spandex, making it soft on your skin.
The deep V design of the bra offers an enhanced cleavage as it pushes your chest up. It will go well with your deep-neck wedding gown! Let all your guests be blown away with your beautiful body!
It uses skin-friendly silicone adhesive with high-strength stickiness to ensure that the bra stays secure on your breasts. It is easy to wear the bra and peel it off; the stickiness does not hurt your skin.
Also, the adhesive is strong enough to stick securely and avoid any risk of wardrobe malfunction. It offers a smooth silhouette such that it does not show any lines through your dress.
This invisible bra is lightweight, provides lift and support, and does not cause sagging. It has a front closure with transparent clasps for easy wear. You can reuse this strapless bra several times as long as you maintain it well and wear it correctly.
Pros
Strong adhesive
Easy to wear
Cons
Not suitable for high temperature
Our take on the product: This Niidor strapless bra is lightweight and comfortable. In addition, it has a robust and skin-friendly adhesive that holds the bra securely on your breasts, with no risk of a nip-slip! 
10. Felina Essentials Bustier Strapless Plunge Demi Push Up
Felina has a diverse range of intimate apparel with lasting quality to encourage women to be comfortable in their own skin.
This bustier comes in three colors- bare, black, and white and in sizes up to 42DD. Made of nylon and spandex, this bra feels soft on your skin. The anti-slip silicone accents stay put on your body.
It fits seamlessly under your clothes by giving you the perfect smooth silhouette. It enhances your shape without the use of any lace or bows. Just what you need under a wedding dress!
Felina uses a patented design where the hidden underwire construction creates a seamless appearance while also offering flexibility. It has a streamlined boning to ensure that the bustier stays in place and gives you a secure fit.
The fabric of the Essentials Bustier will not cling to your clothing. It is made of soft-touch foam cups, power mesh lining, and flexible boning to give you the ideal fit. This comfortable fit makes it suitable even for everyday wear.
So, you can wear this bustier on your wedding day, and every other day!
Pros
Soft fabric
Flexible boning
Our take on the product: The Felina Essential Bustier has a patented design with hidden underwires that provide the best support and lift. This bra offers a seamless appearance under your wedding dress with soft, smooth fabric, and the boning ensures that it stays put.
Bra for Backless Wedding Dress Buying Guide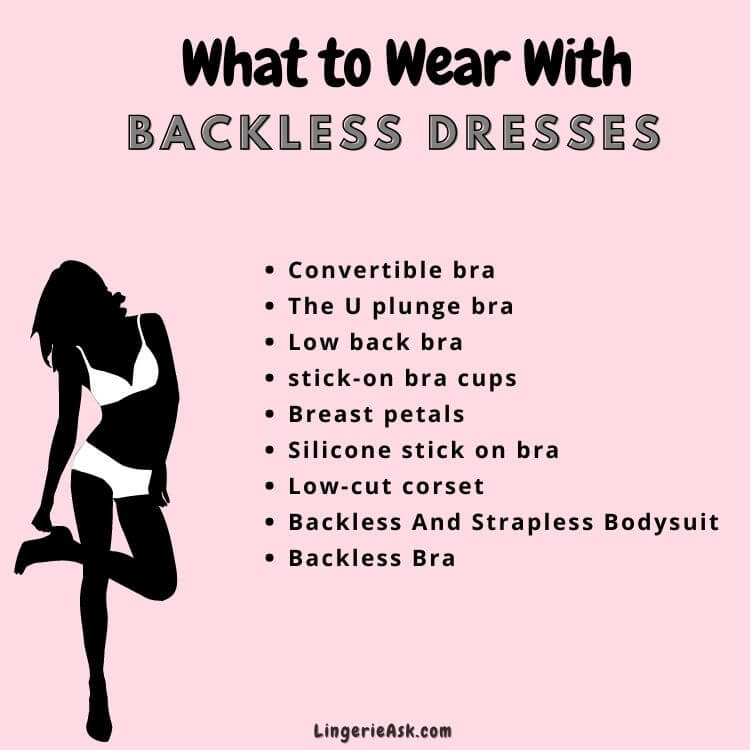 Type of Bra
Depending upon the design of your wedding gown or dress, you can opt for several types of bras. From backless adhesive bras to low back bras, you can rock your gown wearing the most suitable one.
While a backless adhesive bra may not be very supportive, it will stay completely hidden under your dress and appear seamless. On the other hand, a corset or bustier may not allow for a lot of movement.
Similarly, a lace strapless bra may be suitable for your dress as it is lightweight and flexible. Our list contains bras of all these types.
Adhesive
If you go for adhesive bras, always ensure that it uses natural glue that does not cause irritation or pain in your skin. Our nipples are sensitive, and we do not want a bra to poke into our skin on the day of our wedding.
Another aspect to look into is how sticky the adhesive is. Will it hold the bra long enough? Will it fall off the moment you begin sweating?
Anti-Slip Material
Who wants to keep adjusting their bra every two minutes? If you keep pulling the bra up every time you move, it simply does not fulfill its purpose. Look into the fabric of the bra, is it made of anti-slip material that will ensure that the bra stays up?
Support
Of course, all breasts need support. There is no point in buying a bra that simply does not show through your dress but offers zero support in return. Low back bras with padding or corsets with underwires will provide maximum support in this case.
Cleavage and Seamless
Well, a wedding dress calls for it! Push-up bras and plunging bras create an enhanced cleavage and offer lift and support.
Lacy bras may appear lumpy under your dress. Sometimes strapless plunging bras too show lines over your clothing. We do not want that for a wedding gown. Go for bras that give a seamless appearance and provide shaping.
Conclusion
Your wedding gown is as good as you feel in it! Wearing bras or undergarments that make you feel confident is key! A backless dress will make you feel like a goddess! We don't want a wrong bra to come in the way of that.
Here is another bonus tips for you. Learn the best type of undergarments for wedding dresses.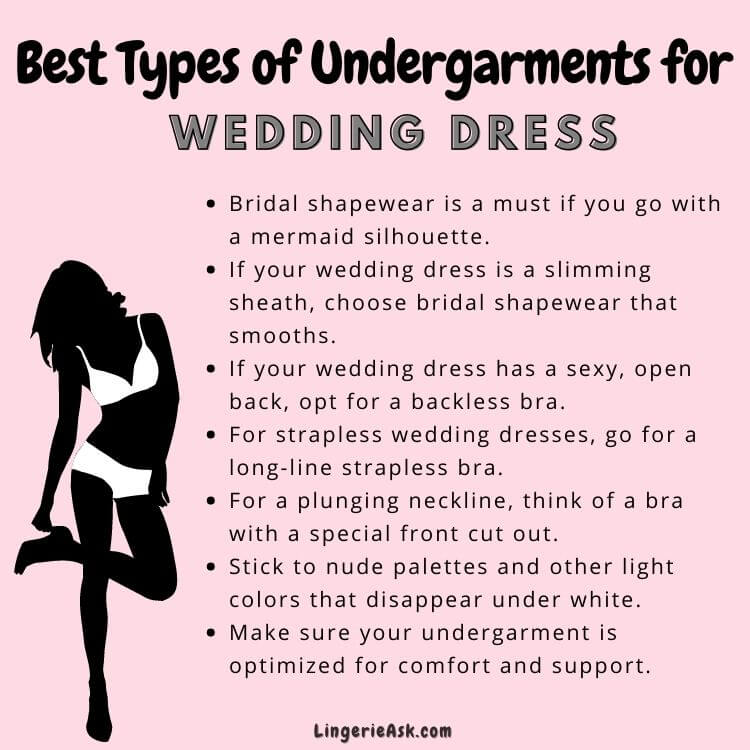 Our list of the best bra for a backless wedding dress will help you hide all the straps, bands, laces, and lines, so you enjoy the wedding with no fear of a malfunction or nip-slip! Some of these bras create the appearance of an enhanced cleavage and slim down your waist too! A win-win situation!